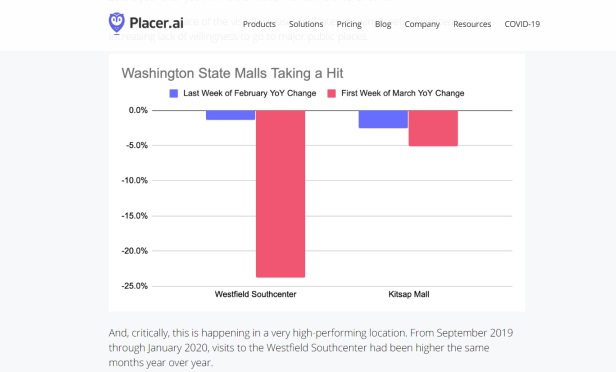 SEATTLE—The impact of coronavirus on the overall US economy has been pretty widely established. However, areas of commercial real estate have been more directly affected.
Severe impacts on a local level can be mitigated by wider strength when aggregating all US locations of a chain. As a result, Placer.ai dove into the data around Washington State to determine how retail is being impacted by more heightened tensions.
One of the first places to start when analyzing the impact is with Seattle-Tacoma International. Though the airport is not a hub to the same degree as New York, Los Angeles or San Francisco, the decrease in visits has been equivalent if not worse.
Visits to the airport dropped 7.1% year-over-year for the last week in February before having that number increase to 20.4% the first week of March. This indicates a massive decrease in domestic visits both in and out of the state. The drop is especially significant considering both weeks had significant jumps year-over-year between 2018 and 2019.
Next, Placer.ai looked at two of the state's top malls, the Westfield Southcenter and the Kitsap Mall. Early indications are that coronavirus concerns are having a significant impact in those two retail centers.
Following relatively minor year-over-year declines for the last week of February, the drops increased dramatically in the first week of March. Visits to the Westfield Southcenter were down by 23.8% year-over-year, while the Kitsap Mall had a drop of 5.1%. And, critically, this is happening in a very high-performing location: from September 2019 through January 2020, visits to Westfield Southcenter had been higher the same months year-over-year.
And it isn't just major malls that are feeling the pressure of coronavirus concerns. Major retailers are also being impacted.
While Starbucks had nationwide year-over-year growth in the last week of February and the first week of March, the situation was different in Washington State. As opposed to national year-over-year increases of 1.1% and 2.2% respectively for those weeks, in Washington, there were drops of 3.7% and 20.2% respectively. Again, there wasn't just a decrease, but a rapidly increasing pace of visit decline, says Placer.ai's report. McDonald's also had declines of 0.1% and 2%, again going against nationwide increases and showing a hastening pace of slowdowns.
Even Costco, one of the clear retail success stories during this period, had performance tempered by virus concerns. While the brand did have year-over-year growth for the last week of February and the first week of March, it was less than the number nationally. In Washington, those weeks drove year-over-year increases of 11.6% and 7.2%, which was far less than the nationwide increases of 13.2% and 18.3%.
While there are certainly bright spots in the wider retail landscape during this period, the spread of the virus will likely bring with it a direct local impact. Even without a full government-led shutdown, there are clear indications that populations in more directly affected areas are going to behave differently.
Visit drops are more common and likely to be steeper in these areas. This pattern is a critical one as it brings to light a fundamental truth about the virus in America. As the virus spreads, there are strong indications that the local impact will be far more severe, but the same will likely be true in reverse. As areas are able to flatten the curve and mitigate the impact, the return could be far more rapid, according to the Placer.ai report.
"There are two major factors at play within the wider retail landscape in any region. Firstly, how quickly can we return to normalcy? Secondly, what will normalcy look like?" Ethan Chernosky, vice president of marketing at Placer.ai, tells GlobeSt.com. "Retail could return with certain international and domestic travel restrictions remaining in place and with a different economic climate entirely. So the next few weeks are going to be critical for brands and businesses to build contingency plans to prepare for the various scenarios they could face. The better prepared these businesses are, the more likely they will be to return to a position of strength. Even with all of the tumult surrounding the retail economy today, this is a unique point in time for these businesses to prepare so that they are best positioned to succeed when the coronavirus crisis comes to an end."