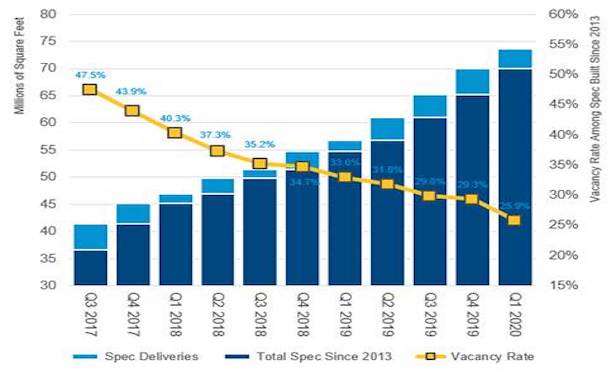 CHICAGO—Activity was strong in the speculative industrial market in the Chicago area in the first quarter with 21 new leases signed.
According to a report released by Colliers International, a total of 18.6 million square feet of new industrial space involving 57 projects are under construction in the Chicago region. Of that total, 39 of the projects (9.3 million square feet) are being built on spec.
A total of 6.3 million square feet of industrial space, including 3.7 million square feet of speculative product, was delivered in the first quarter of 2020, according to Colliers.
The brokerage firm notes that despite a large increase in speculative construction in the Chicago area of late, particularly since 2016, demand for modern industrial space has outpaced the rate of development for the past three years.
Colliers also notes that a total of 4.5 million square feet of space was leased in spec properties delivered since 2013. The report states that 74.2% of the speculative product delivered since 2013 are now leased.
Another key data point in the report is that the 31.7 million square feet of new speculative product delivered between 2013 and 2016 is now 96% leased, while the 41.8 million square feet delivered since 2017 is only 57% leased.
"This suggests the average lease-up time for new speculative product following delivery in Chicago's industrial market is longer than other markets. This lease-up time will likely be extended further by the Coronavirus pandemic and ensuing economic response," Colliers states.
Significant new leasing activity in modern speculative product has pushed the vacancy rate in buildings built since 2013 down every quarter since the beginning of 2017. At the end of the first quarter of 2020, those buildings were only 25.9% vacant.
Other notable trends highlighted in the report included:
• The I-55 Corridor and I-80/Joliet Corridor submarkets together has accounted for 32.8 million square feet, or nearly half, of the speculative development since 2013.
• While this spec product is 80% and 71% leased respectively, other submarkets are performing even better such as Lake County where 87% of the current cycle's spec product has leased, the Central DuPage submarket, at 97% leased, and the Northwest Suburbs, at 91% leased.