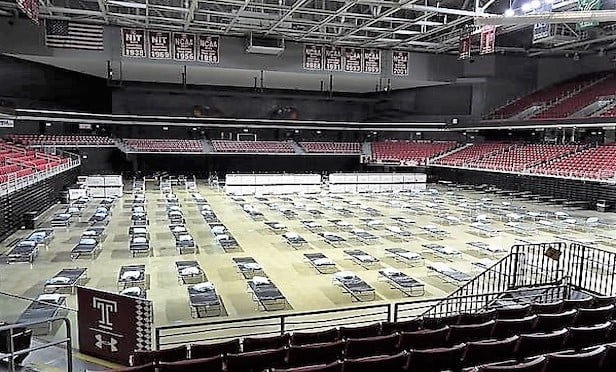 PHILADELPHIA—Federal, state and city health officials have begun preparations to convert the home of the Temple University Owls basketball team into a health care facility in response to the spread of the Novel Coronavirus here.
The Philadelphia Department of Health announced that on Saturday the Centers for Disease Control and U.S. Health and Human Services delivered equipment to the Liacouras Center that included basic patient support equipment such as cots, commodes, walkers, bathing equipment, monitoring equipment, and more. The equipment can support up to 250 people.
Members of the Pennsylvania Task Force 1, made up of first responders from the Philadelphia Fire Department and across the region) and Liacouras Center staff began setting up the facility to handle patients. The city states that the PA-TF1 made substantial progress in a short period of time in the conversion of the 10,000-seat, 340,000-square-foot athletic facility for health care use.
The city's Health Department notes that the defined use and management of the site has not been determined as yet. The facility could be used to care for COVID-19 patients or to relocate low-acuity patients from area hospitals to open more beds at those facilities.
On Sunday, the Philadelphia Department of Public Health announced 84 additional presumptive confirmed cases of COVID-19 novel coronavirus in Philadelphia, bringing the total number of confirmed cases to 890, 78 of whom are or have been hospitalized.
The Health Department also confirmed four additional fatalities in Philadelphia, all in their 70s and 80s. This brings the number of residents who have succumbed to the virus in Philadelphia to eight.
Three of the four fatalities reported in the past day were nursing home residents, and five of the eight total fatalities.