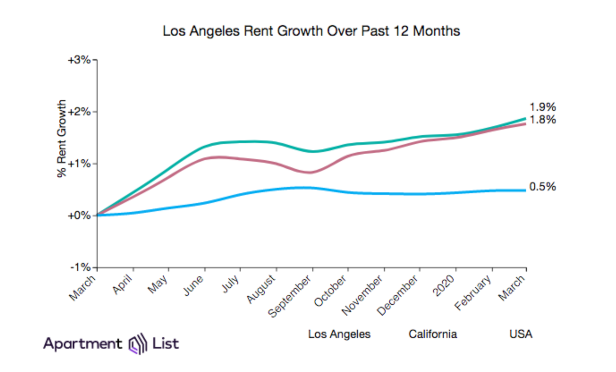 Los Angeles apartment rents were flat in March. According to a new report from Apartment List, rents did not move month-over-month, but were up .5% year-over-year. The coronavirus disruption erupted in mid-March, however it is still too soon to tell the total impact on apartment rents, and the March data doesn't reflect the disruption.
"While the pandemic surely began to disrupt rental activity during the second half of March, I think it's probably still too soon to start interpreting our rental data through the lens of COVID-19," Christopher Salviati, housing economist at Apartment List, tells GlobeSt.com. "Although the current estimates are based on data from March, the severity of the pandemic has really ramped up over the past few weeks, and I expect that it's likely just starting to factor into rent pricing decisions. The most recent estimates for Los Angeles show that rents were flat over the past month and up 0.5% year-over-year. This data is consistent with what we were seeing prior to the current crisis, so there's nothing unusual jumping out from our data yet."
It is hard to tell exactly how this will play out and the speed of the recovery once the shelter-in-place orders are lifted. Rents could fall significantly, or landlords could try to hold through the crisis until the recovery. "In the immediate to near-term, we're expecting that the number of moves will slow significantly, due to a combination of shelter-in-place orders, eviction moratoriums, and general uncertainty surrounding the virus and the economy; in fact, this pause in rental activity has likely already begun," says Salviati. "This short-term dip in demand could cause landlords to start setting lower prices, but given the temporary and uncertain nature of the present situation, it's also possible that they might hold out on lowering asking rents until things have settled down."
The pandemic could also boost rent renewals in Los Angeles this year. "It's also possible that a greater than normal share of renters are renewing their leases, such that the lack of moving activity is not actually translating to an increased vacancy risk for landlords," says Salviati.
Because the economic disruption is related to a public health crisis, most are anticipating a quick recovery. Some tenants that planned to move in March may push plans back to the summer, causing a temporary increase in demand. "Once shelter-in-place orders are lifted and the dust settles a bit, we expect moving activity to rebound, with postponed moves potentially causing a temporary spike," says Salviati. "Demand for rentals at that point will be heavily dependent on the broader macroeconomic landscape."