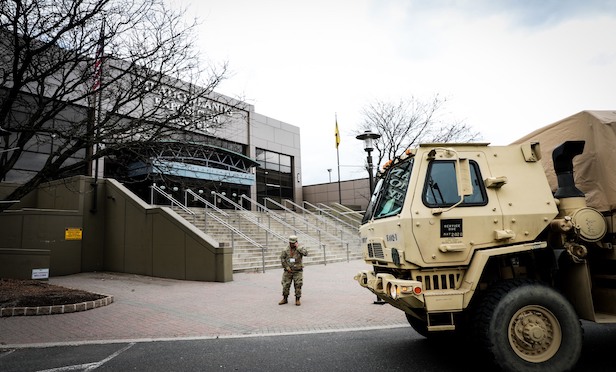 SECAUCUS, NJ—New Jersey Gov. Phil Murphy and U.S. Sen. Bob Menendez, during a tour of the facility on Thursday, said the state's first field hospital in response to the Novel Coronavirus at the Meadowlands Exposition Center here should be operational on Monday.
Gov. Murphy characterized the work to build the 250-bed hospital at the 61,000-square-foot Meadowlands Exposition Center as an "extraordinary effort." Col. Patrick Callahan, superintendent of the State Police should be ready to treat non-COVID-19 patients on Monday. The governor praised the Army Corp. of Engineers and the state police for their work on getting the field hospital ready to treat patients.
Menendez, who led the effort to get the hospital as well as two others under construction, in Edison and Atlantic City, told the workers, "we're hopefully going to save lives."
The field hospital will serve as a "step-down" facility for patients that would otherwise go to area hospitals to alleviate pressure on them. However, Callahan said the field hospital could be ramped up for intensive care use.
The other two field hospitals should be ready to open soon, Callahan added, although he did not have firm dates each would be operational. A fourth hospital that was planned to open in Monmouth County was instead folded into the project under construction in Edison and will hold 500 beds, he said.