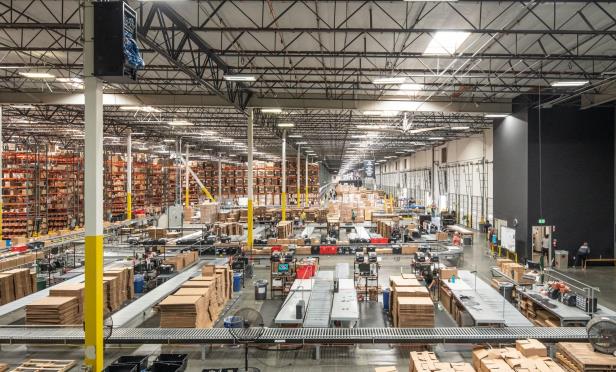 SAN FRANCISCO—This week, Prologis Inc. hosted a business update webcast and conference call during which senior management discussed the firm's current view of the logistics market and share company-wide efforts to help communities and customers affected by the COVID-19 pandemic.
"We are usually the first company to report our quarterly results but we thought it would be important to give you an even earlier view into our operational metrics in this fast-changing environment," said Hamid Moghadam, CEO of Prologis. "Our normal earnings call on the previously scheduled date of April 21 will discuss financial results and any updates to our guidance on what's happening in our portfolio that spans almost a billion square feet of space around the globe."
Gene Reilly, Prologis' chief investment officer, said the firm's leadership planning and actions are organized around four categories: employees, customers, investors and community. As a global company, Prologis has been dealing with COVID-19 since January when its employees in China started working remotely, but most of its employees elsewhere have been working from home since mid-March. Prologis has stopped all new speculative development and halted construction on several speculative projects that had recently started.
"Our property-level teams continue to make exterior property inspections under protocols to keep them and our customers safe while continuing to serve," Reilly said. "Business continuity and communication plans are in place allowing all functions of the business to work smoothly. We invested heavily in technology and support over the years, allowing our teams to grow accustomed to running the business and communicating with colleagues remotely. Fortunately we are not dealing with layoffs and have extended financial assistance to employees in need due to a spouse, partner or family member having lost their jobs. Our executive committee now meets every morning, we release leadership videos Monday and Friday, and we have redesigned our Internet to educate and equip our employees for working and serving customers remotely and effectively. Our commitment to enhance internal communication is really helping morale. Our people are working together like I've never seen before."
Reilly said since the COVID-19 battle began, activity in the industry segments serving essential daily needs and the work-from-home economy are most active, including general retailers, food, medical supplies and electronics along with supporting industries such as paper, packaging and transportation.
"Conversely, those customer serving the hospitality, brick-and-mortar retail, and event management businesses are understandably quiet," Reilly said. "In a summary of other data from just the month of March, while it's too early for conclusions, there are interesting patterns."
In March, Prologis signed 209 leases amounting to 18.5 million square feet, a 42% year-over-year increase and a 16% increase when adjusted for its portfolio size. And the foregoing year-over-year percentages are also size-adjusted. A majority or 64% of this March leasing took place in the second half of the month. And within this total, its normal lease-term leases were up 12% year-over-year. And short-term leasing, meaning less than a year, was up 44%. Looking to leading indicators, lease proposals were up 13% year-over-year in March and up 29% year-over-year during the last 10 business days. And this is March 23 through last Friday, April 3.
Lease negotiation gestation periods were unchanged year-over-year at 50 days. And April move-outs so far imply a mid-80s retention versus high 70s, which is Prologis' three-year average. Rent change for the quarter was 25.1%, flat year-over-year. But interestingly, March rent chain was up 640 basis points at 31.2%.
When looking at actual rent payments, Prologis received more than 94% of March rent, which is actually up year-over-year but basically in line with expectations. And rent payments in April to date are also in line.
Reilly said rent relief is an important topic and Prologis is managing these requests with the same detail process used in the past. And, the firm is being methodical about this exercise.
"After receipt of an inquiry, we take the following steps. First, for applicable customers, we provide an SBA financing toolkit or its alternative outside of the US. Second, we ask customers to explain the reason for the request and submit current financial statements. We then review applications carefully and prepare assistance packages for a subset of the applicants. The assistance we do provide comes in the form of rent deferral, whereby a portion of the customer's rent is deferred in the form of a loan to be repaid in the future. We're methodical about this exercise as our aim is to help those customers who really need it and will be able to repay the deferred loan," he said. "We have received several opportunistic relief requests from large financially sound customers, frankly, not the audience we are targeting with this support. Deferrals granted for legitimate cases may also include adjustments for the existing lease terms, such as the elimination of purchase, fixed rent or extension options; or securing the deferral loans with leasehold interest, other real estate or financial assets."
Moghadam said while the firm has received two-thirds of its cash payments for the quarter and payments are at a normal pace, this situation will continue to unfold later in the month.
"We have a 10-day grace period in the US and rents are due the second half of the month in Japan," he said. "People should do the right thing. We're not going to stand for rents not being paid from Fortune 100 customers. People should not use this market condition opportunistically. We should be here helping the people who really need help as opposed to trying to extract an economic advantage."
Moghadam said it is also worth pointing out a few mitigating conditions that did not exist during the previous financial crisis. Banks are now in a much better position to help businesses bridge their operations. Moreover, current vacancies are 4.6% in the US and below 4% in Europe, substantially below the mid-7%s that prevailed in 2007-2008. And, some tenants actually need more space either temporarily to deal with certain products or permanently to deal with secular changes coming out of this crisis.
"People don't lease warehouse space because they want to. They lease warehouse space because they need to due to more voracious appetite for space to store stuff during creditor liquidation, etc.," he said. "I'm not really saying that there's going to be blood on the streets, but I'm just saying that this is a strong asset class that is going to be even more desirable. We're not building 12-story office parks, we're building the 12th building in an industrial park so development will not be a problem."
Moghadam says the crisis has highlighted areas that are most vulnerable. Specifically, the just-in-time aspect of the industry is going to change due to the reality that goods have not been readily available during this crisis. This will lead to companies operating with higher inventories.
"Inventories will be 5 to 10% higher once this thing is over," he said. "This will cause the growth rate to change, perhaps double in four to five years. The other factor is what is the origin of the goods? This will lead to more manufacturing in the United States or at least in the Americas: maybe Canada, maybe Mexico."
Consistent with the COVID-1 pattern in China, economic metrics in the US and Europe are showing a sharp deceleration in activity, according to Prologis' Industrial Business Indicator/IBI, which fell to 41.7 from 60. Current levels are above the lows reached during the Global Financial Crisis, when the index fell to 31.1 in November 2008. Such volatility signals a recession and that logistics demand could pause or reverse in the second half of 2020, if not sooner, posing a risk to market vacancy rates and rent growth, said the IBI in late March.
As of December 31, 2019, the REIT owned or had investments in approximately 964 million square feet in 19 countries, including the Industrial Property Trust acquisition on January 8, 2020 and the Liberty Property Trust acquisition on February 4, 2020.