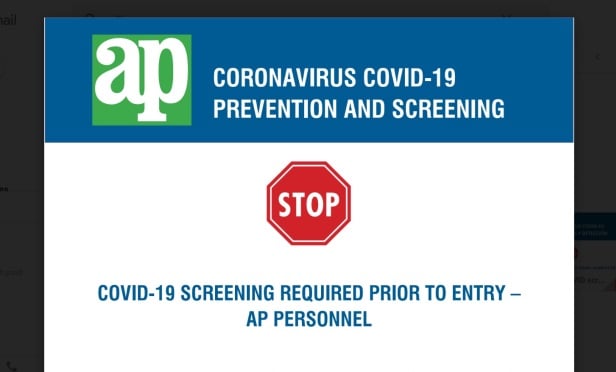 DALLAS—Amid the COVID-19 pandemic, many companies are adapting, learning and even finding opportunities. This means identifying best practices to weather the downturn, and potential long-lasting trends are leading to long-lasting impacts as the industry looks at what the new normal might be once this crisis has passed.
Corbett Nichter, executive vice president/chief operating officer of the Eastern regions and Dallas office leader of Adolfson & Peterson Construction, recently shared insights on how the company is taking steps to keep job sites healthy, working with its trade partners to keep business moving forward and filling the product gap of supplies no longer coming from Europe.
"The biggest thing in construction were the orders coming in from municipalities and counties differing on essential construction. There were all kinds of interpretations of the law," Nichter tells GlobeSt.com. "The GA-14 executive order from the governor explained that construction is essential and this document superseded the cities' orders."
The order indicates that all businesses operating within Dallas County except essential businesses are required to cease all activities at facilities located within the county except minimum basic operations. For clarity, businesses may continue operations consisting exclusively of employees or contractors performing activities at their own residences (i.e. working from home). To the greatest extent possible, all essential businesses shall comply with the social distancing rules, including maintaining 6 feet of social distancing for both employees and the general public. Essential business allows work providing essential products and services at an essential business or to otherwise carry out activities specifically permitted in the order.
Critical trade includes certain services, pool cleaners, maintenance and security, and other service providers who provide services that are necessary to maintaining the safety, sanitation and essential operations of residences, essential businesses, essential government functions, and critical infrastructure. Critical trade does not include discretionary maintenance or improvements. Construction for public works, residential, commercial and schools are permitted but elective additions and maintenance are prohibited.
Protecting construction workers from the spread of COVID-19 is extremely important. For individual and public health, all construction sites must follow the safety recommendations issued by the Construction Industry Safety Coalition including but not limited to:
All workers and contractors must take their temperatures at their residences. If a worker has a temperature above 99.6 degrees Fahrenheit, then they are prohibited from going to work and must remain at their residence.
To the greatest extent possible, implement a system whereby supervisors must check the temperature of all workers and contractors with a forehead thermometer before the worker begins work. If a worker or contractor has a temperature above 99.6 degrees Fahrenheit, they are to be sent home immediately.
Shift work must be implemented such that each shift shall have no more than 50% of the workers who were on shift on March 16, 2020. Once assigned to a shift, workers shall not change from one shift to another.
To the greatest extent possible, limit crossover of subcontractors.
Gatherings during meals or breaks are prohibited.
Workers must keep a 6-foot distance between people at all times, unless the work being performed requires multiple individuals for the safety of the workers.
Workers must not use a common water cooler. Employers shall provide individual water bottles or instruct workers to bring their own.
Employers must allow non-essential personnel to work from home when possible.
Employers must provide soap and water, and hand sanitizer in the workplace, including all restrooms, and ensure that adequate supplies are maintained.
If running water is available at the site, workers must wash their hands for at least 20 seconds before beginning work, when they remove gloves, and before and after the use of shared items such as tools or multi-user devices, before and after any meal or restroom breaks, and when their shift or work time ends.
Employers must designate a COVID-19 safety monitor on each site who has the authority to enforce these rules.
Current Adolfson & Peterson Construction projects include $727.17 million under contract in Texas encompassing 51 active projects which are headquartered out of AP's office in Richardson, TX. Nichter says the company procured many products early, at the end of 2019, because of weather issues and manpower resources in DFW. However, the slowdown has caused many products to be unavailable.
"We were tracking this much earlier because we put Myrtha Pools in many of our projects. These are only made in Italy," Nichter tells GlobeSt.com. "We got product a week before Myrtha shut down. They normally have lead times of six months. Also, we were also notified by Trane that it shut down for at least two weeks and the delivery date has been pushed four weeks at this time. Switching to other products usually delays projects."
However, AP is attempting to source locally or within the country to make substitutions where possible. He says despite all of these roadblocks, there are opportunities.
"Our positioning was around being diverse. We are very confident in our position but are being cautious because the capital markets will slow down," Nichter tells GlobeSt.com. "But there is opportunity due to the disruptions overseas and just in time inventory."
And, despite all of the challenges, there is optimism.
"There is an immense spirit in DFW and North Texas in the AEC community, just an impressive can-do spirit with this shared experience," Nichter tells GlobeSt.com. "I am proud to be a Texan right now. I'm still very positive that North Texas will come out stronger than any other part of the United States."