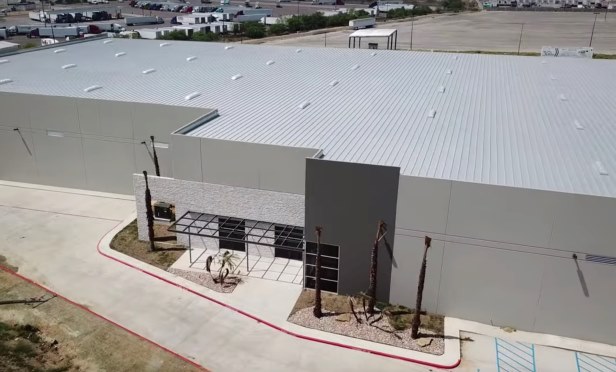 LAREDO, TX—The I-35 Logistics Center, a 131,718-square-foot speculative industrial development, has been delivered to the market. Gulf Corporation was the developer/project manager and Fort Worth-based Tailwind Real Estate Equities was the equity partner. Laredo-based Park Avenue Construction was the contractor. The project broke ground in August 2019.
"When selecting a site for this build, we ultimately decided that this location, with such convenient access to IH-35, would be ideal for our future tenants," says Wynn Searle, executive vice president of development at Gulf Corporation. "With extremely low vacancy in the Laredo market, we are hopeful that this property will provide some much-needed relief to the area and will provide tenants seeking a new location access to a top-quality new space."
This bulk distribution warehouse space is located along the IH-35 frontage road. Included within the 131,718 square feet is 4,000 square feet of ground-floor office space along with a 1,000-square-foot two-story warehouse office. In addition, tenants will be able to utilize 32-foot clear heights, 46 dock-high doors, two ramped doors, LED warehouse lighting and ESFR fire protection. This facility also provides ample parking with 73 trailer parking spaces and 60 employee parking spaces.
"This class-A industrial development offers modern amenities that are not readily available to users in the Laredo industrial market at this time," says Joshua Aguilar, first vice president at CBRE San Antonio. "Gulf Corporation and Tailwind Real Estate Equities were very strategic in the development of this property to best meet the high demands of the market. This space will provide users much-needed top-of-the-line space that is suitable for a wide variety of uses including, logistics, distribution and manufacturing."
Aguilar is representing Gulf Corporation in the marketing of the I-35 Logistics Center.
"This new building is well located in the north Laredo submarket while offering building characteristics that are much needed to increase efficiency in Laredo," Aguilar tells GlobeSt.com. "Those characteristics range from clear heights and fire sprinkler systems to the number of dock doors and trailer staging positions, which exceed what we have seen in the market."
Laredo holds the title of most important land port in the United States. In 2019, the city registered a record $303.37 billion in international customs exchange, according to Texas A&M University.
"Laredo has suffered from pent-up industrial demand for quite some time due to a lack of speculative development," Aguilar tells GlobeSt.com. "Traditionally, local developers and families have only built on an as needed or build-to-suit basis and control the bulk of the land creating barriers to entry.
Due to the ongoing changes in supply chains in response to consumer demands and behavior during COVID-19, it is expected that the market will pick up largely where it left off just a few weeks ago, according to a recent CBRE conference call. During a longer time horizon, there is a strong expectation of not only "business as usual" but actually growth in two areas–e-commerce and inventory held on hand–which will significantly impact demand for warehouse space across the country. Specifically, e-commerce has been growing at a steady rate of 15% annually and its share of overall retail sales has been growing at a rate of about 100 bps per year, now at 11%, says CBRE.