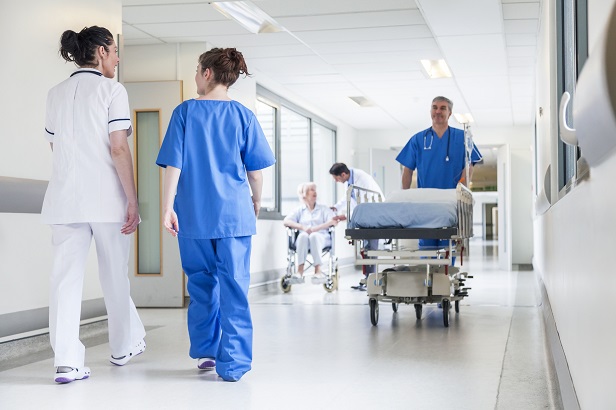 As healthcare organizations scramble to absorb the exogenous shocks of the 2020 COVID-19 pandemic, real estate providers have a unique opportunity to help them meet this moment by offering temporary space for a range of patient care needs and ancillary healthcare services.
The rapid deployment of more healthcare spaces is becoming critical given projections the US will be out of available beds in intensive care units by the end of April, with beds in medical-surgical units reaching full occupancy by mid-May.
Where under more normal circumstances, funding and regulatory requirements would be barriers to creating new healthcare spaces quickly, those traditional barriers are being torn down to meet this unprecedented challenge.
The $2 trillion congressional stimulus package, authorized by President Trump in March, includes an emergency fund for hospitals, a 20% increase in Medicare reimbursement for hospitals that care for COVID-19 patients, $1.3 billion for community health centers, and $16 billion for the national stockpile of emergency medical supplies.
And the Centers for Medicare & Medicaid Services has activated blanket waivers to help healthcare organizations meet the patient surge. For example, hospitals may now move patients between units, exceed typical limits on beds, and expedite Medicare provider enrollment.
Already, health systems backed by forward-looking public-private partnerships are setting up temporary field hospitals everywhere from Sacramento's Sleep Train Arena to New York City's Central Park. The Army Corps of Engineers has taken a leadership role in making this happen and is seeking space in numerous locations across the US.
But field hospitals alone can't solve this problem. So commercial real estate leaders are also joining the effort with other creative solutions.
Take the United Center in Chicago, for instance, which will be a logistics hub for COVID-19 operations, used for food distribution, staging, and coordination for medical supply shipments. Chicago is also reopening shuttered hospitals, and opening up thousands of hotel rooms, some for infected first responders, others for less serious cases. And that's only the beginning of the ingenuity we're seeing across the industry–even RV donations are now being solicited to help house doctors and nurses.
From reopening vacant hospitals to repurposing hotels and sports arenas, the following are a few ways CRE leaders can help health systems meet this moment–whether your portfolio includes healthcare-specific space, or not.
Identify healthcare space that could potentially house patient care
Hospitals have very strict maintenance requirements, so the best options for direct care space will be facilities that have already housed healthcare in one form or another.
If your portfolio contains a dormant hospital, for instance, it may be possible to convert it into a working care environment. A few markers can help you assess its viability, including how long it's been closed. A hospital that's only been out of commission for a few months will generally prove simpler to reopen than one that's been shuttered for years. Most temporary care sites are not designed to treat the most critical cases, so the logistics of transporting patients to the nearest hospital should their conditions deteriorate must also be considered.
Alternatively, do you have space to lease in a medical office building? A healthcare provider may be able to relocate rehab and outpatient surgery there, freeing up room in the hospital itself. When looking to expand space for care, however, do note that close proximity to the hospital system as well as equipment like crash carts will be vital.
Consider non-healthcare real estate to free up hospital space
From university dorms and hotels, to arenas and industrial warehouses, there are many ways non-healthcare space can help health systems absorb the shock of patient surge. This can include spaces designated to treat non-COVID-19 patients or isolate patients with mild symptoms.
Sports arenas and parks. Dodger Stadium, Hard Rock Stadium and the Charlotte Motor Speedway are a few examples of parks and arenas offering space for COVID-19 testing. They can also potentially offer sanctuary for homeless people, minimizing spread to the larger community.
Hotels and dorms. Clinical workers and first responders may need to stay closer to the hospital, in isolation from their families. Homeless communities could also be offered temporary housing in hotel rooms and dorms.
Some of these spaces could help more directly by housing COVID-19 patients with mild systems, but they would need to be retrofitted with new air circulation systems and carpet removal. Proximity to the central hospital would also be critical, as well as a strong patient security strategy, cleaning protocol, and onsite cooking facilities.
Industrial warehousing. With some hospitals converting onsite storage rooms for direct patient services, they need to identify more spaces off premises to transfer equipment, materials, etc. They may also need offsite space to collect and organize personal protective equipment and other much-needed supplies. All this adds to the appeal of more industrial storage space, particularly in facilities with strong management systems, like highly calibrated refrigeration, in place.
Make your space accessible, then available
There is no singular playbook to follow. Requirements will vary greatly depending on how any given facility will be used. The following questions can provide a starting point for your planning:
What type of space can you offer?
What potential uses may this space serve health systems now?
How quickly can you make this location available?
Can the facility be offered as is, or are you prepared to help convert it into usable space
What important boxes can you check in terms of proximity and appropriate building engineering systems?
You can also help our nation's healthcare leaders by doing what you can to simplify the administrative process of leasing. Note that regulatory requirements and lease guidelines under STARK Law could potentially be eased, so keep an eye out for any regulatory changes.
Kimberly Lamb is executive director for JLL Healthcare Solutions. Katherine Tolomeo is director of compliance strategies for JLL Healthcare Solutions