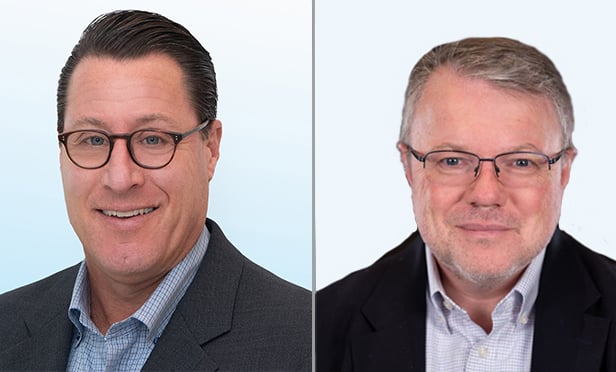 WASHINGTON, DC—The pandemic may bring office tenants and landlords together. GlobeSt.com reached out to sector experts at Colliers International—EVP Larry Bank and Stephen Newbold, national director of office research—to discuss the lack of legal remedies versus defaulting tenants and other key office market contingencies during the unprecedented times of the coronavirus.
"Ideally, both the landlord and the tenant would work together to reach an agreement, thereby avoiding legalities," said Bank. "Neither party has taken any adverse action to put themselves in this position. Given the circumstances, there should be an air of cooperation with the rent forbearances and workouts."
The fact that most major cities do not provide "self-help" relief to landlords means due eviction process is required, but rulings against defaulting tenants are hard to come by when courts are closed. When they open the normal case backlog of four to five months might be doubled.
"That is a considerable time to go without the tenant paying rent," Bank added, "thus encouraging the landlord to look for other, more cost-effective solutions, including some sort of deference or even abatement, especially with credit tenants. Ultimately, landlords are in business to lease space. If there are increases in the number of defaults and/or tenants increase the level of remote work, then the prospects of replacing the tenant are diminished."
COVID-19 affects different industries in different ways obviously, with the impact reflected in the health of office markets and their tenants based on susceptibility and the local economy composition. Healthcare, biotech and pharmaceutical markets may be less impacted, while office markets tied to trade/port activity or with a major travel and hospitality tenant base could struggle. Social by nature, one segment of the office market faces especially tough questions.
"The core coworking model is being challenged as clients, many of whom are on short-term agreements of as little as 30 to 60 days, cease to use such facilities," said Newbold. "The greatest impact is likely to be on shared, rather than dedicated, space."
Smart landlords know that whatever the "new normal" will look like in the office sector it will come after a great deal of reevaluation by tenants, which will have become much more proficient with remote working. Facing limited legal remedies and a shifting spatial paradigm by occupiers, proactive office owners are likely to choose stronger together and redouble their relationship-building efforts.
"The most lasting impact of the pandemic on the office sector could come from firms reassessing their space needs and the flexibility of their lease agreements," Newbold concluded.