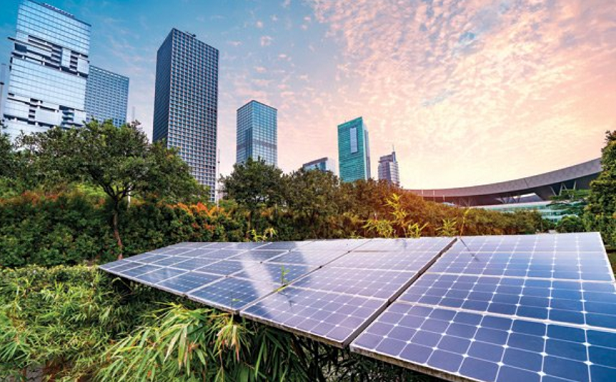 A recent study from Harvard University's T.H. Chan School of Public Health found that people in cities with slightly higher levels of particulate matter (PM2.5) had higher death rates from COVID-19.
"We have research showing that air pollution, which in many parts of the world is coming from burning fossil fuels, is causing people to die from COVID 19," says Dr. Aaron Bernstein, USGBC board chair and also the co-director of Harvard's Center for Climate, Health and the Global Environment (Harvard C-CHANGE). "For people who are living in places with worse overall air quality, it [pollution] has set up their lungs to fall apart when they got sick."
But what does that mean for commercial real estate?
"Green buildings save lives because they rely less on energy for every square foot of the building," Bernstein says. "They're responsible for a lower share of air pollution."
Additionally, standards like LEED incentivize buildings accessible to public transit. That reduces the need for cars, which burn fossil fuels.
"Green buildings have real value to help," Bernstein says.
While Bernstein says the location of green buildings near transit can reduce greenhouse gases and their need for less energy, airflow inside of buildings can also impact health. "We adults spend most of our time in buildings," Bernstein says. "So whether your building is giving you better air or not matters to your health. Ventilation is critical, and indoor air quality is critical. Many of the volatile organic compounds that come out of building materials are bad."
Bernstein says green building standards are designed to improve the indoor environment. "If you have LEED-certified a building, you're going to be incentivized to make sure that you have finishes with limited off-gassing," he says. "You're going to potentially have air filtration systems that reduce air pollutants and the spread of pathogens in your buildings."
The connection between pollution and COVID-19 doesn't surprise Rachel Gutter, president of the International WELL Building Institute (IWBI). IWBI has always tried to stress the triple bottom line of people, planet and prosperity.
"I'm finally starting to see some coverage about the interconnectedness of this experience [COVID-19] to other accelerating and precipitating events that we've been encountering over the last several years," she says. "I think everyone, most especially environmentalists, have been slow to draw a very important connection between this pandemic and climate change."
Gutter thinks it's important for business leaders and public health officials to see the connection between pollution and health outcomes.
"We don't need anyone to embrace a commitment to health and wellbeing from an altruistic stance," Gutter says. "This situation underscores that better than ever. It's going to redefine the way that we think about safety in the same way that 911 did."