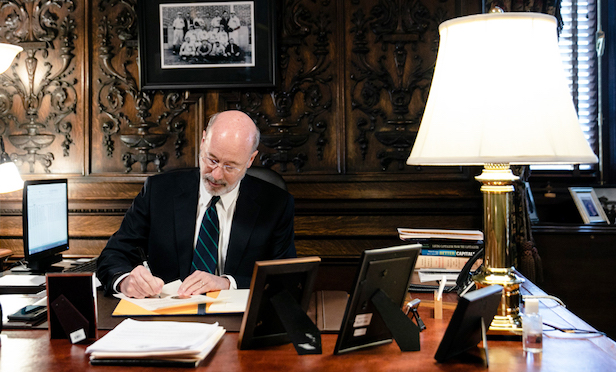 HARRISBURG, PA—Pennsylvania Gov. Tom Wolf announced on Monday that the state's stay-at-home order would be extended from April 30 to May 8. In defiance to some public pressure, the governor also vetoed a bill that would have relaxed restrictions imposed to prevent the spread of the Coronavirus.
Non-life-sustaining physical business closures remain in effect and all life-sustaining businesses and state services will continue under the extended stay-at-home order. Individuals are permitted to leave their residences for tasks essential to maintaining health and safety.
Gov. Wolf recommended that Pennsylvanians continue to wear masks when leaving the house for life-sustaining reasons.
Pennsylvania Secretary of Health Dr. Rachel Levine recently signed an order directing protections for critical workers who are employed at businesses that are authorized to maintain in-person operations during the COVID-19 disaster emergency.
"It is clear that our early and aggressive efforts to mitigate this spread of this highly contagious and deadly virus are working. While we begin to seek ways to move forward, it's imperative that we continue to take strong precautions to protect Pennsylvanians and ensure that our health care system is not overwhelmed," Gov. Wolf said
Also, on Monday, Gov. Wolf signed Senate Bill 841 that provides flexibility on property tax deadlines, allows remote public meetings and notarization of documents so online vehicle sales can resume.
The bill reauthorizes the Pennsylvania Health Care Cost Containment Council and requires it to study the impact of COVID-19 on hospitals and health systems; allows local governments to conduct remote public meetings; provides property tax relief by allowing taxing districts to waive late fees and penalties for property taxes paid by Dec. 31, 2020; allows school districts to renegotiate contracts with service providers to ensure payment of personnel and fixed costs during the school closure and allows remote notarization of documents.
The governor vetoed Senate Bill 613 that its proponents say would have helped more Pennsylvania employers re-open safely. The bill would have required the Wolf administration to follow national guidelines issued by the Centers for Disease Control and Prevention and the Cybersecurity and Infrastructure Security Agency in determining what businesses can be open during the pandemic.
Senate President Pro Tempore Joe Scarnati (R-25) and Majority Leader Jake Corman (R-34) condemned the governor's veto of the bill. "The legislature has been actively working to fix the broken system Governor Wolf created, before many of our family-sustaining jobs disappear for good. On a day when hundreds gathered in Harrisburg to protest the Governor's 'because-I-said-so' opaque policymaking, it is very troubling that he vetoed a proposal to create a public mitigation plan that would have allowed employers to operate safely during the current emergency declaration," they said in a statement.
Gov. Wolf in his veto message of Senate Bill 613, stated, "This is not an easy decision, but it is the right course for Pennsylvania. Reopening tens of thousands of businesses too early will only increase the spread of the virus, place more lives at risk, increase the death tolls, and extend the length of the economic hardships created by the pandemic."
On Monday, the governor also announced that public and private residential and non-residential construction may resume statewide starting Friday, May 8, in accordance with safety guidance that will be issued by the administration shortly. Construction projects already deemed life-sustaining may continue while adhering to social distancing, personnel limits and other guidance as announced by the administration, state officials note.