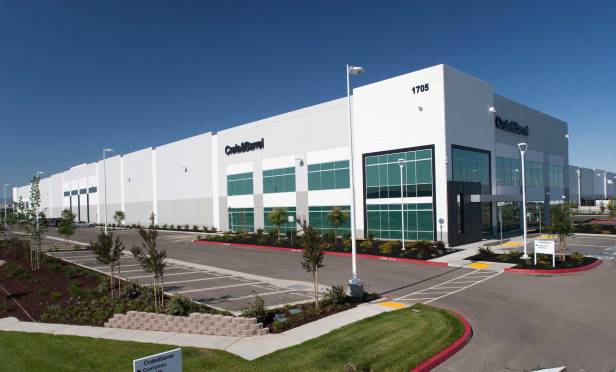 SAN FRANCISCO—Prologis recently released its first quarter operating performance, which indicated that the firm entered the downturn caused by COVID-19 in a solid position. Net earnings per diluted share were $0.70 for the quarter compared with $0.55 for the first quarter of 2019. Core funds from operations per diluted share were $0.83 for the quarter compared with $0.73 for the same period in 2019. There was no promote income earned in either period.
"We entered the COVID-19 crisis in a position of financial strength," said Thomas S. Olinger, chief financial officer of Prologis. "We have significant liquidity as well as investment capacity and our dividend is well covered. Additionally, we have effectively addressed our consolidated maturities until 2022, we have insulated our earnings from FX movements through the next three years and more than 95% of our equity is in US dollars."
Hamid Moghadam, chairman and CEO of Prologis, echoed that sentiment, indicating that Prologis is riding out this challenging period with a strong portfolio.
"Our strong first quarter operating performance is a result of our long-term focus on the world's top consumption markets," said Moghadam. "While the current environment is challenging, we are well-prepared. We have confidence in our team, our strategy and in the strength of our portfolio."
The firm says new deployment will be assessed on a per-transaction basis. Prologis' revised guidance assumes no further activity other than the transactions currently under contract, as the company's bias is to be patient on new capital deployment opportunities. It expects to move forward with fully committed speculative development and previously negotiated build-to-suit agreements. Prologis has 30 BTS projects under construction and all underlying customers have indicated an intention to move forward as planned.
"While we are just 30 to 90 days into the COVID economy, we are seeing short-term effects play out very differently across our customer industry sectors," says Eugene Reilly, Prologis CIO. "At this time, roughly 60% of our customers are growing and 40% are shrinking. At the extreme ends of the spectrum, categories like food and beverage and consumer staples have sales up significantly, and conversely clothing, sporting goods and home furnishings are all down sharply. Our customers in contraction are going through a short-term shock, some will recover fairly quickly, others face a longer transition to normalcy, and unfortunately, certain businesses will not survive. At the same time, the pandemic has led to significant growth for the industries serving the stay-at-home economy and we continue to experience elevated e-commerce demand, a 40% share of new leasing versus 23% pre-crisis. With the benefit of customer dialogue and applied research, we factored in tailwinds and headwinds to arrive at our revised 2020 earnings guidance. Our portfolio quality, customer composition and balance sheet strength are mitigating the headwinds, and our disciplined efforts to dispose of $15 billion of nonstrategic assets over the past several years is paying dividends today."
Turning to the long- term impacts, Prologis believes some of the changes brought on by the pandemic will be durable. COVID is very likely to accelerate a share shift from brick-and-mortar to e-commerce retail, Reilly said. Prologis also believes the growing importance of safety stock will lead to higher global inventory levels in the future. These trends will increase demand for logistics real estate in the long term, but will also have a positive effect on 2020 activity, and this is already beginning.
"The focus is clearly on what's ahead and what shape an eventual recovery looks like," R. Jeremy Metz, analyst with US Real Estate. "The entry point is also important, and here Prologis, and the sector more broadly, starts on strong footing with more than 95% occupancy, nearly 40% of the in-process development pipeline leased/committed and $4.6 billion of liquidity."
Prologis' forecast for logistics real estate market fundamentals in 2020: In the US, supply will total 225 million square feet, an 18% year-over-year decline. US net absorption will total 100 million square feet, the lowest level since 2010 and a 55% year-over-year decline, driving the vacancy rate up 90 basis points to 5.4%.
Reilly said occupancies in all geographies will decline, but also end the year at historically healthy levels. The spike in leasing activities in March has settled down and volumes are generally in line with historical trends. Forward-looking data continues to be encouraging, he said.
"During the last 30 days, we've signed 198 leases amounting to 17.5 million square feet," Reilly reported. "That's up 21% year-over-year and roughly flat adjusted for portfolio size. Our lease proposal generations are up 21% year-over-year. Lease negotiation gestation periods for new leases have declined by about 14 days year-over-year. And retention was just over 80%, a couple of hundred basis points higher than comparable historical periods."
After slicing the data in several different ways, Prologis sees three clear themes at this point. First, potential consumer product sectors are driving the demand. Second, e-commerce is driving demand across industry sectors; and third, its larger customers are faring much better than smaller customers in this environment.
Finally, Reilly says rent relief requests have slowed. To date, Prologis has received requests representing 4.3% of gross annual rent. Of these requests, 70% were not granted, 23% remain under review and 7% have been granted in the form of rent deferral loans, representing 27 basis points of gross annual rent and an average of about 33 days of rent per customer.
"This relief is targeted at our smaller customers with legitimate need stemming from COVID and not for opportunistic requests," Reilly says. "We believe the total rent deferral loans granted will eventually amount to about 90 basis points of annual rent growth, with these loans scheduled for repayment over the remainder of 2020."
With regard to Prologis' strategic capital business, Reilly says Prologis' investors remain positive on the logistics real estate sector.
"The company's insight into tenants, global reach and experience with the COVID response in Asia provides a unique perspective into consumptions trends, supply chains issues and the direction of economic recovery or lack thereof," says Thomas Catherwood of BTIG. "As such, we view Prologis' guidance as conservative, and we maintain our Buy rating and $100 PT."