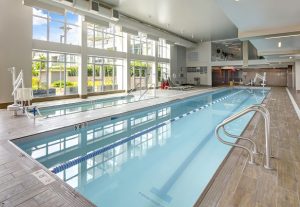 Condos and apartments across the US have shut or limited the use of building amenities to prevent the spread of coronavirus.
For the most part residents have accepted these limitations, understanding that such steps are necessary during public health crisis.
But there will come a time, as the rest of the US economy starts to reopen, when residents will want to know why they can't use these amenities, which they are paying for with their rent. Indeed, over the past several years the multifamily asset class has been engaged in an amenities war, with projects offering better and more luxurious add-ons in order to draw in residents.
The first line of defense will be to encourage or mandate social distancing around certain share-space amenities, such as a property's pool and in the gym, John W. Gray, president of LMC Investments said during a webinar held last week by Marcus & Millichap's Institutional Property Advisors. "Staff will have to watch residents to make sure the amenities will remain safe," he said.
That will be in the near term after restrictions are relaxed.
In the longer-term, the demand for amenities will likely shift but it is debatable by how much. "A lot of it will depend on how long we are in this situation and how short our memories prove to be," webinar participant Brian Eby, managing director at Nuveen said.
After years of residents coming to expect amenities that get bigger and better, Eby doesn't think this attitude will fade. "Things might look a little different," he said. "Instead of a fluid floor plan for a clubhouse it might be designed with smaller, separate rooms."
Gray also believes that there will continue be demand for shared-space amenities, but that the coronavirus' after effects will be seen in more subtle ways. Employers may be willing to allow employees to work from home more often and residential buildings will accommodate this by offering more communal work-from-home space, he said.
Business centers will have to be better equipped, according to Bell Partners president Lili Dunn. Not only must WiFi be top notch, but the centers should have the bandwidth to support video conferencing as well, she said.
In fact, as more people retreat to their homes to work, Eby expects the demand for onsite amenities to actually increase. "If you are holed up in a studio apartment you will want to be able to access green space or gyms," he said.
Virtual leasing is another trend expected to continue after the coronavirus passes, Gray added. Implemented once it became clear that social distancing would be the norm for some time, virtual leasing has gone better than the industry expected, he said. "Residents have shown themselves to be willing to get online and lease an apartment sight unseen," he said.
All that said, there will be expectations that apartment buildings acknowledge that the world will have changed after the coronavirus.
"People will want to know that cleaning standards are high and that management takes cleanliness very seriously, Dunn said. Branding will be important in that respect, she said. "People will want to live at a community" known for its high standards of cleanliness."