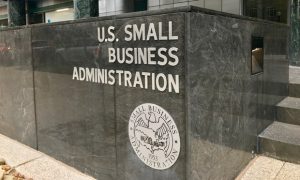 WASHINGTON, DC–Businesses struggling to stay afloat amid the economic shutdown caused by the coronavirus pandemic can get a reprieve on refinancing payments.
The SBA 504 Program existed before the massive closure of nonessential businesses but was beefed up by the coronavirus relief bill. It now allows owners who take out refinancing in the next five months to skip the first six payments. The Small Business Administration will cover the tab for those who refinance and fund by a Sept. 16 debenture sale.
Under an SBA 504 refinancing, small business owners can leverage their real estate for cash flow. They could use this as a supplement to the Paycheck Protection Program and Economic Injury Disaster Loan part of the relief package.
Owners can obtain federally backed refinancing of their existing conventional loans against the appraised value of their real estate. They can consolidate all their loans under the refinancing.
SBA 504 now is offering 25-year terms at a fixed below-market interest rate of 3.03%.
Businesses can obtain refinancing that's up to 90% of their appraised commercial real estate value.
Here is how the program works:
A business obtains a first mortgage from a bank at 50% of the appraised commercial real estate value. This would be secured by a first lien.
A business also obtains a second mortgage from an SBA 504 provider at up to 40%. Qualifying SBA 504 providers include certified development companies.
In return, the business contributes at least 10% of its equity, although the threshold is 15% for startups and single-purpose facilities.
This means a hypothetical business with property appraised at $2 million would get a $1 million first mortgage and a roughly $700,000 second mortgage. That's assuming the owner has $1.5 million outstanding debt and needs $200,000 to cover expenses.
Not all small businesses qualify as they must have existed and been owned by the borrower for at least two years. Loans being refinanced also must be at least two years old with 85% of the loan amounts covering business expenses including owner-occupied real estate, land and equipment. The owner also must be up to date with all loan payments for the past year.
The only loans that SBA 504 can't refinance are SBA ones.