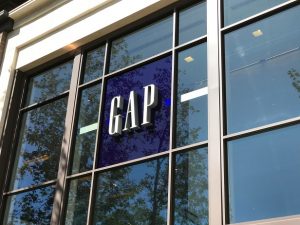 SAN FRANCISCO—Gap is the latest poster child for the retail industry's life-and-death struggle during the coronavirus.
In a new regulatory filing, the retailer laid out the hard choices it has had to make in recent weeks, noting that these might not be enough for the Gap to stay afloat in the end. It has, among other measures, furloughed workers, suspended stock repurchases and dividends, reduced its capital expenditures this year by $300 million, cut executive pay, realigned its inventory and tapped its entire $500 million revolving credit facility.
It also didn't pay rent for its North American stores in April, saving the company $115 million for the month. Most telling was this statement from the filing
"We are currently negotiating with the counterparties under those leases to defer or abate the applicable rent during the store closure period, to modify the terms (including rent) of our leases going forward after the stores reopen, or in certain instances to terminate the leases and permanently close some of the stores. (emphasis GlobeSt.com's).
In short, the company expects it will have to keep some of the stores it closed for the coronavirus permanently dark. This issue of store closures, of course, is not new but it does take on a new urgency as retailers look beyond the current stay-safe-at-home measures to try to figure out what the new normal will mean for them.
Last year US retailers reported 9,548 store closings, according to Coresight. It was a record year for closings, up more than 50% from the closings in 2018. This year Coresight is predicting that the carnage will be worse. More than 15,000 stores could shutter in 2020, the research company predicts.
"We anticipate that some of the retailers that have recently announced temporary store closures — including some well-known names — will never reopen their doors," Coresight CEO Deborah Weinswig, says in a report.
One hint as to why this round of closures may be different can be found in a new client note by UBS, which predicts 100,000 locations could close by 2025—especially as consumer behavior looks like it will permanently change because of the pandemic.
Among the changes: more consumers will shift their shopping online and when they do go to stores they will not stay there long. "Even when stores do open, it may take a while before people will regain their confidence about being safe in crowded places," UBS analysts Michael Lasser and Jay Sole wrote in the client note.
Jefferies analyst Randy Konik voiced similar fears in a client note from earlier this year. "The more stores are closed, the more demand is curtailed during those actual closures, but it also changes consumption patterns more and more to internet spend," he wrote.
Smaller retailers will be hurt the most, according to UBS, while large chains such as Walmart, Target and Costco could be beneficiaries from the shut downs, UBS said.
To be sure, there is other research that suggests that consumers will not abandon brick-and-mortar stores.
A new survey by MomentFeed indicate that consumers do plan to go back to brick-and-mortar businesses coming out of this crisis. In fact, 91% of consumers report they will return to restaurants, movie theaters, gyms, salons, stores, and banks, with 32% saying they will visit these businesses more than before the coronavirus. However, the survey also suggests that some online behaviors could last, with 28% of consumers planning to visit online business more than before Covid-19.
"Such an extraordinary event that has dramatically altered our daily routines will undoubtedly leave its mark; while normalcy will return, it will be different," said CEO Nick Hedges in prepared remarks.
"Brick-and-mortar businesses should prepare for a slow transition back to the 'new normal,' using every tool available to them to listen to their customers and anticipate what services and products they need and want."