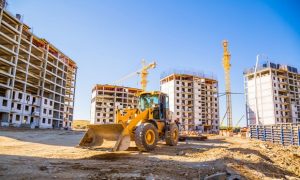 Contractors in the construction industry have seen project delays because of the COVID-19 pandemic, and many have great concerns about how long they can remain in business if delays continue for months, according to a new survey.
The online survey of 172 general contractors, construction managers, design-builders and trade contractors showed that 67% are dealing with project delays right now, most commonly because of government-mandated shutdowns of construction sites, said a report by Dodge Data & Analytics, an analytics and software company for the construction industry. The survey also asked contractors about their business outlook for the future, what their biggest fears are, how long their companies can survive amidst closures, and whether their insurance will cover their losses.
There were multiple reasons that projects are getting delayed.
One common reason cited by 22% of contractors was problems getting materials and equipment on time. There were 20% of contractors who said they faced challenges finding enough workers, due to social distancing, the fear of infection, or the need to care for children with schools closed. Among others, common reasons for delays included owners delaying or canceling projects, or issues getting permits and inspections from shuttered government offices.
The survey revealed that contractors expect to be hit the worst within three months. There were 48% of contractors who, in the three-month span, expected a high or very high business impact, 39% expecting a moderate impact and 13% expecting low impact. Their concerns ease up somewhat in a six-month outlook: 40% expected a low impact then, while 28% thought they'd see a moderate impact and 32% were bracing for a high or very high impact.
As for future concerns, the biggest fear centers around the possible recession, with 64% of contractors reporting they were very or extremely concerned. More than half of respondents also worried greatly about their workers transmitting the infection to each other. According to the survey, contractors also have extreme concerns about future worker availability because of government regulations, social distancing measures, and illness and quarantine.
Smaller contracting companies were more worried about worker shortages than large companies with over $100 million revenues.
"This suggests that smaller contractors are more vulnerable to personnel shortages," said the report.
Jobsites are expected to remain closed for an extended period by 47% of the contractors who responded to the survey. Smaller companies worried more than larger companies about these closures. How long can contractors deal with long jobsite closures? The survey revealed that 18% of contracting companies will have a hard time lasting one month, while 51% of respondents felt their companies will face serious risk if closures last for three months. Meanwhile, 20% said their companies could weather a three to six month closure, while 11% could last for six months or longer.
When asked if insurance will cover their losses, only 5% of respondents said they think insurance may cover project impacts, and 7% said insurance may cover their businesses. There were about 40% of respondents who were certain they didn't have insurance coverage, and another 55% of contractors said they did not know about coverage.
No one at Dodge Data & Analytics was available for comment about the survey before deadline, according to Nicole Sullivan, a public relations account supervisor.