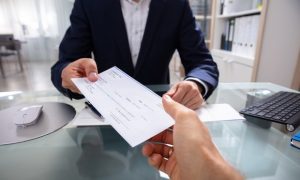 NEW YORK—Newmark Group is among the latest commercial real estate companies to announce deep pay cuts for top executives in order to conserve cash. Its announcement follows a host of other publicly-traded real estate companies, including Simon Property Group, Vornado Realty Trust, CBRE Group and Cushman & Wakefield, that have made similar reductions in compensation for their executive staff.
Newmark announced that its chairman Howard Lutnik, and CEO Barry Gosin will take 50% cuts to their $1 million base salaries, according to a filing with the Securities and Exchange Commission.
Other Newmark executives will take 15% pay cuts, including CFO Michael Rispoli, whose base salary is $700,000, chief legal officer Stephen Markel, who makes $500,000 in base pay, and the senior managers who report to Gosin. The cuts took effect immediately and will extend through the end of the year.
The Newmark board's compensation committee approved the salary reductions and board members volunteered to forego 15% of their annual cash retainers.
Newmark, which serves property owners, developers and investors, also tapped a revolving credit line for $180 million on March 17 as "a precautionary measure to preserve its financial flexibility" in response to uncertain global market conditions, according to a regulatory filing.
Simon Property Group was a month earlier in implementing pay reductions, slashing pay for at least five top executives at the end of March. The salary reductions will remain in effect "for a to-be-determined period of time," according to an SEC filing.
The REIT, which is the largest mall operator in the United States, had announced March 18 that it was temporarily closing its US malls and outlet stores in response to state-mandated closures of nonessential businesses.
CEO David Simon elected to reduce his base salary to zero. Last year Simon drew $1.25 million in salary, and his total compensation package, including bonus and stock, was about $10.43 million, according to the company's 2020 proxy statement.
Simon's general counsel, Steven Fivel, and its chief administrative officer and malls president John Rulli agreed to 30% salary reductions. Fivel and Rulli both earned $634,615 in 2019, with total compensation packages of $3.2 million and $3 million respectively.
CFO Brian McDade and assistant general counsel Alexander Snyder took 25% pay cuts. McDade earned $442,308 with total compensation of about $2.5 million and Snyder earned $442,692, with total compensation of $1.76 million.
In a subsequent filing, Simon's board agreed to suspend cash retainers for the board's independent directors, effective April 1.
Vornado Realty Trust followed suit on April 1, cutting pay by 15% to 50% for at least its top seven executives through the remainder of the year, according to an SEC filing.
The New York City-based REIT's CEO Steven Roth waived 50% of his base salary, while Vornado's president Michael Franco, CFO Joseph Macnow, and vice chairman David Greenbaum took 30% cuts. The co-heads of real estate, Glen Weiss and Barry Langer, and EVP-head of retail, Haim Chera, had their base salary cut by 15%.
Vornado's property portfolio includes 19.1 million square feet of Manhattan office space and 2.3 million square feet of street retail space in 105 Manhattan properties.
Other real estate executives took similar pay cuts as April progressed, according to SEC filings.
CBRE Group CEO Bob Sulentic waived his $1 million base salary as of April 4, while other executives took 15% salary reductions. Sultenic's total 2019 compensation package was $13.42 million, according to the company's 2020 proxy statement.
Cushman & Wakefield's CEO, Brett White, had his salary reduced by 25%, effective April 20, for the rest of the year. The real estate brokerage's CFO Duncan Palmer and COO Michelle MacKay each took 20% pay cuts at that time and president John Forrestor will take a 20% pay cut on May 1.