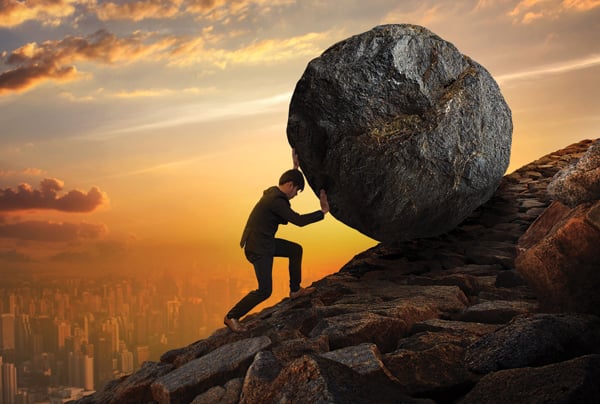 Seritage Growth Properties was born from the idea that there is value to unlock in struggling retail real estate portfolios if you look hard enough. Founded in 2015, the publicly-traded REIT was established to transform a stressed retail real estate portfolio, which it acquired from Sears Holdings.
The New York City-headquartered firm's strategy is redeveloping single-tenant real estate with low in place rents, which is commonplace for portfolios undergoing diversification. At the start of the year, Seritage had diversified more than 94.5% of its rental income, having focused on each individual asset to determine what tenants best fit which locations, according to James Bry, EVP of development and construction at Seritage.
"Redeveloping and repositioning our portfolio has been, and remains, a core part of our business and value creation strategy. We are fortunate to own some of the best located retail real estate in the country," Bry told us before the coronavirus entered the US.
Since then, retail has shuttered across the nation, laying siege to the REITs that specialize in this sector. Their short-term plight is obvious: with tenants' stores closed and consumers staying home, rents will not get paid.
GETTING THROUGH THE CRISIS
One glimmer of hope for mall REITs in the long run, though, is that they have faced challenges in the sector before—such as the shift to e-commerce and consumers' rapidly-changing tastes and behaviors—and they have the muscle memory to address this new set of challenges.
Of course, more artillery will be needed for this fight. REITs lucky enough to have low-leverage balance sheets and the ability to draw on credit facilities are those best positioned to survive the coronavirus. "Most of the REITs began the year with low leverage and they have pretty good liquidity resources to help them face the challenges ahead," Nareit senior economist Calvin Schnure has said. Even these companies, though, will likely cut dividends to conserve cash flow and will continue to see their shares beaten down in the market.
The survivors will ultimately be defined not just by their financial metrics, but also by their ability to adapt. "In normal times, factors like operating performance and profitability are primary," Schnure wrote on the Nareit website. "Today, however, these measures are less important. What matters most is to what extent a company or a sector has the resources to be resilient through a crisis that may last longer than initially anticipated."
WORKING WITH TENANTS
In 2016, Simon Property Group and General Growth Properties, now owned by Brookfield Properties, teamed up to save one of their major tenants, teenage clothing retailer Aeropostale, taking it from near liquidation of its stores to profitability in three years. The duo is expected to do the same, along with Authentic Brands Group, in its recent acquisition of bankrupt retailer Forever 21, which is set to close up to 178 stores in the US and as many as 350 outlets globally.
As of this writing, Simon is hunkered down, having shuttered its malls and furloughed much of its workforce. It is likely to emerge from this crisis relatively unscathed thanks to a strong balance sheet and liquidity position, not to mention its portfolio of class-A malls. Key to its—and other retail landlords—survival will be a willingness to work with embattled tenants, something that Simon has excelled at over the years.
For the most part, retail tenants are taking a positive approach to their troubles, Naveen Jaggi, president of retail advisory services at JLL Americas, told listeners on a webinar in early April. "Some just can't afford to pay the rent in April but others have paid their April rent or are offering some form of payback to the landlord in 2021."
As these negotiations commence, everything is on the table to deliver relief. "There are multiple ways to structure upfront rent relief," said JLL Americas' Tom Maloney during the webinar. Some landlords are offering rent abatement for, say, two months in return for amortizing the balance over a longer term. In other examples, tenants are asking for abatement and in return giving landlords extensions on leases. "That can be attractive to landlords with credit occupiers as they can add some stability to the asset," Maloney said.
After all, the last thing that a retail landlord needs right now is empty space and if a tenant defaults, backfilling the lease will be challenging, according to Chris Rizza, a partner with Crosbie Gliner Schiffman Southard & Swanson. For that reason, landlords are motivated to create tenant relief options, either temporarily or permanently, to keep occupancy up. "Rather than have the tenant potentially default on its payment obligations and result in a store closing, which could have negative impacts on the rest of the shopping center, a landlord may elect to assist the tenant with temporary or permanent rent relief options," says Rizza.
Some tenants, such as The Cheesecake Factory, have been playing hardball with their landlords by informing them of their plans, instead of negotiating a mutually-acceptable deal. For example, at the end of March, the restaurant chain told its landlords that it would not be making its rent payments in April, following a major decline in income due to the coronavirus. "Please understand that we do not take this action or make this decision lightly, and while we hope to resume our rent payments as soon as reasonably possible, we simply cannot predict the extent or the duration of the current crisis," CEO David Overton wrote in a letter to the landlords.
In an SEC filing, the restaurant reported that it is "in various stages of discussions with our landlords regarding ongoing rent obligations, including the potential deferral, abatement and/or restructuring of rent otherwise payable during the period of the COVID-19 related closure."
All told, non-payment of rent will jeopardize the repayment of up to $1 trillion of secured and unsecured debt held by property owners that underlays the shopping center industry, according to ICSC president and CEO Tom McGee.
GROCERY STORES ARE AN ESSENTIAL SERVICE
Not all REITs have had their tenants close down. REITs that specialize in grocery-anchored shopping centers are presumably the golden child at the moment as these stores are clearly essential to everyday living, pandemic or not.
But even these companies are unsure of their future as the pandemic progresses.
InvenTrust is a private real estate investment trust headquartered in Downers Grove, IL, which has refocused its portfolio from power centers and non-grocer assets to specializing in grocery-anchored assets in the US Sun Belt.
The REIT downsized from 40 markets to 15 to increase operational efficiency, sustain net operating incomes and buffer against retail market changes. The strategy allowed InvenTrust to increase its dividend rate closing out 2019.
On its website, though, InvenTrust makes clear that its financial presentations were released before the outbreak of the COVID-19. "Given the developing nature of this situation," it said, "it is too early to accurately estimate the potential impact on the company's 2020 performance and financial results."
Likewise for public grocery-anchored REITs, such as Brixmor Property Group and Kimco Realty, whose shares were battered just as thoroughly as the rest of the retail sector's in the early days of the coronavirus onslaught in the US. Additionally, Retail Opportunity Investments, like many REITs, withdrew its 2020 FFO guidance after the coronavirus began to spread through the US.
Still, it is hard not to see the case for grocery stores right now and extrapolate that to the sector's landlords. Spending at grocery stores has increased since the coronavirus took hold in the US, as the nation sheltered in place and ceased going to restaurants, according to research firm Alexander Babbage.
Historically, grocery-anchored retail has been a good defensive play. "Through strong and weak economic cycles, the neighborhood grocery-anchored shopping center has been a favored retail property class for lenders who recognize that the grocery-anchor is a significant draw to customers that frequent the service businesses that typically are tenants in the side shops and provide cash flow stability to the center," says Gary Tenzer, co-founding principal at George Smith Partners.
Tenzer also says that grocery-stores' everyday familiarity is in its favor during this tumultuous time. "With the prospect of being home bound for extended periods and the fear of stock-outs, many have rediscovered the grocery store anchoring the neighborhood shopping center after finding that online sources were unreliable and mob scenes at the warehouse club," he says.
OTHER TACTICS
It is also important to note that not all of retail REITs are pure plays. Recognizing the struggles of retail over the years, many have shifted strategies to include a mixed-use component, hoping to provide some balance as retail remains beleaguered by COVID-19.
When Seritage began to replace Sears stores with properties such as dining, shopping and entertainment, it also expanded to new asset classes, according to Bry.
"[We] have made significant progress transforming these properties into first-class, multi-tenant shopping destinations, and have now launched a series of multifamily and mixed-use projects across roughly three dozen sites," he says. "These redevelopments have been highly effective at driving income diversification and growth."
A REIT's heft will also aid in navigating this unusual time, another reason why Simon Property Trust is favored to come out, if not as a winner, then at least intact from this crisis. "They have the best balance sheet in industry," says Richard LaTella, executive managing director and the retail practice group leader for Cushman & Wakefield's valuation & advisory group. "They are the 500-pound gorilla in the room and a very well run machine."
Simon is poised to get much bigger per its pending $3.6-billion acquisition of Taubman Center, which it revealed in February. At the time, the move was hailed as brilliant. "Simon Property Group bid suggests there is significant upside in US malls," Chris Needham, principal at Gaspee Real Estate Partners said when the deal was announced.
Since the start of the coronavirus, investors have been wondering about the fate of the deal, to say nothing of its wisdom. In a research note, Mizuho Securities USA speculated that Simon would be unlikely to exit the agreement using its "material adverse effects" clause despite the pandemic, reasoning that Simon would have to show that the pandemic has had a "disproportionate impact" on Taubman compared to its peers.
Yet Taubman Centers made headlines in late March when it warned tenants that it expected its April rent to be paid on time. In all likelihood, the REIT was probably met with requests `for extensions and forbearance that would drag on its cash flows.
In the long run, post-coronavirus, the original driver for the Taubman acquisition could well materialize. Many saw it as an opportunity for Simon Property Group to gain stronger footing in a quickly changing marketplace, according to Aleida Martinez-Molina, a bankruptcy and insolvency attorney at Weiss Serota Helfman Cole & Bierman. "The nation's largest mall operator may be positioned to facilitate the transition of traditional malls from almost exclusive retail shopping venues to places with more 'experience/entertainment' tenants," she said.
It is difficult at this point to see how the coronavirus reshapes consumers' shopping habits but it does bear mentioning that before the coronavirus, retail was well on its way to reinventing itself as an experience-based destination for shoppers. There is a school of thought that, once it is safe to emerge, consumers will be desperate to get outside and spend money.
"Entertainment-oriented retail keeps spaces fresh and gets people in the malls to stay longer and spend money," LaTella says.
At this point it is hard to imagine that happening again. But REITs have learned to play the long game and adapt when necessary—skills they will need as they ride out this crisis. —Additional reporting by Erika Morphy.