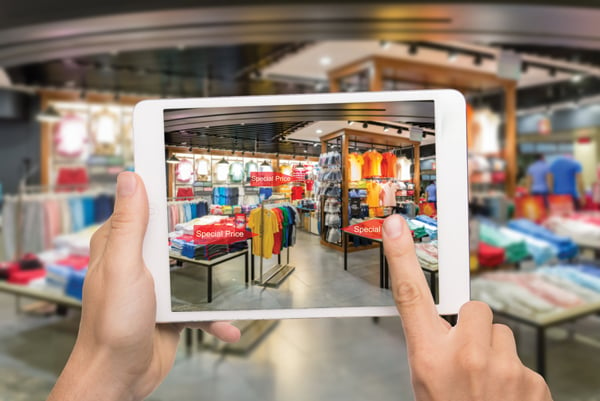 Between March 12th and March 15th, order volume for online grocery retailers surged an eye-popping 210% compared to the same period in 2019, according to Rakuten Intelligence . Separately, NetElixir reported that online food sales rose 183% between March 1 and 25, compared with the same period last year.
What do these numbers tell us? One obvious conclusion is that consumers are staying home while the coronavirus is still on the rampage and taking advantage of online grocery offerings. But reading between the lines, we can also determine that people are afraid. They are not coming out to shop for groceries, even though it is a permitted activity under the shelter-in-place orders that have spread across the US.
In addition, it is debatable whether people will be willing to be among crowds even when state and local governments give the all-clear. While grocery stores should be fine —after all, they are essential businesses and their online activities are likely to continue to grow —retailers in general will have a quandary. How will they convince shoppers it is safe to come to their stores? The answer is clear: they will have to pivot and invest in technologies that make the retail transaction as contactless as possible.
MOBILIZING EXISTING TECHNOLOGY
Some of this technology already exists but has only had limited rollout, such as augmented reality. Tech and retail experts, though, expect retailers to finally embrace these applications in their bid to make consumers feel safe.
Mobile apps have long been able to enable the use of augmented reality, says Emil Waszkowski, head of consulting for the software development company Future Mind. Their use is bound to proliferate post-coronavirus, he claims. "For example, they make it possible to create a 3D model of a product and 'apply' this model to the external environment. In many cases, this might be enough for customers to see your products in action without actually going anywhere." IKEA has been using this technology for a while, he notes. Its app "makes it possible to place any piece of furniture inside one's home without the need to purchase it first."
Spatial sensors is another technology that can be redeployed to promote social distancing in retail stores, says Scott Hauman, EVP of strategy and innovation for the Integer Group, a commerce agency and a member of Omnicom Group.
He points to retail solutions provider BlueFox.io, which has developed an app that notifies on-site teams when the number of people in a store or in a public place exceeds a preset threshold. A single sensor for the app can cover an area of up to 30,000 square feet, he notes.
And as an added bonus, Hauman reports that besides spatial compliance, the app also provides valuable marketing data and advanced analytics such as real time and historical foot traffic counts, cumulative impressions, dwell times, recurrent visits and peak hours.
WHOLE NEW CHANNEL
Industry veterans such as Nate Flemming, vice president of marketing for the retail platform Bamboo Rose, also believe that post-coronavirus, curbside pickup will continue to remain popular and even morph into yet another channel for shoppers.
" We expect this crisis to be a catalyst for deeper consumer adoption of curbside pickup," he says. "As more and more consumers adopt curbside pickup, it will introduce new operations and supply chain process requirements for retailers, which will also have to maintain a convenient customer service experience while also operating efficiently."
Here too, technology will play an important role, says Jaime Sturgis, the founder and CEO of Native Realty. "Having the latest credit card technology will be paramount, as some credit card readers simply require the consumer to tap the credit card to be read," he says.
At the same time, retailers will need to double down on their omnichannel strategies, says Tango CEO Pranav Tyagi. Tango provides store lifecycle and workplace management systems. "More than ever, businesses will be relying on their omnichannel strategies such as online ordering, promotions through social media and special offers to encourage repeat business," he says.
A CONTACTLESS EXPERIENCE
Perhaps the channel that will require the most technology will be the in-store point-of-sale.
"Without a doubt, the most important piece of technology for post-Covid retailers is a contactless POS system," says Sean Nguyen, director of Internet Advisor. In addition to the safety that they provide, a contactless POS system will show that the retailer is taking the risk seriously. Such an initiative shows that you care and that your business is connected with the community," Nguyen says. "This builds trust and loyalty, two things that will serve your business well even long after people shake the fear of getting sick for simply going outside."
Some examples are solutions like Scan & Go or Click & Collect, says Future Mind's Waszkowski. Both options typically use a dedicated mobile app, which enables scanning products or ordering them, as well as paying for them with just a few clicks. "As a result, there's no need to stand in lines and spend a lot of time inside the stores—especially if the purchased items are collected by the entrance of the store via the Click & Collect option," he says. These applications are already being used by such retailers as Walmart, he adds.
Another option for retailers is to use a model similar to Amazon Go, in which they develop an app that is linked to a form of payment that will automatically be charged when the product is scanned with a smartphone, says Michael Bevans, industry solutions manager at ActiveViam, an analytics provider.
Some retailers are already well on their way to becoming completely check-out free, says Liu Yang, a PR specialist with AiFi. AiFi is an AI-based technology company that automates stores. She notes that Carrefour, Valora and Zabka are using the AiFi technology throughout Europe.
One store in Shanghai has been operating during the Covid-19 outbreak, she says. "Store operators of an AiFi-empowered Shanghai store shared feedback that they feel safe to work in a contactless autonomous store."
The Covid-19 outbreak will accelerate this trend of autonomous retail, Yang says. "SARS led to the birth of China e-commerce including Alibaba and JD.com. This time, it may lead to more contactless services in China."
RETHINKING THE PHYSICAL STORE'S ROLE
Watching the turmoil in the retail sector as the coronavirus crisis unfolded, Ning Wang, co-founder and chief business officer of PingPong Financial, a merchant payments and commerce tech services provider, was surprised at how nimbly department stores were able to react.
Practically overnight they managed to upgrade the efficiency of their operations around getting goods shipped to consumers. How? They used their stores as supply centers, she says. "Therein lies the power of a physical store — proximity to one's consumers — and it is something department stores can use as a lifeline, at least in the short term". The question going forward, says Wang, is whether they have the ability to permanently shift to this model.
Interestingly, this is a pivot that will require both new technology and good old-fashioned business acumen. Indeed, for all the promise that technology offers retail, it is still hard to say which is more important.