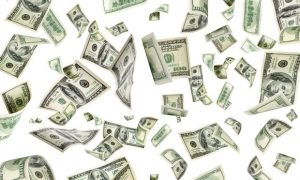 DAYTON, OH—Locally-based Connor Group is distributing $1.6 million in bonuses to its employees. This is found money for the company, in that CEO Larry Connor made it on the stock market in the span of eight days during the coronavirus.
The bonuses are going to all employees who make under $150,000 and who started with the company before March 1. They range between $2,000 to $9,000.
It is not the first philanthropic gesture the company has made. Last month, it committed to paying unexpected childcare expenses for its employees and expanded its associate loan program by increasing loan amounts and extending the repayment period.
Founded in 1992, the Connor Group owns and operates luxury apartments in Austin, Tampa, Nashville, Atlanta, Minneapolis, Chicago, Charlotte, Raleigh-Durham, Dallas, Denver, Louisville, and in its home state of Ohio.
While unusual in the commercial real estate community, the Connor Group's gesture is not completely unheard of.
Last month, for example, Dollar General announced it was kicking in an additional $25 million investment in retail, distribution center and fleet employee bonuses, bringing the company's total investment in employee appreciation bonuses to $60 million.
This latest bonus announcement applied to all full and part time employees across its store, distribution center and private fleet networks employed as of May 1, 2020 and is in addition to the $35 million investment announced on March 24, the company said.
Perhaps the most jaw-dropping bonus announcement in the CRE industry came last December, when St. John Properties announced at the company's holiday gathering that it was distributing $10 million in bonuses to all 198 of its workers, with the average employee receiving $50,000.
The bonuses were to celebrate reaching the goal of developing 20 million square feet of office, retail and other commercial real estate space in eight states.
The Baltimore, Md.-based company's portfolio includes 20 million square feet of commercial space valued at $3.5 billion. The goal of developing 20 million square feet was set in 2005 when the company had 10 million square feet of space.