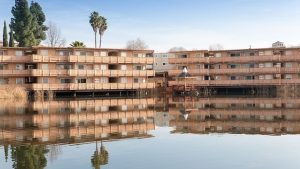 CONCORD, CA—Over the last six weeks lenders have become increasingly resistant to underwriting CRE deals, fearful of being left holding the bag if the transaction ultimately goes south.
Unfortunately many of these transactions don't come to fruition, but there are the rare instances of buyers and sellers working together to push a sale across the finish line.
Here is one of those stories.
The Lakes, a three-story, 102-unit garden-style multifamily property here, recently traded for $26.8 million despite the lender's initial reluctance. Marcus & Millichap's Adam Levin and Robert Johnston represented the seller, real estate investment company Brad Management, and procured the buyer, 875 Woodside LLC.
Part of the property's appeal was that it is a transit-oriented community in one of the East Bay's most undervalued cities, according to Levin, who is executive managing director for the Levin Johnston team of Marcus & Millichap. "As renters seek pricing relief from the high cost of housing in San Francisco, the Peninsula, Oakland, Berkeley, Walnut Creek and Lafayette, rental demand in commuter suburbs like Concord will stay on its upward trajectory and the area will continue to be a source of high-yield opportunities and strong value appreciation for investors," he says.
It is also favorably located. Constructed between 1967 and 1968 on 3.6 acres in Concord's Ellis Lake neighborhood, the three-building complex is a 10-minute walk from Diablo Valley College and the Concord Bay Area Rapid Transit station. Saint Mary's College of California and Los Medanos College are nearby and Downtown Oakland is within a 30-to-45-minute drive.
The deal was set to go until the buyer's lender got cold feet. First it dramatically cut the back loan dollars being offered to the buyer and even tried to raise the interest rate at the closing table, Levin tells GlobeSt.com. For the buyer this turnabout was a double whammy as it was trying to complete a 1031 exchange with this transaction, he adds.
The buyer contemplated asking to cancel escrow even though all contingencies had been removed citing force majeure contract language and the seller felt their deposit would remain forfeited since it had already been released in early February, Levin says.
The team began shopping the deal to other lenders but ultimately the original bank did the loan, he reports.
The seller gave a small concession of ($300,000 and the buyer came up with a larger down payment—over $1.5 million more—to cover the lender shorting the loan proceeds," Levin says.
There are some important lessons to be learned from this transaction, Levin concludes.
One, it is more important than ever for buyers and sellers to—at times—look past the language in the contract and understand each other's concerns instead of creating added stress through the possibility of lawsuits to decide contract law.
Two, sellers need to be very open with buyers' potentially new, longer contingency periods and longer closing time frames to secure new debt.
And three, debt will still be available but relationship banks will be key for getting deals done.