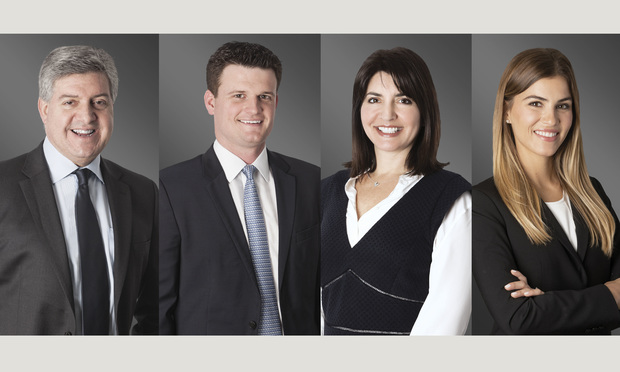 The coronavirus pandemic has halted a lot of things from restaurant dining and mall shopping to big events and construction work, but condominium sales go on as attorneys find creative workarounds to close deals.
A Miami Greenberg Traurig team went through with their closings by relying on online and foreign notaries as well as drive-thru meetings in a Publix parking lot and gas station. The parties meet, sign and notarize documents in their cars and then pass them to each other through their windows.
"They are all wearing masks and gloves. They'll sign them. There is also the notary so they can confirm their identity and signatures, stamp the documents and close the deal. They don't have to leave the car," said Greenberg shareholder Andrew Sharpe, part of the condo team.
The attorneys have closed $250 million worth of deals in five condo buildings in Miami-Dade County and one in Broward County since social distancing started in mid-March. That's more than 125 transactions.
The legal team is led by shareholder Gary Saul, who chairs the firm's Miami real estate practice, and includes Sharpe, shareholder Meredith Singer and associate Trisha Ojea Villegas, all in Miami. They represent the building developers.
The team declined to identify the transactions and buyers, but recent deeds bearing Saul's name give a glimpse of some of the deals. They include transactions at Terra's Miami Beach Eighty Seven Park, Terra's Miami Beach Eighty Seven Park, and Fortune International Group's The Ritz-Carlton Residences Sunny Isles Beach.
The attorneys took advantage of a Florida law that fortuitously took effect in January allowing notaries to perform their duties online. Some other states without a similar law issued emergency rules to permit remote notary work during the COVID-19 pandemic.
Greenberg, the notary and buyer schedule an online notary appointment using a third party vendor such as NotaryCam, and the notary confirms the buyer's identity and provides the online notary required for the transaction, Sharpe said.
Pre-pandemic, most attorneys and buyers used their traditional, in-person ways, but it became a handy tool with social distancing in place.
"No one really used it. The title companies didn't have a lot of guidance on it. As soon as the travel orders were shut down and it was, 'Don't come to our office,' it was almost overnight that we had to look at other options," Sharpe said. "We said, 'You know what, in January they passed this law so let's see what this is all about and let's learn it.' So we had to learn it overnight."
The high-end South Florida condo market attracts many foreign buyers who traditionally would go to a U.S. Embassy for notary services or travel to the United States to sign closing papers. With shelter-at-home directives in place, lenders and title companies loosened policies allowing foreign notaries.
A buyer from Argentina now can obtain a Spanish-language notary, and the work will be accepted as long as an English translation is attached.
Notary signatures and stamps generally are needed by the lender for mortgage documents, Singer said.
Deals
Saul is listed in public records as the preparer, supervisor and recipient of deeds for several condo deals.
They include Florida Land Trust No. 8701 Collins Avenue, with Day Pitney of counsel Charles Johnson in Miami as trustee, on the purchase of an Eighty Seven Park unit for $18.23 million. The deal closed March 25.
Flatiron 6202 LLC bought a Flatiron unit for $11.2 million April 20, and Central River LLC bought a $2.23 million unit and Brava Collins LLC bought a $3.1 million unit at the Ritz-Carlton March 16, records show.
The online and foreign notaries as well as the other workarounds, including mailing and emailing documents in advance, has allowed transactions to continue.
"It's absolutely speeding up transactions, which would otherwise take longer because of the pandemic, and in the future I think it's going to speed up transactions significantly," Sharpe said. "If you take the travel component out of the closing, that takes out a lot of scheduling."
Future
The workarounds developed out of necessity, but they likely will stay post-pandemic.
To what extent depends on whether title companies and lenders remain willing to use foreign and online notaries, Sharpe said.
In-person deals won't end since some buyers and lenders want to meet, but the long-distance deals common in commercial real estate closings definitely are here to stay, Singer added.
"It's another tool and option for people. If it becomes more convenient and easier, then maybe it will become the norm. Obviously, there may be a lot of reasons why people will want to visit so in-person deals will continue," she said. But "the more convenient something is, it's usually embraced."