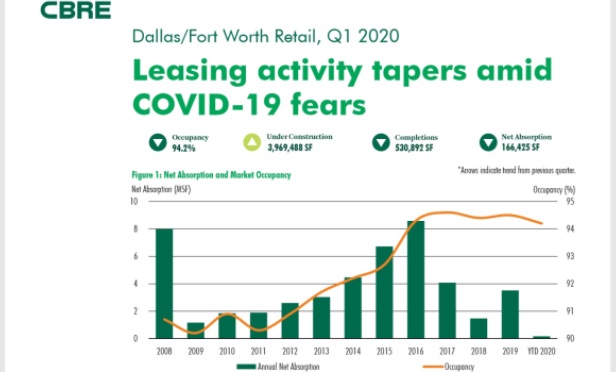 DALLAS—The need for stay-at-home orders due to the COVID-19 pandemic is leading the US economy into a recession that will result in very sharp declines in GDP for H1 2020. The resulting job losses are hitting many sectors particularly hard, namely retail, food and beverage, and transportation, according to a recent report by CBRE.
After several quarters of strong leasing activity, DFW retail leasing velocity began to fall in first quarter. In total, DFW had 166,425 square feet of positive absorption during the first quarter, with smaller leases of 15,000 square feet and lower driving positive absorption. Occupancy fell slightly to 94.2% as deliveries outpaced absorption, with only 42% of new retail product leased at the end of the quarter, says the CBRE report.
Small businesses are among the retailers most affected by the rapid spread of COVID-19. Moreover, nearly half of the private workforce in Texas is employed by small businesses.
Since the US outbreak of the coronavirus, small businesses revenues have declined 15% to 80% and those business owners are coming to terms with how to make ends meet in the months ahead, according to the report. However, many DFW landlords have stepped up in this time of crisis to mitigate stress for local small businesses by allowing tenants to hold off on paying April rent or only pay the triple net expenses for the time being.
With these issues in mind, governor Greg Abbott took action to get restaurants and other businesses back in operation. As of Friday, the first phase is in place for Texas to reopen businesses while minimizing the spread of COVID-19. Under this phase, certain services and activities are allowed to open with limited occupancy by way of Executive Order GA-18.
"The Texas governor did relax some of the restrictions effective on Friday, May 1, allowing restaurants to open at 25% capacity," Daniel Taylor, managing director of retail, south central division of CBRE, tells GlobeSt.com. "We don't have meaningful data on how many of them actually did. It's really too early to offer any insights or observations."