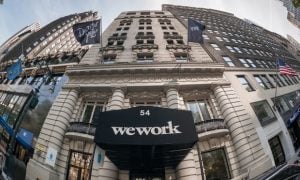 Uncertainty can dampen business activity, and the kind brought on by the coronavirus pandemic landed with a heavy thud on the flexible office space for the first quarter of the year.
From diminished leases and fewer commitments by flex operators, to delayed or scaled back expansions, COVID-19 is proving to be the office space Grinch for the early part of 2020, according to a CBRE Real Estate report.
Strict stay-at-home orders imposed by governors in some states to slow the respiratory disease's spread are adversely affecting many industries. The US economy is headed toward a recession that will result in very sharp declines in GDP for the first half of 2020 and in job losses, particularly in the retail, food & beverage and transportation sectors, according to the same CBRE report.
The analysis, part of CBRE's Agile Real Estate Knowledge Hub, found that while some flexible office locations have temporarily closed, those that remain open are experiencing little to no use because of the shelter-in-place restrictions. Many operators are entering rent renegotiations with landlords to remain solvent, while several small flex operators have permanently closed, said the CBRE report.
Flexible office commitments—defined as sealed by way of a traditional lease agreement, other management or partnership agreement, or owner/operator building purchase—totaled one million square feet in Q1 2020 and remain at a muted level for the second consecutive quarter, according to the CBRE analysis. Flex commitments as a percentage of office leasing is down 2.1% compared to Q1 2019.
For the four quarters ending Q1 2020, commitments from flex operators were down by 32.1% year-over-year. Particularly unsettling was for the first time since its founding, WeWork—a commercial real estate company that provides shared workspaces for technology startups and other services—accounted for no commitments this quarter, according to the CBRE report.
WeWork's retrenchment caused a deep drop in Q4 2019 commitments and other providers were expected to pick up the slack in Q1 2020. But such plans never materialized, stymied by the advent of COVID-19. Other providers simply postponed any expansion plans, according to the CBRE analysis, and no new commitments are expected in the second quarter of 2020.
The same CBRE report shows Hana accounted for 18.2% of new flex commitments in the first quarter of the year, followed by Serendipity Labs at 11.8%, and Knotel at 11.3%.
The top five most active operators accounted for 60.1% of new commitments in Q1 2020 vs. 87.9% in Q4 2019—a 27.8% decrease. CBRE found that the majority of commitments were made early in the quarter before the COVID-19 outbreak.
Manhattan, Philadelphia, and San Francisco grew their shares of activity in the top 10 flex commitment markets to 27.9%, 11.0%, and 9.6%, respectively— but still well below average levels of activity in those markets.
Philadelphia also topped the list of active markets in year-over-year change in four quarter flex commitment activity, registering a 516% change from Q1 2019 to Q1 2020.
The Top 3 markets for flex commitments as a percentage of overall leasing for Q1 2020 were all in Florida: Palm Beach County at 19.6%; Tampa at 12%; and Miami at 9.7%.