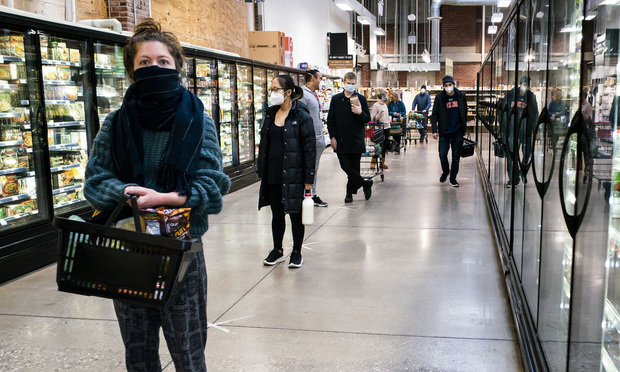 It's where the action is.
That's the word from Brick Meets Click chief architect and co-founder Bill Bishop about the surge in online grocery shopping since the COVID-19 pandemic.
It's a surge that will continue to grow as consumers get used to shopping online, Bishop said.
"Online sales have exploded," said Bishop's whose 9-year-old Illinois-based company caters to retailers and those, such as a website owners, who are providing technology to enable online shopping.
The statistics, Bishop said, don't lie. They show the March 2020 record-setting total of $4 billion in online grocery sales being topped by the April numbers which showed a 37% increase to $5.3 billion. The April numbers, Bishop said, translates into 40 million customers nationwide who are spending an average of $85 on an online shopping order. While 40 million customers were shopping online in April, half that amount—or less than 20 million people—were shopping online in February, pre COVID-19, he said.
The reasons for the increase in online shopping in the current COVID-19 world is two-fold, Bishop believes.
"You have the fear of the contagion and you had the stay-at-home orders that spread rapidly in the month of March," Bishop tells GlobeSt.com. "Those two things combined are why there is such a jump in online grocery shopping. People just do not want the hassle of going to a store and waiting in line and possibly getting sick."
Add the new people shopping online to those that have been doing so for a while and the numbers are going through the roof, Bishop said.
"There is a big substantial increase in people shopping online for the first time," he said, noting that online grocery shoppers get their food items either delivered to their home or they pick it up in the market's parking lot.
Bishop did say that "when the pandemic is over, my guess is there will be a shift of some spending back to the stores from online."
Bishop estimates the number of online shoppers could drop as much as 20 percent, but that would still be higher than the number of online grocery shoppers pre COVID-19. That means. Bishop said, many shoppers will decide to stick with online grocery shopping after the pandemic is over.
"After all, it's so more convenient, easier, faster and, frankly, cheaper," to grocery shop online, Bishop said. "As people learn the advantage of online shopping, many prefer not to go back to their old ways."
Related stories
Consumers Feel Safest in Grocery Stores, Least Safe at Shopping Malls
DFW Restaurants, Retailers Hit Especially Hard by Pandemic
Food Consumption Patterns Have Clearly Changed But Are They Permanent?