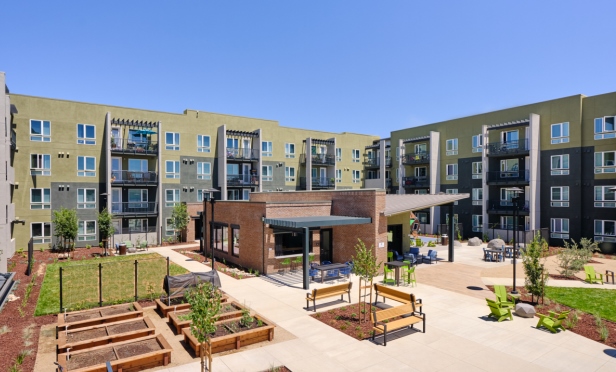 PLEASANTON, CA—Among other things, COVID-19 has sparked a hyper-awareness of the fragility of community health and wellness. Previously taken for granted, the simple ways of navigating daily life are being challenged.
For example, in multifamily properties, the common area doors that are touched to take out the trash or get fresh air or ways to receive deliveries without physical interaction are areas that are prime for retooling. Through these challenges, there is an opportunity to consider how to design multifamily buildings to support the health of residents, according to Dahlin Group Architecture Planning.
To date, unit size has trended downward as the focus has shifted to fostering social interactions through thoughtfully designed community amenities. For example, small or no decks particularly in for-rent product in favor of shared amenities provide opportunities to design more attainable housing and support resident interaction.
"But as we are experiencing, there are times when physical interaction must be restricted for a greater good," Padru Kang, Dahlin Group Architecture Planning senior associate/senior designer, tells GlobeSt.com. "Looking forward, it will be important to reconsider how we define optimal indoor/outdoor space ratios to ensure that as many people as possible have access to private outdoor space. As we do so, it is equally important to avoid the trap of becoming overly introverted and isolated."
This can be accomplished by ensuring that unit decks overlook a common open space, providing both a connection to the building community and private outdoor space. Equipping these private outdoor spaces with planters for gardening provides both an activity that supports an overall sense of well-being and an option for growing fresh herbs or produce to support less frequent trips to the grocery store. Designs should also capitalize on opportunities to visually engage with the broader neighborhood context and street activity to further reduce a feeling of isolation. Community spaces will continue to be important as these spaces address the innate need to connect.
The design opportunity is in how to design these spaces for maximum relevancy when facing threats to community health. Creating smaller breakaway spaces within a larger space such as a roof deck, community room or game room are all ways to accommodate social distancing protocols.
Ensuring these spaces have ample sunlight, air circulation and purification systems, viral- and bacterial-resistant furnishings and fixtures as well as integration of touchless automated door systems or sanitation stations provide an array of multi-faceted solutions to reduce the spread of illness within shared spaces, Dahlin points out.
COVID-19 has accelerated increased reliance on delivery services with a new emphasis on reducing the need for physical contact to facilitate drop-off and pick-up. This protects both delivery personnel as well as residents.
"Coded drop-box systems–previously seen as a nice perk–may become a must-have amenity for potential residents," Ritu Raj Sharma, senior associate/senior planner with Dahlin Group Architecture Planning, tells GlobeSt.com. "When considering where to keep the essential items that people stock up on, unit design should strive to provide reasonably sized pantries, even in smaller unit footprints."
Moreover, the Dahlin Group Architecture Planning team has seen an increase in the inclusion of co-working spaces within multifamily product. While COVID-19 has forced entire industries to transition to full-time work from home operations overnight, the unique challenges of this time have made these co-working spaces temporarily irrelevant.
This provides future design opportunities. In-unit design, incorporating alcoves that can flex to a work-from-home space or a learn-from-home space as needed in the face of school closures–provides a space-conscious solution, says Dahlin Group Architecture Planning.
Additionally, re-thinking the design of co-working spaces in ways like the aforementioned community spaces provides solutions to maximize the utility of co-working spaces. For example, incorporating touchless entry points, air purification systems, viral/bacterial-resistant furnishings and fixtures, and perhaps moveable walls to allow for the creation of private, smaller spaces would be applicable fixes as needed.
Co-living, another multifamily trend that was gaining traction, faces unique challenges. However, re-thinking the design of these units holds potential solutions.
Some projects may have opportunities to provide private entries to bedrooms as opposed to a common point of entry through a communal space. Alternatively, integrating touchless entry into common areas as well as illness-spreading hotspot areas such as bathrooms are potential solutions. Touchless light and faucet fixtures as well as appliances further minimize the opportunity for contaminating shared surfaces. Air purification systems zoned by room are another consideration.
Even outside of co-living communities, roommate situations are very common in the for-rent multifamily market. Therefore, many of these same smart home technologies which enable touchless operation of otherwise commonly touched surfaces are highly relevant solutions as well, says Dahlin Group Architecture Planning.
"As we all do our part to flatten the curve, let us apply our collective human ingenuity to adapt existing buildings and design new buildings to better support our health and well-being at all times," Kang tells GlobeSt.com.