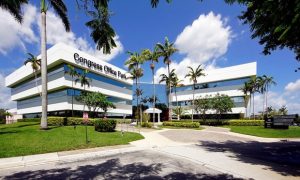 An analysis from Moody's Analytics says suburban offices might come back into favor over central business district spaces due to the coronavirus pandemic.
The analysis says firms might be propelled to consider important factors expected to affect ensuing demand on office space, particularly with concerns over COVID-19 and communication systems that allow employees to work from home.
One factor, according to the analysis, is geographic reallocation and whether dense urban areas constitute a higher risk, considering the chances of pandemics. The report notes that coronavirus outbreaks have occurred around cities like Seattle and New York City.
"The very same attributes that make these places such desirable places to live and work—the spatial clustering of businesses, cultural centers, households, and service establishments—are predisposing them to the spread of the virus," according to the report.
Businesses, according to the analysis, might decide to lease space in suburbs that are "not too far" from their central business district. Such a move could save on rental costs, considering suburban office space tends to be less expensive than an option in a central business district.
"For many years, suburban office space fell out of favor because of the resurgence of US cities," said Ryan Severino, chief economist at Jones Lang LaSalle, as quoted in the report. "Is this COVID-19 crisis going to spur renewed interest in suburban markets, as households and employers move out of cities? Time will tell."
The analysis says firms are already considering what a "new normal" in the coronavirus era might look like before a treatment or vaccination is widely accessible.
"Will there be a limit on the number of people riding elevators or attending meetings in enclosed areas?" the report questions. "Will there be a staggered workforce schedule where teams A, B, and C take turns heading to the office?"
Besides that dynamic, the analysis says a bigger long-term risk for the office sector is a downturn in "space usage intensity." The report questioned whether businesses will decide to use less office space and instead push their operations to remote or work-from-home situations.
The report said the size of the issue might be comparable to how the retail sector was forced to confront the shift to Internet sales.
"The evolutionary processes prompting change in the office sector—demographic shifts, economic development, and technological change—will be kicked into high gear by the COVID-19 pandemic," according to the report.