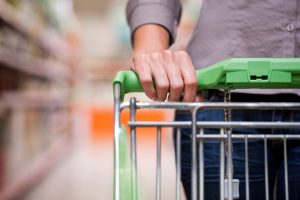 Small and independent grocery stores are likely to lose market share to large national chains, such as Walmart and Amazon, as a result of the COVID-19 pandemic, according to a new report from a leading market analytics company.
A recent report from S&P Global estimates that many small and independent grocers are likely to face challenges with supply chain disruptions and increased demand, which could cause the already dominant figures in the market place to gobble up even more market share.
"This pandemic creates an opportunity for Amazon," Jason Goldberg, chief commerce strategy officer at Publicis, told S&P Global. "It's now going to be easier for them to capture more share, and more affordable for them to potentially acquire retailers or their real estate or their assets."
Along with Amazon, which operates Whole Foods and is building out a new grocery store concept, The Kroger Company, Walmart and other national chains are expected to see some of the biggest gains due to their ability to handle increased demand and to pivot when supply chains falter, the report said.
According to the report, the COVID-19 pandemic has super-charged customer demand, which has left all grocery chains scrambling to keep essentials, like meat, eggs and flour, on the shelves.
Independent grocers account for about one-quarter of grocery spending in the US, the report said, citing a 2017 report from the U.S. Department of Agriculture's Economic Research Service, which estimated that grocers with fewer than four stores made up 11% of the sales in 2015. However, the report also noted that the retail giant Walmart accounted for nearly 26% of all US grocery sales in 2019, and Kroger represented 8.6%.
Regardless of the size of the grocery chain, the report said, all stories are revising their supply chains while the COVID-19 pandemic continues to affect the country. Production and distribution of many items, including meat, have become difficult, the report said.
According to the report,, the hardest hit are likely to be small players in urban and suburban markets that have a lot of competitors.
"The companies that are able to keep their supply chains running are the ones who are going to be able to see their market shares rise in the long term," California Polytechnic State University's Agribusiness Department professor Ricky Volpe said in S&P Global's report.
The report further quoted Volpe saying that the larger grocery chains are more equipped to handle the demands than the mom-and-pop, the local chains or the specialized niche grocers.
"This will culminate in at least a short-term bump in market concentration levels" in the U.S. grocery industry, he told S&P Global.