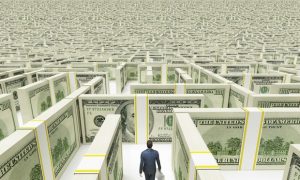 Deals all but screeched to a halt when the US went into lockdown mode six or seven weeks ago, sending the economy into a deep recession and causing havoc in the commercial real estate markets. Simply put, the industry went into deer-in-headlights mode and it remains there to this day, according to comments Sam Zell, chairman and founder of Equity Group Investments recently made on Bloomberg TV.
Now that the US economy is starting to tentatively reopen its doors, the CRE sector is hopeful that at least some deals will start to move forward. Zell, though, has his doubts.
"There has been very little opportunity at price discovery," he said. And even when buyers and sellers do come out of their bunkers it is highly unlikely that they will come to an agreement on pricing. "My guess is that sellers that want to sell still remember the prices from seven-to-eight weeks ago while buyers are looking at a different world and want to see significant discounts," Zell said.
Beyond that typical bid-ask spread, price discovery will be elusive because of the deep uncertainty about how Covid-19 will behave in the coming months.
The public markets are not a reliable guide, Zell said. "I am not sure that public valuations reflect the reality of what's going on. Public markets have historically been a reflection of expectations of the future. But I don't think anyone has any certainty which is why we are seeing incredible volatility," Zell said to Bloomberg.
Zell is undoubtedly correct about the challenges that lie ahead for price discovery, or even deal flow for that matter. That said, there are some glimmers of price discovery starting to emerge in the industry.
Lending Markets Find Price Discovery
In the last week or two the CRE lending markets have started to gain some certainty on their pricing, Brian Stoffers, global president of debt & structured finance for capital markets at CBRE tells GlobeSt.com. That won't necessarily directly correlate to price discovery between buyers and sellers but it does provide a guide, he says.
"What remains to be seen is the revenue side, such as where are rents coming in, what are the occupancy rates," Stoffers says. Until those core issues are settled, however, price discovery will remain a gray zone.
But the financing part is key as well, and that appears to be moving forward, CBRE says. Lenders are now routinely adding forward interest rate floors and/or minimum spreads have become commonplace, Stoffers says. "More conservative underwriting and lower loan to values have also been instituted."
A Decline in the Price Index
Another sign of price discovery comes from the Green Street Commercial Property Price Index, although it may not be a sign that sellers appreciate. The index declined by 9.4% in April, with prices of every property type adjusted lower, some more than others. The index is down 10.4% from its peak reached at the end of last year.
"There's been plenty of examples of blown deals and people walking away from deposits, but the best way for us to get a sense of where things would clear these days is by talking with people in the marketplace—buyers, sellers, brokers," according to Peter Rothemund, managing director at Green Street Advisors.
Not everyone agrees that prices should have dropped to this degree however.
Some of the markdowns are embarrassing…sort of silly, Starwood Capital Group CEO Barry Sternlicht told listeners on the company's recent earnings call.
He notes that rates are going to be lower for a longer period of time than they were pre-COVID. "That supports property."
Also, there's no place else for investors to put cash, he added. "The property market should be held up even in a slow growth scenario by the fact that they produce yield, which is incredibly rare and precious in this world today."
Boston Properties Preps for Acquisitions
Boston Properties CEO Owen Thomas, for his part, pointed out the obvious in the REIT's quarterly earnings call.
"With the prospect of lower rent expectations, future property cash flows will be reduced and coupled with decreased access to secured financing and nervous buyers, private market values for assets with leasing risks have likely fallen," he said.
He agreed with Zell in that sellers are probably still in the denial phase and there are limited post-pandemic transactions to provide a new pricing guide.
Boston Properties, hopeful that more certainty will be introduced in the coming months, is gearing up for acquisitions later in the year. The crisis will likely create interesting acquisition opportunities that reset pricing level, Thomas says. "We continue to formalize relationships with private equity partners to help capitalize new investments down the road."