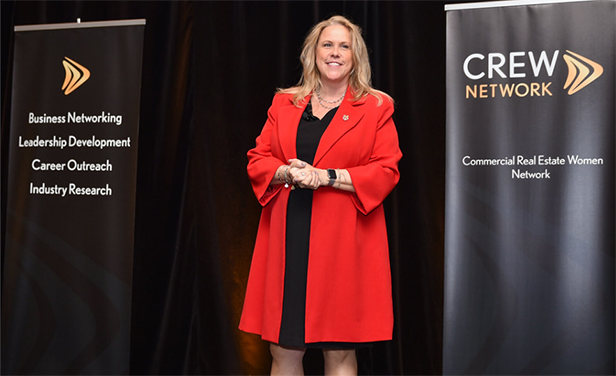 DALLAS—The face of commercial real estate has often been white and male, but CREW (Commercial Real Estate Women) Network has created a path for more women in the profession over its 31 years. Now, it's broadening its mission through measures to encourage more diversity, equity and inclusion (DEI). According to CREW Network president Christine Gorham, that change started within.
"While diverse in many ways, we realized we were not as diverse as we wanted to be," said Gorham. The organization shifted two years ago when top executives recognized gaps in its own membership. "We realized people of color and people from diverse backgrounds faced different barriers and that we needed to open our own lens wider."
CREW Network's key advice is that greater diversity starts at the top. Companies also need to be transparent and accountable, which means success must be measured and deficiencies must be addressed.
Founded to advance women in commercial real estate, the organization now adds the full spectrum of DEI, including but not limited to ethnicity/race, culture, disability, sexual orientation, religion, and age. And for the first time, their benchmark study, conducted every five years with MIT's Center for Real Estate to measure gender diversity in the industry, will include the broader diversity picture, Gorham said. The 2020 benchmark study will be released on Sept. 2.
CREW Network has extended its substantial list of programs, events and education over the last two years to help companies and individuals be more inclusive. Career outreach has been a crucial component to building a diverse talent pipeline and working with Historically Black Colleges and Universities (HBCUs) and other universities with diverse student populations enables CREW Network to engage in a great dialogue about career paths in commercial real estate and introduce students to a wide range of scholarships, mentorships and internships available.
"Most students think of the real estate industry as just selling houses and don't realize the different careers available on the commercial side of the business," Gorham said. To date, CREW Network Foundation has awarded 900 scholarships to women, Gorham reports.
CREW Network is also stepping up its outreach and education around pay transparency, unconscious bias, and it is adding additional DEI sessions to its webinars, chapter meetings, leadership summits, event programming and its annual convention.
"Some people think DEI is passing fad and don't think it's going to go anywhere," Gorham said. "But it's an investment in our companies, our future and our culture. The world has come to the point where we need to stop talking about it and make things happen."