Vacancy rates in the senior housing sector have been trending upward for the past two years. A new report from Moody's Analytics sees vacancies ticking up yet again for the first quarter of 2020⁠—but not nearly as much as in the previous quarter.
According to the report, the combined national vacancy rate for senior housing properties increased by 10 basis points in Q1. This is a much milder surge than the 40 basis point rate in the previous quarter. The sector was at a 10.1% vacancy rate at the end of the first quarter.
Both assisted and independent living facilities had 40 basis point vacancy rate increases this year. Meanwhile, memory care facilities declined by 10 basis points and skilled nursing facilities by 20 basis points. Assisted living and memory care facilities had the highest vacancy rates at just over 11%. Skilled nursing facilities had slightly lower vacancy rates than independent living facilities, at 9.7% and 9.6%, respectively.
Asking rent grew across care types for the quarter, from 1% to 1.1%. Moody's expects rents to grow from 0.2% to 0.4% next quarter, as rents for senior housing properties are usually increased in the first quarter with relatively insignificant adjustments over the rest of the year.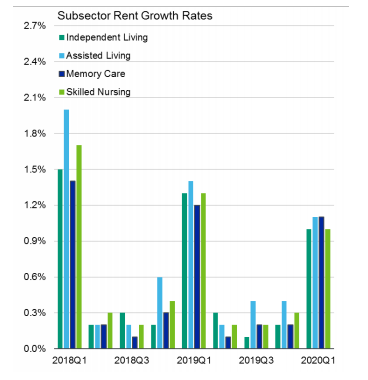 A substantial part of the increasing national vacancy rate was due to new units coming online, the report says, with vacancy rate increasing because absorption failed to keep up with the new supply. All subtypes ended up having positive net absorption at a national level for the quarter. With just over 2500 units coming online, independent living properties were the biggest proportion of new construction. However, less than than 400 net independent living units were absorbed in the first quarter. Skilled nursing properties saw 150 units completed in Q1, but had a net absorption of nearly 1600 units. Overall, inventory growth was 0.3% in the first quarter, amounting to just over 4,300 units.
Little Rock, AR, saw the biggest vacancy rate decline for the quarter, falling by 2%. Three other areas⁠—Ann Arbor, MI; Baton Rouge, LA; and Charleston, SC⁠—had drops greater than 1%. These areas, the report states, have higher than usual vacancy rates, with the exception of Ann Arbor.
The country has a growing elderly population of Boomers, but with a significant portion of them still in their mid-to-late 50s, there's not much interest in senior housing. The average senior housing tenant, according to the report, is in their early 80s. With COVID-19 still wreaking havoc in the nation, there may be severe reticence on the part of families to place loved ones in senior living facilities. The second quarter of 2020 may provide a clearer picture of how the pandemic has affected senior housing properties.