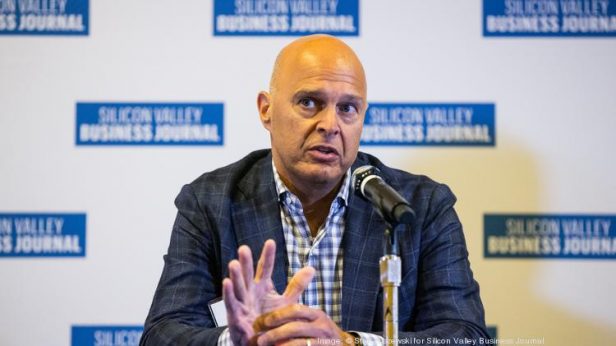 Timur Tecimer has the end of Q1 2021 in his sights. That's when the $300-million Avion Burbank, a 60-acre mixed-use development in media-rich Burbank,CA – which includes office, industrial and retail space — is set to open for business. The product of a joint venture with Invesco Real Estate, Tecimer's Overton Moore Properties broke ground on the development last year, and when the dust clears, they will deliver 1.0 million square feet of industrial in six buildings, 142,000 feet of creative office in nine buildings as well as 15,000 feet of retail. In a separate deal with what Tecimer calls a "major hotel brand," a 150-key hotel will be added in Q3.
Under the wing of CBRE, market rate pre-leasing is strong, reports the Overton Moore CEO, "even in retail," as are pre-sales–owing to the fact that the office spaces, geared primarily to the media and related industries, will also be offered as condos. Leased or bought, the two-story offices spaces will offer prospective office occupiers an alternative to the traditional vertical office environment, whose close quarters have raised concerns for employee wellbeing and safety during the pandemic. "Gone are the crowded lobbies, stacked parking structures and ,in general, the uncontrolled office ecosystem," said Tecimer."We are proud of what we have created and early signs suggest the market are responding well to what we have to offer at Avion."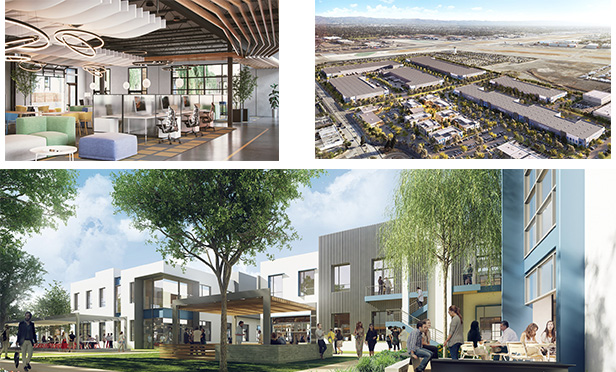 "Content providers in both old and new media, technology and entertainment seem to be driving early demand at our project. As the construction has evolved prospective occupiers are now gradually seeing the inter connectivity of the development and how the creative industrial, office, retail and eventually hospitality will co exist in a harmonious masterplanned environment at Avion", stated Matt Hargrove, vice chairman of CBRE who is leading the Avion Burbank marketing efforts.
Heaped in Amenities
The joint venture took advantage of the acreage with a market-bending 0.45 floor-area ratio, allowing the construction team to create what Tecimer calls an "amenity-rich environment, conducive to hiring and retaining top talent." These include bike and walking paths, indoor/outdoor meeting areas and complete Wi-Fi access throughout. The plan "also allowed us to plant more than 1,200 trees and eight acres of open space." Building access will be touch-free, he says, "critical in the current environment."
It should be noted here that the work continued unabated throughout the depths of the COVID-19 pandemic. Tecimer boasts that, due to safety precautions taken in April which included worker access to the project only through clearance by onsite EMTs, only one reported case came to light out of some 300 daily workers.
The development also offers transit access, with Metrolink stations dotting the perimeter, bus lines in close proximity as well as the soon-to-be upgraded Hollywood Burbank Airport across the street. (The land is the site of a former Lockheed Martin Skunk Works plant.)
The development is also LEED Silver Core-and-Shell certified and offers such sustainability features as "Green Streets," HVAC with UV and mechanical filtration and solar to generate at least 10 percent of the development's needed electrical power. In addition, "electric vehicle adaptation is growing," he says, "so we're installing more than 115 Level 2 EV chargers." The team is also pre-wiring additional parking stalls and dock-high doors for eventual EV truck chargers.
But it's the timing of the project that could be its biggest selling point. Burbank remains hot as a media hub and promises to keep growing. Netflix for one just doubled down on its Burbank space, adding 171,000 square feet to the 125,000 feet it already held, indicating a major ramp-up in new-media content providers.
In terms of the competition, Tecimer believes Avion Burbank will set the bar. "The only competition we have will be the 10th floor of a typical 12-story building," he says, adding that those don't have operable windows, indoor/outdoor meeting areas within the offices and exclusive lobby entries.
Nods to the Community
The project is tied to the local community by more than simply transit. Local awareness of the development was key throughout, Tecimer states, down to the student level: "We had a partnership with the Burbank Unified School District and asked every company that was working on the project to bring their senior professionals to the local high schools to inform these young adults about the multiple jobs that are available in commercial real estate. In all, we had over 600 high school students participate in the program."
In addition, OMP hired four interns through a program called Youthbuild to work on the project and gain job skills for their career development "and I would encourage every developer to participate," he says.
What will be the long-range impact of the project? "I'm biased, but I think Avion Burbank will set an example for the design and function of office and industrial environments," he concludes.
In addition to CBRE, the project team includes:
Gensler, office and retail design and architecture;
HPA Architecture, industrial design;
Millie and Severson, general contracting;
Ridge Landscape Architects; and
Venus Engineering, civil engineering.