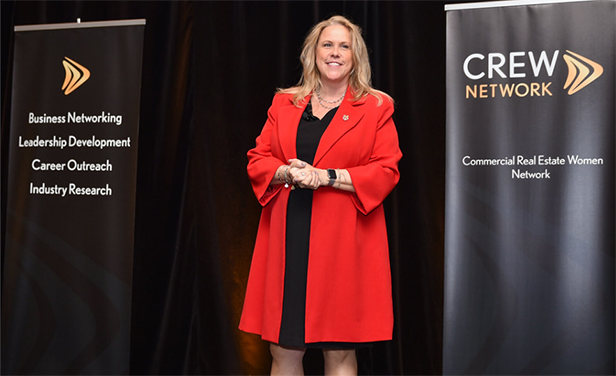 Healthcare real estate has been growing in recent years, but that growth has not been shared equally, as there remains a dearth of women and people of color in the sector. According to Christine Gorham, president of CREW Network (Commercial Real Estate Women), studies show the disparity in gender commissions and bonuses is a good entry to understanding the upside and lost opportunity for women and minorities.
"It's a significant number," says Gorham. "When you look at base salary, men still make about 10% more than women, but with annual commissions and bonuses, men on average earn $144,000 while women only earn $42,000," a 70% gap, according to the 2020 Benchmark Study Report on Gender and Diversity CREW Network conducts with the MIT Center for Real Estate every five years. The total compensation gap between men and women is 37% for the healthcare real estate sector, compared to 34% in all of commercial real estate.
Reasons for the large commission and bonus gap in healthcare weren't part of the study, but Gorham suggested the gap may be due to gender bias in hiring and teaming within brokerage firms, and the tendency for men to share the larger deal referrals with their male friends.
Another reason for the gap could also be due to the lack of women in senior positions, where pay is higher and compensation decisions are being made. Women represent approximately 80% of entry-level frontline workers and providers in healthcare, such as nursing positions. However, this representation decreases across the pipeline, with women making up only about 30% of line roles in the healthcare C-suite. In commercial real estate, women occupy just 9% of C-suite roles.
"If women are not in senior positions, it's harder to effectuate change by bringing females up through the ranks and sponsoring their directions," she said. "We need to make employers and executives aware of these startling differences—and have them look at the entire compensation package, not just salaries—to get the whole picture and take action to correct the disparities."
Career Opportunities in Healthcare RE
Gorham, who is the director of development for CADDIS® Healthcare Real Estate, a Dallas-based top ten development, management and investment firm focused solely on healthcare, urges women and minorities to consider specializing in healthcare real estate. While COVID-19 has temporarily slowed healthcare development and has caused hospitals and physician groups to reevaluate their capital plans, acquisitions are strong, redirected capital from other real estate silos is flowing in, technology is improving the outpatient care options and the future of the sector overall is very bright, she said.
While senior-living has taken a bit of a hit as a result of the virus, much of the growth in the sector is still pegged to the 71.6 million baby boomers, who she notes are expected possibly to triple the population for senior-living through 2050. This "silver tsunami" is already increasing the need for senior-living and medical office facilities. The life sciences sector has also seen a boom in the number of labs needed for research. Already, such space grew from 17 million to 29 million square feet from 2009 to 2019.
"There is a lot of opportunity based on the growth that's anticipated not only on the medical office side in hospitals, surgical centers, rehabilitation and behavior health but also on the senior living side," Gorham said. "We need to diversify the sector and invest in training, so we will have a larger qualified, diverse pool to pull into the higher levels where decision-making and best practices are determined. This will provide improved tangible outcomes as the sector continues its steep trajectory upward for filling patients' healthcare needs."