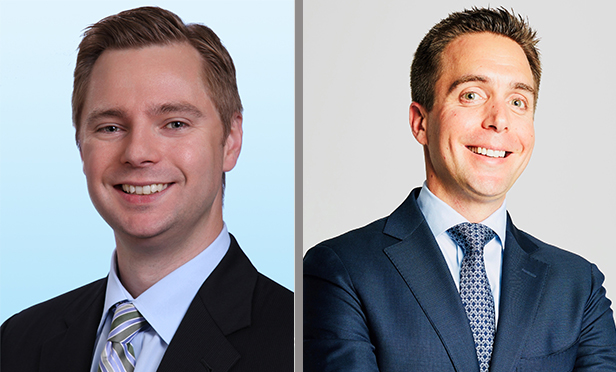 NEW YORK—The pandemic took its toll on commercial real estate investors in 2020, but as 2021 comes more into focus, many investors are ready, even revving, to spring back to action, with several high-profile deals already closed in 2021. GlobeSt.com reached out to David Amsterdam, Colliers president of U.S. Capital Markets and the Northeast Region, and Aaron Jodka, Colliers' U.S. Capital Markets research director, to discuss the company's 2021 Investor Outlook Report. Colliers, who saw its market share of institutional investment sales double over the past two years, reported that 98% of investors across all regions are aiming to expand their portfolios this year, with nearly three out of every five planning to do so by more than 10%.
"Investors see opportunities throughout the capital stack, across regions and asset classes, with value-add and opportunistic strategies the most common focus." Amsterdam said. "There remains substantial capital sitting on the sidelines ready to be put to work. Combined with today's historically low interest rate environment, the attractiveness of real estate yields and a strong stock market performance, we anticipate an active year across the real estate capital markets spectrum."
Speaking of light, Jodka shed some of the contextual variety: monthly CRE investment volumes "hit their low point" in May 2020 at $14.7 billion, a far cry from the $3.6 billion bottom in 2009 during the last economic downturn. Last year's numbers generally improved month by month until eclipsing 2019 figures by year's end.
"Despite remaining uncertainties, it is important to note that this is nothing like the Great Financial Crisis, when year-to-year comparisons fell for 25 consecutive months," he added. "With the debt markets alive and well, the investment sales market is back."
U.S. investors are more bullish than their global counterparts, with 76% of domestic investors planning to increase portfolios by 10% or more. Industrial properties are the clear-cut favorite among investors, with 72% of respondents preparing to amplify that asset allocation. Aided by the reshoring of supply chain and production, the already strong industrial market set more records in 2020, including topping office sales for the first time ever. It was followed by multifamily, office, hotel and retail in Colliers' investor outlook survey.
Every year, economic shock or not, offers investment lessons, with diversification and sustainability new and renewed objectives — in targets and tactics, respectively. Colliers reports that global investor demand is on the rise for "alternative assets connected to fundamentals that are set for long-term structural support," including data centers, senior-living facilities and life science properties were the top alternative investment choices globally. Domestically, life science was the clear preferred alternative investment at 81%.
"Some of the biggest movers in investment volumes last year for office were markets such as Raleigh/Durham and Northern New Jersey, two life science markets," Jodka said. "Boston was the top office investment market in the country for the first time, and nearly half of all office/industrial volume in that market was lab driven."
Amsterdam added, "Understanding the unique regulatory and market dynamics of these sectors within local municipalities will further drive the need for investors to seek out local alliances, platforms and partnerships to access these opportunities."
The CRE industry as a whole still must monitor several questions, from return to work uncertainty and tenant solvency to government policy, including possible reactions to battered state budgets. However, 2021's risk-reward ratio — in addition to Colliers' investor sentiments — points to many investment opportunities.