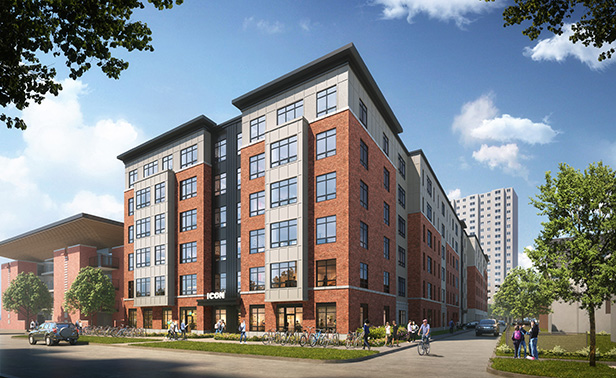 PORTLAND, OR—For commercial real estate sponsors, online syndication as an alternative to traditional capital has come a long way, and, as a result of the pandemic, it may have finally come into its own as a reliable, seemingly unlimited source of investment capital for sponsors.
Sean Lyons of Jackson Dearborn Partners (JDP), a Chicago-based investment and development company, saw the power of online syndication firsthand during JDP's first raise on CrowdStreet, one of the leading online CRE investment syndication platforms.
"We did a half-hour presentation, and then they usually do a Q&A for potential investors, but after just two or three questions, the moderator [from CrowdStreet] stepped in and said, 'the project is fully funded,'" Lyons said. "We kind of looked at each other and thought he was joking. We never thought in a million years it would happen so fast."
Darren Powderly, co-founder and VP of capital markets for CrowdStreet, told GlobeSt that CrowdStreet is coming off of a record year in 2020, with investor demand hitting a new high. Powderly explained why sponsors are finding online retail investors attractive, and the advantages online syndication can offer.
CrowdStreet posted their best-ever year-end results, raising over $640 million in capital for sponsors and ultimately breaking records for their most productive quarter and most productive month since their Marketplace launched in 2014. 45 sponsors brought deals to the platform for the first time, including industry giants like Greystar; Taurus; Harbor Group International; and Cabot, Cabot & Forbes.
What brought these sponsors to the platform? At the height of the pandemic, many traditional sources of capital, including large institutions, banks, and more, understandably shrank their exposure amid the economic uncertainty, tightening their pursestrings. These sources generally write checks in the tens of millions for a single project, and many paused to see how things shook out before committing their capital. Meanwhile, CrowdStreet's base of individual investors were hungry for deals. With a much lower threshold for participation—a minimum of $25,000 per project—these individual investors could spread out their overall amount of investable dollars across several offerings to create a diverse portfolio.
"This was the black swan event that nobody anticipated. As traditional capital stepped back, this created a void. Individual investors stepped right in to fill it," Powderly said.
Jackson Dearborn Partners' second raise was just as successful as their first, according to Lyons. "We [hit our goal] in three minutes," he said. "It literally broke a record on their platform."
In addition to fast and efficient capital raises, online syndication can also offer sponsors improvements to the cost of capital. Any acceptance of a large check or form of financing comes with terms. While most projects will require some form of traditional financing, working with retail investors to fill the gaps allows sponsors to keep more of the control over their projects and carry out their business plans as they see fit.
"Institutions might say 'I own this', and if push comes to shove they may take over the project from the sponsor," Powderly said. "But with retail investors, their involvement in the project is passive. They have entrusted the sponsor behind the deal to do what's best for the project and steward their capital."
When Jackson Dearborn Partners was seeking capital for one of its deals, Lyons ran headlong into that dynamic. "We came across a private equity group, and they wanted a controlling seat at the table. They are used to getting what they ask for because it's the golden rule: You have the money, you call the shots," he said. But "there is now an alternative, a Plan B, and I don't think the industry is fully prepared for that disruption."
With so many individual investors working from home during the past year, many discovered online real estate investing for the first time. That helps account for the boom in investor demand despite a rocky economic outlook during the pandemic. Attracted by the ease, access, and informed nature of the investing, people have used online CRE syndication to earn returns, balance their portfolios, and hedge against inflation.
"It's fair to say that investing strategies changed in a very fast way because of the pandemic. Investors can stay on top of it all with online investing," Powderly said.
Going forward, investor appetite for online syndication opportunities only shows signs of increasing. CrowdStreet surveyed their expansive investor base and 96% of respondents reported that they planned to make a commercial real estate investment in 2021. More than a quarter planned to invest in four or more deals.
That strong investor engagement creates a self-perpetuating cycle of success for online syndication platforms. Investor demand attracts sponsors, and access to more great deals drives further investor demand, and so on.
"We've been able to scale up our business because these [accredited and U.S. qualified] investors, who can be anywhere in the world, can find us through the CrowdStreet platform," Lyons said. "We don't have to do any of the traditional things that people do when they want to do a deal. It's all streamlined."
As more and more retail investors gain access to CRE deals through platforms like CrowdStreet and sponsors reap the rewards, momentum for online syndication continues to build. As the markets recover in 2021, different asset classes and metros will recover at different times, but investors appear eager for the right deal with the right business plan and the right sponsor at the wheel. CrowdStreet's $1.7 billion in total investments speaks to that.
Download the Investor Insights Report and Investment Thesis to learn more about investor appetite for online CRE syndication in 2021 and how CrowdStreet evaluates deals for the Marketplace.