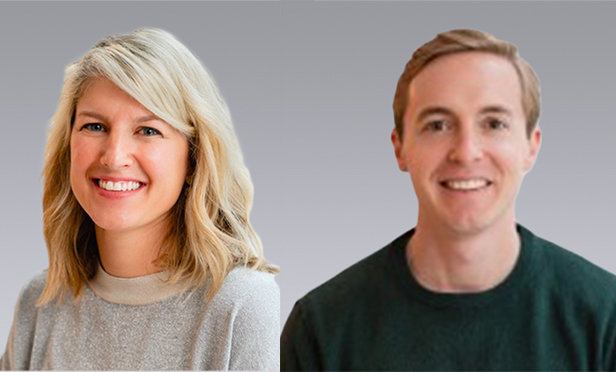 NEW YORK—Flex office space is ready for its post-pandemic moment. Driven by the uncertainty surrounding what work will look like as employees return to the office and how much will be needed, the flexibility and versatility of the product type are drawing the eye of tenants and investors who view it as a possible solution to their pre-pandemic office needs assessment. That's according to Colliers International's Beth Moore, SVP of client experience, and Will Burchfield, VP and head of Flex Advisory, who spoke with GlobeSt.com on the future of the subclass.
"One of the key outcomes from the pandemic is that a balanced portfolio and mix of long- and short-term space provide the greatest risk protection for business volatility," Moore said. "Also, companies are looking to flex space to exit longer-term space commitments if employees are not coming back to the office 100 percent of the time."
It's no secret that highly efficient space and shorter lease terms are benefits of flex CRE. But how does that versatility translate into value? Colliers recently worked with an enterprise company on hybrid space implementation, resulting in approximate savings of 66% over eight years. A growing trend, the combo approach features a hub and spoke flex space model with an on-demand component.
"Providing choice and flexibility amongst your tenant base is not an afterthought, it is now a priority," said Burchfield, citing Industrious at Equinox Hudson Yards in New York City as a "perfect example of crafting a flexible environment for a large swath of occupiers. Tenants thrive on choice, and with post-pandemic needs for an array of space, having a portion of your portfolio dedicated solely to this concept remains essential."
Moore notes that suburban submarkets are getting into the flex game, as workers who left the high-density urban offices behind during the pandemic aren't exactly clamoring for the return of long commutes. Property owners and technology providers are taking notice.
"When the office is too far away and home becomes uninspiring, we are seeing companies seek out suburban flex locations to give their employees another option," Moore said. "Landlords that primarily have suburban office portfolios are dipping their toe into the flex model to capture this demand, and new technology players and workspace aggregators are coming to the forefront to offer access to private daytime workspaces closer to their homes."
Moore and Burchfield say the most surprising aspect of the flex sector is the sheer number of landlords venturing into the space. The mass exit of tenants during the pandemic caused flex operators to rethink their approach to tenant attraction and retention with flexible deal terms, heavily discounted pricing and the option to add membership passes to agreements. Landlords are using those lessons to add even more flexibility to the flex sector.
"We are seeing a robust desire from enterprise clients to experiment with on-demand offerings," Burchfield said. "Think of it as Airbnb for office space. By using data and utilization metrics from these providers more broadly, enterprises can drive a more strategic-based approach to not only a return to the office, but a more robust portfolio strategy that can be implemented over time."