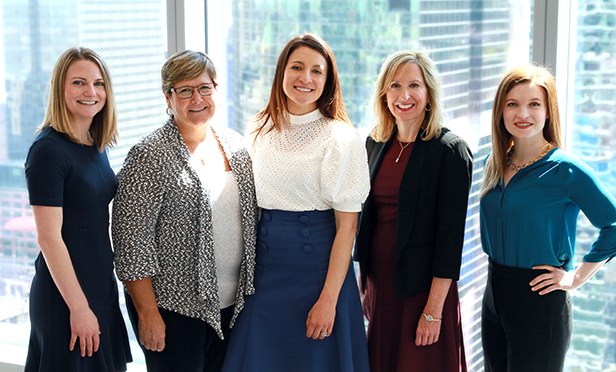 Finding and doing deals is hard enough on your own. Better get your team involved for the connections, resources, and referrals that turn into deals.
What CRE pro Sue Myers, a senior vice president at Assurance MMA, found is that it takes a village to raise a deal. As a member of CREW (Commercial Real Estate Women) Network, she's realized that connecting with women is unmatched in effective deal-making—and helping everyone advance their careers.
Myers has been in insurance for 16 years, first as an underwriter and then as a commercial property and casualty broker. Most of her clients were in real estate.
"I started to really gravitate toward it because it was something I could differentiate myself with," Myers says. "What I found was I had a real knack for real estate clients."
Teamwork becomes obviously critical when working as a broker. "I'm still the broker and go out and find new clients, but my team structures the programs and helps our clients minimize risk," says Myers.
And one of her critical teams is in CREW. Who could blame her after having done business worth $3.2 billion in assets with fellow members since 2019?
One key to success is getting the right mix of people involved. "If it was all dealmakers, a lot of these deals would probably implode. If it was all insurance people, no deal would ever get done," Myers points out. "You need the balance of both. Every deal has some risk in it. You want to minimize it, but you also want to know about it."
But in a sense, CREW Network members can help expand that approach to risk by bringing more of the right people together. An example is an early-stage project in Chicago. Chicago-based Shorewood Development Group has a location in the Fulton Market area of the city. A "really exciting neighborhood west of the city," Myers says.
Working on the project is Marnie Hamel, Shorewood vice president and controller. Hamel and Myers had met through CREW Network a few years before. Hamel put together a cross-organizational team: Mary Fuller, a managing partner at the CPA and business advisory firm Shepard Schwartz & Harris; Kelly Greco, a shareholder at law firm Polsinelli; Sophie Bidek, a partner at Hartshorne Plunkard Architecture; and Myers.
"Marnie's external team is people introduced through CREW," Myers says. "With that, Marnie pretty much formed a whole team and went forward with the project. "It was very much talked about in the Chicago real estate marketplace."
And one result has been an uptick in men looking to join CREW Network.
"We welcome diversity," Myers says.
And success.