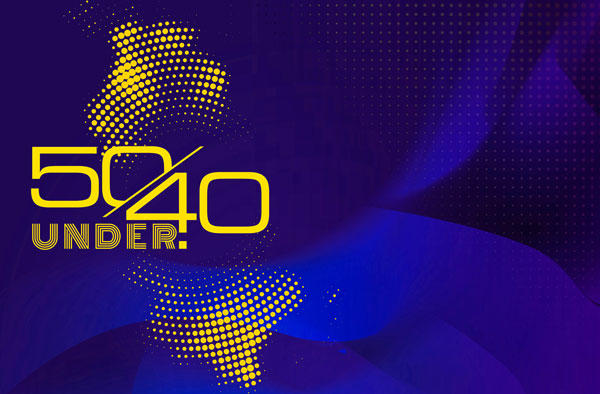 Every industry watches its younger generation for a myriad of reasons. Sometimes, as in tech, younger workers are on the leading edge of new products. In other industries, this cohort may be setting the tone and pace for future processes and ways of doing business. For many categories, the youngest entrants are an indicator of the energy entering the space. In commercial real estate, it could be said that it is a combination of all of the above. We think you will agree as you read about the achievements of this year's selection of our 50 under 40. On the following pages you will find stories of companies formed, unique deals forged and many millions of dollars transacted.

COLIN BEHRING A third-generation developer, Colin Behring recently victoriously won a lawsuit in federal court that helped revive the EB-5 immigration investment industry, a $37 billion investment vehicle for real estate developers that has created more than 730,000 full-time jobs for American workers. This milestone represents one of many impacts that the CEO and director of investment at Behring Cos. has had during his 15-year career. Behring began his career developing real estate in Shanghai, including a $2 billion, 360-acre master-planned mega-development, while overcoming the complexities of acquiring land, land-use policy and currency exchanges in China. Behring founded Behring Capital in 2013 and under his leadership, the firm has since invested in more than $800 million of real estate and it has built a digital EB-5 investment platform that has raised more than $100 million in immigration investment capital from foreign investors. In 2015, Behring created a foreign outbound investment platform and the firm became one of the first American companies to establish within the Shanghai Free Trade Zone. The firm raised more than $50 million in Asian capital for US projects. Under Behring's leadership, the company specializes in income-focused mixed-use and residential investments, such as transit-oriented developments and workforce and student housing projects. Behring's most innovative venture to date is the StakSite, a forthcoming mixed-use real estate concept that will deliver apartments, flex office, amenities and vehicle-sharing in a single offering.

JUSTIN MICHAEL BRASELL Justin Michael Brasell is one of the youngest executives at Transwestern Real Estate Services, where he serves as EVP of the firm's Houston healthcare and life sciences advisory services group. After starting his career as an intern at Transwestern during graduate school, Brasell was identified early on in his tenure for a fast-track career at the firm. In 2015, the company nominated him to lead its young professionals group. In his role as EVP, Brasell leads a 13-person team and supports development, property management, construction management, investment sales, agency leasing and tenant representation. Brasell believes in team victories versus individual achievements, and he has worked to create an environment where information and wisdom are shared and collaboration is fostered. He is known for being innovative and seeking out disruptors in the market. For instance, Brasell and his team are researching new ways to promote available space to physicians as well as new design concepts for medical office buildings that could revolutionize service delivery and patient experience. In addition to executing his ongoing responsibilities, Brasell remains one of the team's top producers and he serves on Transwestern's board of directors and its national technology committee. In 2020, during the pandemic, Brasell's team focused on creative solutions and effectively onboarded more business than any other year in the team's history.

MIKE CONDON JR. Mike Condon Jr. is a pioneer in the adaptive reuse space, with a particular interest in mature industrial or depleted historic asset opportunities. Upon initially pursuing work in digital marketing, travel and television, the Cushman & Wakefield vice chairman ultimately followed in his father's footsteps in the commercial real estate industry, after discovering a love for selling while working in a retail position. Condon began his commercial real estate career at JLL in 2010 during the challenging circumstances of the Great Recession. He built his team from scratch and took the opportunity to focus on obscure and abstract deals, while always looking for the highest and best use of a property despite zoning rules and restrictions. As an expert in the Adaptive Reuse Ordinance, Condon has sold nearly 70% of the competitive subset during the past decade. He is known for seeing opportunities that might go unnoticed by others — townhomes on industrial land, a creative office campus where an abandoned bakery stood, a destination beachside resort in place of a decommissioned power plant. He approaches transactions with agility, which has allowed him to build a book of lease assignments totaling more than 10 million square feet of both office and industrial space. Condon has transacted more than 600 deals totaling more than $2 billion since the start of his career. He is the youngest person to earn the title of vice chairman at Cushman & Wakefield in Southern California.

GIOVANNI (GIO) CORDOVES Giovanni Cordoves is known as a record-breaker in the commercial real estate industry, having directly led the acquisition and disposition of more than $1.3 billion in office and industrial assets nationwide. Cordoves has achieved many milestones during his tenure at KBS and he is consistently recognized as one of the firm's strongest performers. He previously managed nearly four million square feet of space at the firm, prior to being promoted last year to his current role of regional president of KBS's western region, which made him the youngest executive to hold the position since the company's inception in 1992. Cordoves has a strong grasp on the needs of today's office tenants and is focused on KBS's core strength of investing in high-caliber CRE properties and positioning them as best-in-market assets. He has a diverse perspective on commercial real estate as a licensed broker and a certified public accountant in California. As a member of the firm's senior leadership, Cordoves oversees asset management and disposition activities on behalf of KBS REITs, pension funds and sovereign wealth fund clients and he is directly involved in all new acquisitions within the Western region. As a member of the firm's investment committee, he participates in the evaluation and authorization of all new investment opportunities. He additionally serves in leadership roles for a variety of brokers and commercial real estate associations.

FRANK CRAIGHILL In just three years, Frank Craighill has expanded Monday Properties' multifamily portfolio from 362 units to 1,444 units, with 1,880 units in its pipeline. As VP of development, Craighill is responsible for overseeing the development of the firm's multifamily portfolio, which includes sourcing new opportunities for multifamily developments and acquisitions and working with the acquisition team to leverage existing partnerships. During the height of COVID-19, none of Monday Properties' multifamily projects were delayed thanks to processes that Craighill and his team put in place, including safety protocols to ensure social distancing and remote inspections. During the height of the pandemic, Craighill led his team to successfully close out construction, fully lease and sell a 264-unit multifamily project, while launching the vertical construction and lease-up of a 300-unit project and breaking ground on a separate 300-unit project. These achievements are a credit to Craighill's enthusiasm and project oversight. Craighill's successful multifamily expansion at Monday Properties builds on the past decade during which he supervised the development of complex projects totaling more than $1.3 billion, including more than 2,500 residential units, one million square feet of office space, 350 hotel keys and 240,000 square feet of retail space. Upon discovering his passion for real estate during a summer internship at EYA, Craighill worked full-time in development while earning his MBA in an effort to build a strong understanding of finance in order to succeed in the industry.

BRENNEN DEGNER Early career success granted Brennen Degner the confidence to strike out on his own and launch his firm four years ago. Upon graduating college, Degner secured a position at MJW Investments, and in less than a year, he was promoted to director of asset management, where he oversaw a diversified portfolio of assets valuing nearly $1 billion. He successfully grew the company's portfolio and earnings prior to becoming COO. Degner then co-founded DB Capital Management, for which he now serves as CEO. Under Degner's direction, DB Capital Management developed a strategy of investing exclusively in multifamily assets in select markets across the country using proprietary research to identify markets that offer long-term growth and investment fundamentals. As a result, DB Capital Management has quickly built a portfolio of $400 million in assets under management and it is on pace to do $50 million in revenue in 2021. Thanks to Degner's adaptability and incredible work ethic, DB Capital Management has attracted a growing number of high net-worth family offices and institutional investors. In addition to his role at DB Capital Management, Degner serves as president of Peak Renovation Partners and he is an active board member at Skyline Management Group. Despite having grown up around construction, Degner initially set out to pursue a career in law, however, he changed his outlook and shifted to the real estate investment market. He credits his mentorship with MJW Investments' principal Mark Weinstein for receiving the tools needed to successfully launch and grow his own company.

JOHN FEENEY A focus on providing personal attention during each transaction has helped John Feeney, SVP of the Boulder Group, develop strong client relationships with high net worth individuals, publicly-traded REITs and Fortune 500 companies. During his tenure at the boutique investment real estate services firm, the Boulder Group, Feeney has been involved in the acquisition and disposition of $2 billion worth of single-tenant properties and he has authored and published more than 70 quarterly and specialty research reports on the single-tenant net lease sector. He currently oversees the company's net lease research division and he successfully demonstrated his ability to navigate turbulent times during the pandemic by guiding clients on both acquisitions and dispositions. The 10-year industry veteran is heavily involved in Marquette University's Center for Real Estate, for which he serves on the advisory board and co-chairs the board's structure committee. Feeney also sits on the executive board for REALM, Marquette University's real estate alumni association. Feeney advises those entering the industry to make use of their networks and approach each deal with honesty and integrity.

KRIS FERRANTI Kris Ferranti learned the ropes of the commercial real estate industry during his childhood while working for his father at construction sites. That experience taught him the value of hard work and persistence; qualities that have driven him through law school and now as a partner in Shearman & Sterling LP's real estate practice. Ferranti has extensive experience representing clients in complex commercial real estate transactions. He serves as a thought leader and panel expert on various real estate topics at conferences and webinars. Ferranti is a decision-maker and influential voice within Shearman & Sterling's real estate group, where he advocates for diversity and inclusion through recruiting, hiring, evaluations, work assignments, advancement and maintaining a proper work environment. As a forward-thinking innovator, he has focused on blockchain and digital assets and how they will impact the real estate industry. His achievements include advising SL Green on a lease transaction with Citigroup as one of the largest deals of its kind in New York City history. He was also on the team that advised Unibail-Rodamco's acquisition of Westfield Corp. During the pandemic, he advised Olayan America on a 14,414-unit multifamily portfolio acquisition for $1.75 billion. Ferranti is a mentor and he regularly trains junior members of the firm. He is active in various pro-bono work and he routinely represents US military veterans in their service-oriented injury claims and appeals to the US Veterans Administration.

ADAM S. FINKEL Adam Finkel co-founded Tower Capital in 2015 with a vision of enabling commercial real estate owners to achieve their investment goals with the least amount of time, energy and cost, while creating surety of execution and peace of mind. The firm has gained a strong reputation in the Southwest and it continues to grow its presence nationally as it is positioned to soon achieve $1 billion per year in annual origination volume. A well-recognized commercial real estate expert in Arizona, Finkel acts as a leader, visionary, manager and loan originator while serving as principal of Tower Capital. He is responsible for relationship management with clients, lenders and third-party vendors, and he also originates considerable deal flow for the firm. Finkel aims to advance the build-for-rent product type, as well as the hotel-to-multifamily conversion trend. Despite challenging market conditions, Tower Capital successfully closed more than $400 million in financing transactions in 2020 and the firm is on track to reach $750 million in 2021. Finkel got his start in real estate via an internship after putting himself through real estate school. He gained success on the leasing side of the business before transitioning to the finance side following the Great Recession. Prior to founding Tower Capital, Finkel served as VP of Johnson Capital and as a designated broker and managing director at Travers Realty Corp. Finkel and Tower Capital support several philanthropic organizations.

THOMAS FOLEY Thomas Foley's two unique skills have propelled him to success in his commercial real estate career. He has the ability to connect people of various backgrounds and walks of life, and he also holds a knack for getting people to rally behind his vision for the future. Prior to co-founding Archer in 2019, Foley shifted from a career in FinTech to CRE brokerage, founded two companies to pursue his vision for commercial real estate investing and completed his Wharton MBA while juggling a young family. As co-founder and CEO of Archer, Foley is responsible for leading the strategic direction, hiring, sales and fundraising initiatives for the firm. Foley's networking skills helped Archer continue its efforts to get off the ground during the pandemic, allowing the firm to complete more than 70 institutional and family office interviews to validate product ideas and refine the company's strategic direction and product roadmap. The firm also completed its pre-seed funding, hired team members and added influential advisors last year. While working as an entrepreneur in investment banking and FinTech, Foley developed a fascination with how the real estate investment space worked and he immersed himself in the subject in order to succeed. Foley encourages prospective industry professionals to prioritize relationship development and embrace new tools and technologies.

MATTHEW GOTTESDIENER After graduating from college, Matthew Gottesdiener pursued a career in finance but shifted to real estate in the wake of the Great Recession. He developed a philosophy that long-term success in commercial real estate requires balancing financial wealth-creation strategies and an appreciation for the role that shelter, space and home play in people's lives. Gottesdiener joined the national real estate private equity firm Northland Investment Corp. as SVP of acquisitions and corporate in 2016 and he ascended to the role of CEO earlier this year. Since 2015, Gottesdiener has overseen the acquisition of 34 properties valuing nearly $2.3 billion and he simultaneously led the expansion of Northland Investment Corp.'s corporate team from 74 to 100 team members. Since Gottesdiener joined the firm, the firm's total transactions have reached $4.3 billion and 101 deals, including refinancings, sales and acquisitions. Additionally, when Gottesdiener joined the firm, Northland Investment Management held funds that were expiring in an average of five years, and now, as a result of Gottesdiener's influence, the average is more than 25 years. Gottesdiener is focused on expanding the firm's influence throughout the country through strategic acquisitions, expansion into multiple new markets, launching a national development platform and bolstering the firm's philanthropic impact. Gottesdiener is a board member and treasurer of HomeStart, a Boston-based nonprofit dedicated to ending homelessness. He also is a member of the ULI multifamily product council and the NMHC board of directors.

TYLER GRIFFIN Tyler Griffin was instrumental in the 2020 merger of Hunt Real Estate Capital, RED Capital Group and Lancaster Pollard into the new brand, Lument. During the uncertainty of the pandemic, Griffin served in a group responsible for both building a new company and all of its systems while simultaneously overseeing ongoing transactions to ensure business continuity. As senior managing director and COO of mortgage banking at Lument, Griffin is responsible for the closing department, the FHA underwriting department and marketing and communications. She also plays a critical role in strategic technology issues and in the development and implementation of strategic initiatives to support growth across the firm's Fannie Mae, Freddie Mac and FHA lending platforms. Upon graduating from Vanderbilt University with a degree in economics and financial economics, Griffin immediately moved to New York City to find a spot in the commercial real estate industry during the challenging environment of the Great Recession. The crisis drove her to focus on FHA and agency lending early in her career. Griffin advises young industry professionals to think long-term and develop product knowledge and relationships that can last throughout a career, especially when the industry may be in turmoil.

ADAM M. HENDRY Adam Hendry founded Tzadik Properties LLC in 2007 just before the Great Recession and effectively navigated the challenging times while growing the company. The firm acquired more than $200 million in multifamily assets in the Southeast region and repositioned many of those assets in primary markets. Since then, as CEO, Hendry has led Tzadik Properties to become a major multifamily player in the region and continues to expand the company's footprint. Under Hendry's leadership, Tzadik Properties has managed more than $1 billion in apartment complexes, more than 15 million square feet of commercial real estate space and more than 19,000 units in 20 states. Hendry's market knowledge, financial acumen and experience in opportunity analysis have been critical to his success in foreseeing potential market opportunities and proactively building and positioning a motivated, flexible organization. For example, in 2018, Hendry searched every state for cities that weathered the 2008-2010 downturn to seek the best expansion opportunities. He and his team came up with criteria for where to expand, which included population growth, lack of supply, no overbuilding, low crime rate, low vacancy, state taxes, governor stewardship and more. While others were focused on primary and secondary markets, Hendry led his team to focus on these markets, which resulted in the firm's expansion to South Dakota, where it now serves as one of the largest owner-operators in the state.

DANIEL JACOBS At 32 years old, Daniel Jacobs is one of the industry's youngest creators and managers of an institutional-grade discretionary credit fund specific to multifamily investment. Jacobs joined Asia Capital Real Estate in 2016 with the sole purpose of using his strong industry connections and capital market savvy to create and incubate a credit lending vehicle. He led the launch of ACRE Credit I in August 2020, which raised $328 million of equity and has since closed and committed to providing more than $700 million whole loans across 17 transactions to support the acquisition, lease-up, redevelopment and recapitalization of multifamily assets in growing secondary markets. Jacobs serves as partner and head of originations at the firm, where he is responsible for the management of funds and all origination efforts for ACRE's equity, credit and special situations platforms. Under Jacobs' leadership, ACRE remained committed to providing debt financing for market-rate, workforce and affordable housing developments during the COVID-19 global health crisis, when many projects faced delays, cost overruns or other financing complications. Jacobs chose a career in commercial real estate having always been drawn to and fascinated by the industry and creating the places where people live, work and play. He advises young industry entrants to value hustle and hard work and to focus on achieving goals.

JEREMY JACOBS Several different career paths have led Jeremy Jacobs to his current role as managing director and market leader at Colliers. He served as judge advocate general in the US Army and was deployed to Baghdad as part of Operation Iraqi Freedom in 2008, a service for which he received a Bronze Star. Following his service in the military, Jacobs began work as a developer at Ryan Cos., where he executed projects such as the remodel of the historic Plymouth Building in Minneapolis, MN and the construction of Grove Health West in Maple Grove, MN. He then joined Mortenson Development, where he rose from developer to team leader and spearheaded numerous projects. Jacobs then transitioned from development to brokerage and joined Colliers | Minneapolis-St. Paul where he now works with brokers and external partners. Jacobs' military experience provided him with the skills needed to diagnose challenges, create responsive strategies and execute on plans. At Colliers, Jacobs has spearheaded the firm's efforts in navigating leadership changes, the pandemic and the combination of two offices. As the leader of Colliers' Minneapolis-St. Paul brokerage division, which includes 54 brokers and nearly 20 support staff, Jacobs supports brokers' day-to-day operations and provides visionary leadership for their business strategies, from helping to launch drone photo shoots to making introductions to key contacts. Jacobs additionally serves as chair of ULI Minnesota and he also created a networking event that has raised more than $100,000 for Hearts & Hammers – Twin Cities since 2014.

MARK KAPLAN Prior to launching his own real estate development and property management company, Kaplan Equities, Mark Kaplan began his career in real estate finance at Credit Suisse, before joining his family's business at Kabro Associates and then graduating from Columbia Law School. Kaplan Equities' success eventually attracted the attention of RIPCO Real Estate, where Kaplan now serves as principal and COO. Upon joining the industry during the Great Recession, Kaplan was immediately responsible for the leasing and property management of an open-air shopping center portfolio, a task which included helping keep tenants afloat. In Kaplan's current role, he oversees all day-to-day activities and divisions, including more than 75 brokers across five offices in the New York metro area, and he is working toward opening offices in Tampa, FL and South Florida. Kaplan actively worked to keep his team engaged during the pandemic. He set up his team to work remotely and helped to manage client relationships and projects while balancing demands at home. Kaplan also prides himself on his commitment to sharing his experience and career growth with younger professionals entering the industry. He has served as a guest lecturer at Hofstra Law School on the topic of brokerage, leasing and his experience in law school and the real estate business. Kaplan advises younger CRE professionals to consider the retail side of the business and to seek opportunities in places that others are not fixated on, rather than focusing on the latest trend.

TIMOTHY KARP JPMorgan Chase executive director, Timothy Karp specializes in historic tax credit equity and he has applied his experience to several transformative projects around the country. Karp's knack for translating detailed concepts into digestible information for clients has led to success in winning business for the firm. As the leader of JPMorgan Chase's historic tax credit equity originations team, Karp spearheads all client-facing activity for real estate developers seeking to preserve historic buildings, including helping clients understand how the HTC works and how it can be a low-cost form of capital when preserving historically significant buildings. Karp also works with internal partners to provide HTCs alongside traditional construction and permanent debt offerings. He has been integral to helping the firm launch and expand its historic tax credit equity platform, which is now one of the largest in the country. During the pandemic, Karp stepped up to lead the team's client management by working with its portfolio of mostly market-rate and affordable multifamily clients. He also has been integral in prioritizing the team's efforts to support JPMorgan Chase's $30 billion racial equity commitment by using HTCs to create and preserve affordable housing. Karp initially chose a career in commercial real estate because he was interested in impacting the way communities are built. The projects that he has financed throughout his career are often landmarks or important buildings to communities around the US; many of which have sat vacant or underutilized for many years. He appreciates being able to activate important buildings and give them a 21st-century use.

ZAMIR KAZI After graduating magna cum laude from college in 2009 with a degree in pre-med, Zamir Kazi became an entrepreneur by launching and selling several successful businesses. His first real estate purchase was a $30,000 duplex in Lakeland, FL, which he flipped and used the proceeds to buy the unit next door. By the time Kazi was 25 years old, he had amassed 1,000 units and in 2013, he founded ZMR Capital, where he currently serves as CEO. His ability to find deals even during challenging circumstances has been a key factor in his company's ability to thrive during COVID-19. Since June 2020, ZMR Capital has acquired nearly 2,000 multifamily units across the country. Kazi's goals for the company include helping to solve the growing affordable housing issue by focusing on creating quality affordable housing through the acquisition of strategic, value-add opportunities in primary, secondary and emerging markets. Targeting value-add workforce housing in high-growth markets has allowed Kazi to bring the company full circle from acquisition, renovation and disposition of 3,500 units and expand the company's portfolio to 4,500 units totaling nearly $500 million in assets under management. Kazi's initial exposure and interest in real estate investing came from his father, who emphasized to him that the best way to build real wealth was through investment and real estate was the safest sector to do so.

PAUL KOMADINA Paul Komadina believes he has a personal responsibility to make Arizona a better place for generations to come, which is why he commits time and financial resources to organizations that drive the state forward. Komadina sits on the board of directors for Valley Leadership, Greater Phoenix Leadership and the Greater Phoenix Chamber of Commerce, and he works with local schools and non-profits to improve education across the state. As senior managing director and Arizona market leader at CBRE, Komadina also influences the direction of Arizona by leading the firm's Phoenix and Tucson offices. In his role, he oversees all aspects of the firm's Arizona business operations and more than 600 employees. He drives strategy across all lines of business, including advisory and transaction services, investment sales, debt and structured finance, property management, valuation, advisory services and project management. Komadina is responsible for growing top-line revenue while maintaining solid profitability to ensure CBRE can continue to invest back in the business and its people. Eager to obtain hands-on experience while pursuing his bachelor's degree, Komadina interned with Phoenix-based developer, Ryan Cos. for two summers before joining an investment sales team at CBRE. In 2013, Komadina was promoted to managing director for CBRE's San Diego region, prior to being promoted to his current role in 2018.

SEAN KREIMAN Specializing in hospitality real estate was a challenge during the pandemic, however, Sean Kreiman met the challenge by providing expert advice and support that allowed clients to retain possession of their hotels. Kreiman advanced rapidly through the ranks of CHMWarnick to his current post as one of the youngest VPs at the company. In the role, Kreiman serves as a fiduciary for ownership and he collaborates with several key stakeholders to optimize financial performance and asset value. Kreiman is a key member of the asset management team, bringing more than 10 years of hospitality operations, advisory and asset management experience to the third-party hotel asset management company, which has more than 70 hotels and $15 billion in assets under management. He is regarded as a subject matter expert on the lifestyle hotel segment, which includes an in-depth understanding of market positioning, pricing strategies, room operations and how to create highly-profitable food and beverage outlets. During the pandemic, Kreiman was the lead asset manager and oversaw the opening of three new hotels, a notable achievement during a significant downturn. Kreiman has direct asset management and consulting responsibility for nine hotels, which includes a diverse portfolio of unique assets such as a luxury mixed-use members club and hotel, a dual-branded hotel development project, a historic and globally iconic hotel in New York, and several lifestyle assets that operate in major metropolitan and key resort destinations. Kreiman is also an active member of the Hospitality Asset Manager Association.

BJ KUULA As an entrepreneurial thinker, BJ Kuula uses his ambition to find new opportunities for American Capital Group, where he currently serves as president and chief investment officer. As part of ACG's executive team, Kuula drives the firm's evolution from a traditional real estate manager and developer into an innovative, full-service commercial real estate enterprise platform. This transformation has allowed the company to build institutional relationships and deploy capital to provide housing options that create sustainable economic development and growth. Today, ACG owns and manages more than $1.75 billion in assets, and since its inception, it has created more than 15,000 apartment units. Throughout the past six years, Kuula has raised more than $689 million in equity from institutional and high net-worth partners and he invested the capital in multifamily assets totaling more than $1 billion in project capitalization. Kuula also raised his own discretionary fund totaling $40 million in capital within six months in an effort to continue deal activity and investment for ACG despite market constraints. Kuula has also led the company into new areas of business. In less than 18 months, he developed a business plan for ACG to participate in Opportunity Zones, he selected sites and closed on equity and debt financing for a $75.5 million OZ investment. He also saw an opportunity to address the commercial real estate industry's challenge of illiquidity and co-founded Abstract IQ, an end-to-end enterprise solution for investing, fundraising, trading and investor servicing that aims to democratize real estate investment opportunities. The company has achieved $100 million in real estate investment opportunities on the platform.

JAIME LEE In her position as Jamison Realty's CEO, Jaime Lee has emphasized technology, outreach and reinvestment in the firm's people, properties and programs. She has overseen the firm's continued growth, including the development of numerous multifamily projects. From 2013 to 2019, Jamison Realty delivered one or two new multifamily projects per year in the Los Angeles market and in 2020, under Lee's leadership, the firm delivered nine new buildings totaling more than 1,555 units. Lee manages the firm's portfolio of 100 buildings totaling 18 million square feet, including acquisitions and dispositions, leasing and management, marketing and external relations. Under Lee's guidance, the family-owned company has evolved and taken on new challenges. One of Lee's primary focuses has been to rebrand the company and its properties by positioning them to capitalize on the burgeoning tech scene. Driven by the knowledge that the country needs more housing, Lee has worked to augment the products that Jamison Realty offers in response to the market's rapidly increasing demand. Commencing the firm's strategy to build its multifamily inventory in 2013, Lee led the firm to successfully convert office buildings into multifamily units, while simultaneously building a fully-integrated development platform to acquire and construct on land. Today, one-third of the firm's projects are adaptive reuse and the other two-thirds are ground-up developments. The company's projects have helped to revitalize and transform Los Angeles' Koreatown into one of Southern California's hottest markets. Lee's success as a leader has led to the company's involvement in many large-scale multifamily projects throughout the city.

WHITNEY LIVINGSTON Whitney Livingston got her start in the retail real estate industry after graduating from college and founding a linen rental company, which helped her build connections with major hotel brands. Livingston then decided to take a leap of faith and pursue a newfound interest in real estate. She rose through the ranks at the Mills Corp. and Madison Marquette before joining Centennial in 2018, where she currently serves as president and chief operating officer. Within her first six months at the Centennial, Livingston had successfully repositioned three significant redevelopment projects and facilitated collaboration between external partners and internal departments. In her current role, Livingston is responsible for managing business operations, near- and long-term planning, and working to achieve Centennial's vision for the future of retail real estate. Utilizing her leadership qualities, Livingston responded to COVID-19 challenges swiftly and with foresight, while always keeping employee safety and business continuity top of mind. Livingston closed Centennial's portfolio of shopping centers long before public health mandates required it and she quickly mobilized a task force focused on safe, successful recovery. She worked closely with heads of property management to produce comprehensive weekly reports to keep stakeholders informed, she spearheaded a marketing campaign focused on positive operational and welcome back messaging, and she led efforts to ensure a safe and clean environment for guests and employees. Meanwhile, Livingston continued to focus on the long-term success of the firm by launching its third-party services division and introducing a digital platform to meld brick-and-mortar and online shopping. Livingston also currently serves as the state director of ICSC for Texas.

RILEY MANKE With eight years of industry experience, Riley Manke has a notable track record and has made a name for himself within the commercial real estate industry. Throughout his career, Manke has underwritten and closed more than $1.5 billion in loan volume. During his tenure as a financier at Walker & Dunlop, he has led projects as simple as a $1 million multifamily refinance and as complex as a $200 million mixed-use portfolio composed of properties in multiple states. His market knowledge and industry relationships have helped him to create a broad landscape for borrowers and provide both borrowers and lenders with deep insights into projects. Manke's experience includes acquisition lending, construction lending, bridge financing, joint-venture equity and long-term, fixed-rate financing. As an associate director in Walker & Dunlop's capital markets group, Manke is responsible for new loan originations and loan closings for commercial properties nationwide. He also holds the ability to salvage loans that run into challenges. He led the refinance of several COVID-19 legacy bridge loans, including transactions for numerous large retail centers throughout the country, in most cases expanding or restructuring the loan to satisfy both borrower and lender. Prior to joining Walker & Dunlop, Manke served as a director for George Elkins Mortgage Banking Co., where he closed more than $600 million of commercial real estate debt.

CHRISTOPHER MARKS Christopher Marks, SVP of capital markets at Marcus & Millichap Capital Corp., is keenly focused on his clients' interests. Through market savvy, Marks has created an extensive network of national, regional and local funding sources to deliver clients the best possible terms. During his tenure at Marcus & Millichap, Marks has financed nearly 900 transactions, 150 of which were closed during the pandemic. His knowledge and enthusiasm have helped him build long-lasting relationships with both clients and lenders, and those relationships have contributed to his success especially during difficult times. In his current role, Marks is responsible for managing a team that focuses on securing commercial debt financing for an array of property types. Marks initially became interested in commercial real estate because he appreciated the work hard mentality in that professionals are compensated by the deals that they close. Marks advises those entering the commercial real estate environment to work harder than anyone else, be transparent with clients and be honest with anyone you work with because your brand is the most important thing in business.

MARK MEISNER At just 32 years old, Mark Meisner has established the Birch Group as one of the leading privately-held commercial real estate investors, owners and operators in the Tri-State region. After commencing his career by working on multifamily assets in urban markets, Meisner pivoted his focus to the suburban office market when he founded the Birch Group in 2016 in effort to capitalize on the value proposition of an institutionally out-of-favor asset class that he believed was ripe with potential. As CEO, Meisner has since expanded the firm's portfolio of income-generating properties to include nearly five million square feet of value-add office assets in strategic markets. Despite pandemic disruptions, the Birch Group continued to expand its portfolio last year, with several deals coming to fruition during the first quarter of 2021. Since 2019, the firm has acquired more than $750 million in office assets and has executed value-add strategies and tailored capital improvements at its properties. Considering himself to be a creative deal-maker, Meisner structures projects in ways that align the interests of all parties. Under his leadership, the Birch Group operates under four guiding principles, including employing a data-driven, research-oriented approach; building and maintaining a powerful network throughout the industry; enacting tailored improvement and marketing strategies to attract tenants; and remaining adaptive, nimble and resilient with a focus on creating enduring value.

SCOTT MEYER Scott Meyer and his co-founding partners at PTM Partners discovered an opportunity in the Tax Cut and Jobs Act of 2017. The trio read section 1400Z-2 and thought it signaled a paradigm shift in the real estate industry. PTM Partners is now a leader in the Opportunity Zone space with more than $125 million of equity invested into more than $600 million of qualified Opportunity Zone development projects. After closing its first fund in 2019, the firm is now sponsoring the PTM Partners Opportunity Zone Fund II LP, which is on track to raise a total of $250 million in equity to invest into selective ground-up and adaptive reuse projects in growth markets. As CFO of PTM Partners, Meyer is responsible for underwriting, financing and structuring the firm's investments as well as its financial reporting and compliance. Prior to co-founding PTM Partners, Meyer served as director of acquisitions and capital markets at LeFrak, where he led acquisition efforts in South Florida and supported the firm's capital markets activity and secured more than $1 billion in financing. Meyer began his real estate career as an assistant property manager at Hines, where he operated class A office buildings, learned all the facets of building management and gained invaluable experience in evaluating new investment opportunities.

ANNA O'NEAL Anna O'Neal serves as a leader at Wells Fargo, as well as within her community. O'Neal serves as senior counsel and VP at Wells Fargo, where she provides support to the firm's corporate properties group. She assists the group in a broad range of transactions and legal settings to acquire, operate, manage and dispose of locations where Wells Fargo conducts business, including banking stores, office buildings, data centers, call centers, cash vaults and more. O'Neal notably worked on the acquisition of 500,000 square feet of office space at Hudson Yards in New York City, which housed many Wells Fargo employees. She additionally worked on the acquisition of an 11-story, 225,000-square-foot building in London's financial district, including share purchase, construction, local and banking regulations, Brexit implications and employee issues. The building now serves as Wells Fargo's European headquarters. Aside from O'Neal's official role, she was recently selected as a member of Wells Fargo's enterprise functions anti-racism committee, which works to facilitate open anti-racism discussions, and she was selected to serve on the Wells Fargo legal department's employment engagement council. O'Neal serves on the board of directors for CREW Charlotte and she regularly participates in pro-bono work through the Charlotte Center for Legal Advocacy and the Voter Election Hotline. She also recently chaired the Charlotte Legal Department's community support campaign. After graduating from law school, O'Neal began her industry career with an internship, during which she realized that she enjoyed the complexities and intricacies involved in real estate transactions.

BRANDON POLAKOFF Since joining Avison Young, Brandon Polakoff has helped the team close 66 deals, earning him numerous awards and propelling him to become one of the youngest principals in the firm's history. Polakoff additionally serves as executive director of the firm's Tri-State investment sales group, where he is responsible for new deal development and deal origination, as well as working with current and new clients to help find buyers for investment properties and working with owners and sellers to sell their properties for favorable terms. Polakoff remained undeterred by the pandemic and he continued to close deals. He notably helped to relocate a group of tenants living in uninhabitable conditions, while helping the owner get out of an option to sell to a predatory managing agent at below market value, by finding an overseas buyer who would transform the property. Polakoff negotiated the entire deal over the phone and email. Initially, upon starting his career, Polakoff intended to go into the investment banking and private equity sector, however, he became enamored with real estate after learning about the industry. He worked on urban renewal projects and watched the Freedom Tower be built as an intern with Silverstein Properties, before joining Beacon Capital Partners and then Massey Knakal prior to joining Avison Young. Polakoff advises new industry professionals to soak up each experience as a learning opportunity. He emphasizes a focus on the long-game since sales take time to emerge and relationships are not built overnight.

MICHAEL POP Michael Pop has been instrumental in bringing about positive change for the affordable housing sector in his role as managing director and co-head of the multifamily loan production team at Basis Investment Group. Pop's team fills a critical role in the affordable housing space; providing smaller borrowers with the ability to finance and develop properties through the Freddie Mac Small Balance Loan Program. Prior to joining Basis Investment Group, Pop worked at a distressed debt fund, focused on acquiring commercial real estate assets nationwide, where he analyzed the processes that involved mortgages and their corresponding workout strategies. This led him into the mortgage space as the fund moved into loan origination and was selected for the pilot program of the Freddie Mac Small Balance Program. Since then, Pop has become a robust agency specialist, closing more than $500 million in agency multifamily. He is adept at understanding products and underwriting criteria, new market evaluations, pinpointing industry trends and navigating the evolving multifamily landscape. Under Pop's leadership during the pandemic, Basis Investment Group's Freddie Mac Small Business program continued with robust activity; aiding the group of borrowers most heavily impacted by the temporary pause of traditional lending institutions. Pop is passionate about diversity and is heavily involved in initiatives and fundraising efforts that seek to inspire the next generation of minorities and women in the industry.

MILES PRATT After establishing himself at entrepreneurial development shops and launching his firm during the pandemic, Miles Pratt recently joined Archer as managing director of real estate acquisitions. Pratt is responsible for all aspects of the firm's outreach to real estate investors and clients, in addition to spearheading its internal investment strategies. His experience contributed to an acceleration of Archer's business into more than 15 markets in just four months. He is credited with being able to perceive real estate technology's future while staying grounded in the present. Pratt's perspective has helped the firm improve its data platform by substantially reducing time to deliver off-market opportunities to clients through Archer's AIM data platform. Pratt has participated in or led multiple award-winning development and acquisition opportunities during his career, valuing more than $1 billion; the majority of which have been purchased in off-market transactions. Pratt originally joined the commercial real estate industry after spending two months working for a US Senator, where he says he realized that studying politics and practicing politics were very different. He transitioned into a role as a property manager and quickly worked his way onto an asset management team before moving into development and acquisitions in 2010.

CALEIGH M. RAYMER Since assuming her position as VP and director of operations at Lendlease, Caleigh Raymer has been focused on growing the firm's Los Angeles business. Raymer goes above and beyond to stay in tune with the needs of the industry and her clients as they evolve and she explores better ways for Lendlease to deliver services to clients through new and integrated delivery methods. In her role, Raymer leads and oversees pre-construction and estimations for the Los Angeles business. She set out to rebuild the business unit from the ground up when she joined the operations team in 2017 by assessing the state of the business unit, the needs of the employees and the overall expectations of Lendlease. Since assuming leadership of the business, Raymer worked with her team to create a business plan that would be feasible and allow significant growth to the business. As a result, the business was awarded a high-profile, mixed-use development in Downtown Los Angeles. In addition, Raymer took an aggressive and proactive approach to deal with the challenges presented by the pandemic. While actively pursuing clients and promoting Lendlease, she worked to strengthen morale by upholding the firm's vision and encouraging innovation. Furthermore, she is an advocate for women in construction and helps to advance young people in the industry. Raymer began her construction career in both estimating and project management. She moved to Los Angeles and joined a leading infrastructure builder where she oversaw change management for more than $1 billion worth of work at the Los Angeles International Airport.

GREG REED With nearly two decades of experience in commercial real estate, SVP, Greg Reed has expanded Capital One Agency Finance's focus on the Western US and helped establish the firm's Newport Beach office. Since opening the office, Reed has successfully originated nearly $6 billion in loans through fixed and floating rate debt, tax-exempt bonds, construction loans and credit facilities. Since 2008, he has originated a total of more than $12 billion in loans. In addition to his origination work, Reed is deeply involved with a subcommittee focused on building a separate bridge to agency capability under Capital One, a project which he began in mid-2020. This subcommittee secured a total of $2 billion in bridge allocation, working to introduce an entirely new product for Capital One Commercial Bank. Reed started his career as an intern at Google, however, the tech crash changed his course. He found his passion for real estate and finance while studying at college, and upon graduating, Reed joined a firm that was later sold to Deutsche Bank. He worked his way up to become VP of origination for Deutsche Bank Berkshire Mortgage, where he placed debt on commercial assets nationwide, primarily through Fannie Mae, Freddie Mac, CMBS and FHA programs. Wanting to take on a new challenge Reed left the firm to help start Beech Street Capital, now Capital One Agency Finance. He has received numerous industry recognitions throughout his career.

LUCAS ROTTER Lucas Rotter believes that to lead a successful company, you must invest in people. Rotter, co-founder and CEO of real estate appraisal software company, Valcre, oversees a dynamic and multifaceted team of software engineers, support personnel and sales professionals, whom he invites to share in the firm's triumphs and successes. In his role, Rotter drives the company's mission and message through his work and offers support to all levels of the firm while maintaining relationships with customers. His responsibilities include ensuring engineers have the tools needed to maintain software upgrades and liaising with the sales and marketing team to ensure alignment of lead generation and advertising campaigns. Rotter previously overcame obstacles while breaking into the appraisal industry, such as convincing appraisers who are accustomed to specific processes to try new technologies. Rotter has focused on enhancing the accessibility and user-friendliness of the Valcre platform to increase the product's appeal to its target market and highlight the efficiencies it can create. Among his achievements is growing the firm organically without relying on venture capital or private equity; preferring instead to focus on building the product's value and waiting to align with the right strategic partners to expand the company's market share. Rotter began his career in the commercial real estate appraisal industry by working for Colliers International, where he spent several years appraising properties. While there, he developed a passion for incorporating technology into processes and building out proprietary tech solutions that improved the appraisal process, which eventually led him to found his own company.

DAN SACKS As one of Greystone's top 10 originators, Dan Sacks has advised and closed more than $7 billion in multifamily financing in the past five years, including $1.7 billion in multifamily loan production last year alone. As senior managing director at Greystone, Sacks is responsible for managing relationships with real estate owners and borrowers, originating new loans and identifying opportunities for new initiatives in the multifamily marketplace. Sacks has built a growing team of professionals that contribute to Greystone's position as a leading Fannie Mae and Freddie Mac multifamily and FHA commercial lender. Expanding his team to 10 professionals since 2013, Sacks believes in creating a collaborative space so that everyone is exposed to all sides of the business in order to grow professionally. At any given time, Sacks is personally running 10 separate transactions, while his team is working on 30 deals at various stages of the transaction pipeline. In the past year, Sacks notable played an instrumental role in the revitalization of Kansas City with the financing of two multifamily towers, which were financed with $190 million in Fannie Mae loans. Sacks received his start in the industry by interning at his uncle's property management company, where he learned to value different types of commercial properties and discovered he had an affinity for understanding the drivers of revenue, expenses and net operating income, particularly in the multifamily space. Sacks regularly mentors young professionals in commercial real estate finance.

WILLIAM SANKEY William Sankey has always had an interest in the way cities are built. This led him to study architecture at Yale and urban planning and real estate development at Harvard. He became a real estate developer and project lead at Madison Realty Capital, Macklowe Properties and Jones Lang LaSalle. During this time, Sankey realized that commercial real estate was falling behind other high-skilled industries including finance and manufacturing, which were leveraging automation and data analytics. As a result, Sankey co-founded Northspyre in 2017 to build a proactive intelligence platform that manages ground-up developments, fit-outs and major renovations across property types using automation, data analytics and artificial intelligence. Since its inception, Northspyre has facilitated more than $25 billion in customer projects. As CEO, Sankey leads the team and is involved with onboarding top talent and filling roles across engineering, sales, customer success, marketing and operations. Amid the pandemic in 2020, Northspyre achieved its highest-ever user engagement, grew its team to more than 30 employees and raised $7.5 million in Series A funding. The pandemic also offered a prime example of the uncertainty and unpredictability that the product was built to address. The industry's COVID-19 response introduced new health and safety requirements on job sites with cost implications for developers. Combined with delays due to lockdowns or rapidly changing plans, Northspyre provided customers with the tools needed to quickly and deliberately pivot in response to these changes, in order to increase confidence among stakeholders and keep projects moving forward.

LINDSEY SENN Throughout her career, Lindsey Senn has focused on the positive impact that developers can have on the communities in which they build. Senn oversees multifamily and mixed-use developments as EVP at boutique development firm, Fifield Cos. She plays a key role in evaluating investment opportunities and overseeing $600 million of multifamily development in Chicago, comprising more than 1,500 units. Senn was instrumental in the development of Logan Apartments, a complex $125-million deal that took 30 months of multiple false starts and stops to carry across the finish line. During the pandemic, Senn focused on creating a general partner fund at Fifield Cos., as part of a two-person team selected to work hand-in-hand with the firm's ownership to raise $50 million. Senn has risen quickly through the ranks at Fifield Cos. She was promoted to VP early in her career after only 18 months with the firm; making her the youngest VP in the company's history. She is recognized in the Chicago commercial real estate industry as someone with poise beyond her years. Her deep understanding of economics and finance, and her keen interest in the meaning and outcomes behind the math, make her a market expert. She initially planned to major in accounting at college, however, an Intro to Real Estate elective class drew her to the real estate industry.

SCOTT SHERMAN While serving as VP of acquisitions at Thor Equities, Scott Sherman continuously competed for deals with RKF managing director, Ben Mandell. The two professionals formed a strong bond and joked about what could be accomplished if they joined forces. In 2017, they did just that by co-founding real estate investment firm, Tricera Capital. Now serving as president and CEO of the firm, Sherman leads the company to prioritize ground-floor commercial space for multifamily and mixed-use developments in South Florida. In the three years since its inception, Tricera Capital has amassed a substantial portfolio of retail investments and creative developments in emerging urban markets throughout the Southeast. Under Sherman's leadership, Tricera Capital achieved 299% year-over-year revenue growth from 2017 to 2018, and 80% revenue growth from 2018 to 2019. The company has doubled the size of its team and has expanded into bigger offices three times since launching. Sherman is responsible for the firm's strategic direction, sourcing investment opportunities, capital markets and operations. During the pandemic, at a difficult time for retail, Sherman guides the firm to continue to lean in and take an active approach to merchandising while curating tenants that will thrive in the evolving landscape. In October 2019, the company commenced construction on the mixed-use redevelopment of the Palm Beach Post campus in West Palm Beach, FL. The project aims to reinvigorate the Dixie Highway corridor and bring much-needed retail, offices, entertainment and public art to the city.

ASHALATA SHETTIGAR Ashalata Shettigar started her career in India before moving to the US, where she continued to work in the tax field while specializing in the taxation of real estate entities. With a deep interest in private equity funds, Shettigar enjoys the challenges presented by the taxation of private equity funds investing in real estate. In her role as senior director at FTI Consulting Inc., Shettigar provides tax consulting and compliance services to various large US private equity funds, real estate companies, real estate opportunity funds and public/private REITs, including due diligence assignments. Shettigar also specializes in the international tax area involving cross-border transactions, including Passive Foreign Investment Company analysis, Section 987 computations for foreign branches, earnings and profits studies, Foreign Account Tax Compliance Act and other international tax compliance. She additionally assists foreign hedge funds, debt funds and venture capital funds with US tax consulting and compliance work. Recently, Shettigar provided tax compliance guidance for properties in a $5 billion retail portfolio located in Manhattan and she also worked on due diligence assignments with respect to service companies and related assets in the US, UK, China, Singapore, Mauritius and India. Shettigar is passionate about diversity within the workplace and she co-leads FTI Consulting's diversity initiative for her local office in Roseland, NJ.

SEAN M. SILVERBROOK With more than $1 billion in real estate transactions already under his belt throughout his 14-year career, Sean Silverbrook joined the real estate development and lending firm, BEB Capital's new bridge-lending platform, BEB Lending, when it launched in mid-2020. In less than a year, Silverbrook, who serves as VP, has established BEB Lending as a nimble player in the bridge lending space. He has been instrumental in originating $33 million in loans across eight transactions in Philadelphia, New Jersey and New York. In December 2020, Silverbrook closed a $3 million bridge loan in under 30 days, allowing a leading manufacturer to move into a 185,000-square-foot facility in an industrial hub of Pennsylvania. Building on his previous successes, Silverbrook is currently developing deal opportunities and is on track to originate $100 million in bridge loans in 2021. Prior to joining BEB Lending, Silverbrook served as director of loan originations for Maxim Capital Group, where he originated commercial real estate bridge loans nationwide. He also previously served as a director at Stabilis Capital Management, where he launched the firm's bridge-lending platform. Silverbrook began his career as a loan officer at Grand Bank in Princeton, NJ, where he originated more than $110 million of real estate capital transactions.

ARUN SINGH Arun Singh brings diverse leadership expertise to his role as CFO at MDH Partners. His 15 years of experience spans debt, equity, research, portfolio management, acquisitions, dispositions and finance. While working at both small and large organizations, he has championed innovative ideas and solutions that have led to the creation of new business strategies, revenue streams and scalable platforms. At MDH Partners, Singh led the creation of the firm's Environmental, Social and Governance Policy by incorporating sustainable practices in its developments and capital improvements. The firm became one of the first industrial developers to adopt CarbonCure-based concrete, a technology that prevents carbon from escaping into the atmosphere. Singh also co-led the fundraising efforts for Fund II, which raised $575 million and unleashed $1.6 billion in buying power. In addition to these efforts, Singh has assisted in dramatically improving diversity at the firm, where its most recent hires are 80% diverse. Previously, as Southeast regional head of commercial mortgages at MetLife Investment Management, Singh managed the firm's largest team globally by headcount, deal count and bridge loans. In 2019, his loan portfolio at the firm exceeded $8 billion and 150 loans. Singh was initially drawn to the real estate industry due to his deep appreciation for buildings and how they contribute to the local economy. He switched majors from computer science and earned his real estate degree before earning his master's of real estate, while also working full time as a loan originator.

GEORGE SKAFF George Skaff became interested in real estate while in high school and his interest furthered when he lived in off-campus housing at Ohio State University, where he saw how rapidly rents grew year-by-year. Skaff majored in real estate and urban analysis and cold-called every owner in town until he was recruited by ARA to help grow and maintain its Ohio presence. He now serves as vice chairman at Newmark with a focus on the Ohio and Kentucky multifamily markets. Clients continuously note his strong salesmanship, persistence and likable approach. Skaff is involved in all aspects of the transaction and property marketing process, including market research, business development, underwriting, valuation, contract negotiation and closing. He has consistently maintained 80-90% market share on brokered deals on more than 100 units in Columbus, OH, while securing a spot as one of Newmark's top companywide producers for five years. Skaff has also been recognized as a commercial investment top producer by the Columbus Board of Realtors every year since 2016. He has closed more than $8.1 billion since 2012, including two transactions valued at more than $250 million each. In 2020, despite the pandemic's economic impacts, Skaff closed multifamily transactions valued at nearly $1.1 billion, with $880 million of that value generated locally in Columbus, OH.

MARK D. THEINE Mark Theine has been with Physicians Realty Trust since its 2013 IPO and he has played a critical role in developing the firm into a healthcare real estate leader. During his tenure, Theine has played an instrumental role in growing the firm from $130 million in real estate investments to $5 billion today, including a $700 million transaction with Catholic Health Initiatives in 2016, which was the largest medical office monetization in industry history at the time. As EVP of asset management, Theine oversees the asset management, operations, leasing, capital, analyst, marketing and communications teams. He provides hospital and physician clients with high-quality management services across the company's healthcare real estate portfolio, which encompasses 274 facilities, totaling 14.5 million square feet across 36 states. Theine's foresight and decisiveness helped set the tone for the firm's pandemic response, including tenant-facing communication, establishing a COVID-19 task force to review operational processes and enhance cleaning procedures, and providing resources to tenants experiencing pandemic-related hardships. In addition, Theine is committed to the firm's ESG program, with a particular focus on the social aspects that encompass philanthropy, volunteerism and diversity, equity & inclusion. He is also committed to local health initiatives and currently holds a variety of roles with community and professional development organizations. While paying his way through college as a caddy at a country club, Theine was able to make connections with industry leaders, one of whom hired him as an intern and launched his career in healthcare real estate.

ALEXIS VOLEN Under Alexis Volen's leadership as chief operating officer, CIRE Equity has outperformed the market each year. The company's success and growth to $500 million of retail, office, industrial and multifamily investments is in part a reflection of Volen's ability to manage company assets and grow a high-performing team. In her role, Volen oversees CIRE Equity's internal asset management and property management departments, along with external HR and IT. She plays a strong role in the strategic decision-making of the company's acquisitions and new lines of business, while also ensuring that the corporate side of operations runs smoothly. While effectively refining strategies, Volen developed key performance indicators for all employees at CIRE by rolling out a weekly one-on-one meeting schedule and initiating meetings within all departments. Upon assuming her current role in January 2020, Volen was immediately put to the test when the pandemic hit. She coordinated resources to transition the entire staff to remote work and exceeded expectations with technology implementation and internal and external communications. She also subsequently helped grow the company by more than 20% with a high success rate of identifying, interviewing and integrating new hires virtually. In addition, Volen found new ways to save the company money, ultimately improving its bottom line. Since stepping into her role in 2020, Volen has reduced turnover by more than 50% and added five new roles within the company. Volen received her diversity, equity and inclusion Mastery certification focused on cultivating cultures of inclusion and she oversees CIRE's DEI efforts. She is heavily involved in CREW San Diego and has spoken on numerous panels geared toward students interested in CRE.

CHRISTIE WALKER During her career, Christie Walker has been responsible for the origination and pre-development of more than 3,500 multifamily units, totaling $2.5 billion in project costs. As VP and senior acquisitions manager at Lendlease, Walker recently led her team in the acquisition of a $110 million land purchase that will transform a full city block into a mixed-use development with 800 residential units. The project represents one of the largest land purchases in New York City since the beginning of the pandemic. In her role, Walker oversees all acquisition activity in the New York City metro market, including identifying, sourcing, negotiating and underwriting deals to acquire land and create joint-ventures for ground-up, large-scale commercial development projects. Through her entrepreneurial skillset, Walker also developed CribRater, an app that connects landlords with prospective renters. Walker has spent her entire career in the property business. She earned her real estate license for a summer job after high school in 2004 before attending NYU. Upon graduation from college, Walker entered the field as the global financial crisis was in full swing. Lured by the challenge, she accepted a job offer as an acquisitions analyst and spent six years learning the development business with a vertically integrated developer. Prior to joining Lendlease, Walker worked at TF Cornerstone, where she identified a parcel of land in downtown Brooklyn that could be acquired at an attractive cost basis. The property now houses more than 700 apartments.

JONATHAN WASSERSTRUM Early in his career, Jonathan Wasserstrum recognized that large CRE firms did not serve growing companies, and he aimed to come up with a solution that would cater to smaller companies without compromising on the quality of service they received. With this goal in mind, Wasserstrum co-founded SquareFoot to help businesses find, transact and occupy real estate. Recognizing that clients value transparency and flexibility, Wasserstrum has built many internal solutions to address those priorities. As CEO, Wasserstrum empowers clients to search for office space online rather than avail themselves of the resources of a single broker. He has also streamlined the tour process via the SquareFoot app, in an effort to create ease for brokers and clients alike. Utilizing the app, clients can take notes and save photos to share with key stakeholders in the office search process, as well as share their favorite listings. SquareFoot also offers PivotDesk, a shared space marketplace; FLEX by SquareFoot, a service that offers clients turnkey office space with a flexible term; and UpSuite, a co-working marketplace. To date, Wasserstrum has raised more than $29 million in venture capital for SquareFoot and he successfully led market expansion into Los Angeles and Houston during the pandemic. Wasserstrum worked for several years as an analyst at JLL before pursuing his MBA in entrepreneurship and real estate at Columbia Business School.

PATRICK WATHEN Patrick Wathen has achieved a successful career spanning more than 15 years in commercial real estate, upon starting in brokerage. As president of Equity LLC, Wathen oversees property management, asset management and the firm's construction departments, in addition to responsibilities from a private equity platform that he previously started. He co-leads his brokerage team, which has served as a pioneer in the convergence of healthcare delivery in a retail setting. Upon launching the team out of the 2008 recession, Wathen led the group to complete more than 200 urgent cares, resulting in a 10% market share of new urgent cares opened between 2011 and 2013. The team has now completed more than 1,000 transactions in more than 45 states, with an emphasis on healthcare tenants ranging from urgent care, dentists and physical therapists to autism therapy services, primary care, free-standing emergency rooms and veterinarians. Five years ago, Wathen founded the Equity LLC sister company, Equity Velocity Funds, which invests capital on behalf of ultra-high net worth individuals, registered investment advisors, family offices and other institutions into healthcare and retail real estate. The fund has made more than $200 million of investments since its inception. Wathen grew up in a real estate family and was always drawn to the entrepreneurial nature of the industry. He became further interested in the industry after sweeping up job sites as a construction intern and he chose the brokerage side of the business so that he could be responsible for his own production. He encourages young industry professionals to find a great mentor and be patient while building success over time.

IAN WEINER At just 30 years old, Ian Weiner was promoted to president and CEO of PEBB Enterprises. He has since helped the company expand into a prolific and diversified industry leader with a nationwide portfolio. Weiner oversees a portfolio of more than three million square feet of office and retail space and a team of employees, numerous third-party brokers and service providers throughout the country. Founded by Weiner's father, Bruce, the firm was previously primarily focused on shopping center acquisitions. Weiner has expanded PEBB Enterprises' portfolio through joint-ventures for new investments and developments to include numerous new markets. Weiner has been aggressive in purchasing retail assets and undertaking ground-up developments. In 2019, the firm acquired more than $103 million in retail assets, including high-profile shopping centers in the Las Vegas area. The firm also signed one of Florida's biggest retail leases of the year in 2019 with a 125,641-square-foot lease in Palm Beach Gardens. Weiner continues to diversify the company's portfolio with office and mixed-use acquisitions and developments. He also organized a companywide philanthropic program to promote corporate citizenship, team building and make an impact on various causes; an initiative that was expedited to address the COVID-19 crisis. Weiner previously earned his Juris Doctor from Cardozo School of Law at Yeshiva University in New York and practiced law at two firms, prior to pursuing his career in real estate.

MOSS WITHERS After starting his career in 2008, Moss Withers had completed more than 650 transactions ranging from large land assemblages to office sales and leasing to investment properties, in just nine years. In 2018, after a decade in the industry, Withers founded the broker-owned firm, Lee & Associates, Raleigh-Durham, where he now serves as principal and CEO. Withers manages the company, helps support day-to-day operations and directs business development and recruitment. In less than two years, the company outgrew its office space and Withers formulated plans to build a new three-story, 21,000-square-foot state-of-the-art regional headquarters. Through his visionary approach and cultivated entrepreneurial environment, Withers will offer brokers and staff the opportunity to invest in the new building. During the pandemic, Withers' leadership guided the company to exceed its profit goals by more than 10% and he expanded the company by 11 employees. Withers started his career with a development company, where he assisted with the land entitlement process. He then returned to Raleigh and noticed that many landowners were struggling to successfully navigate the entitlement process. With his gained expertise, Withers shifted into brokerage and applied his skills to assist owners with the entitlement process, to obtain the highest price for their land. Withers advises new brokers to employ a strong work ethic, treat people right and always have integrity.

MIKE ZEI After observing how manual and cumbersome certain aspects of the industry could be, Mike Zei decided to apply technology and innovation in order to create efficiency and productivity in the space. Zei left his job at a commercial real estate services firm and focused on building a new technology solution, an initiative that led him to co-found TenantBase. The TenantBase platform provides a fully digital experience for businesses searching for space to rent. Since its inception in 2014, TenantBase's onsite engagement and tour rates have increased more than 30%. The platform has more than 170,000 tenants signed up, with aggregated access and facilitated tour opportunities for 1.6 billion square feet of properties. The TenantBase platform has processed more than $400 million in total lease transactions, generating $15 million in commission revenue. During COVID-19, the company displayed resiliency by processing more than $130 million in total lease transactions and $5.2 million in commission revenue, with net revenue growth of 2% year-over-year despite the challenging market conditions. As chief operating officer, Zei is responsible for all revenue-generating operations, including business development activities to aggregate tenant demand, as well as growing TenantBase's network of partner brokers. He leads the platform to save tenants an average of 22% on quoted asking rates and he ensures that the team focuses on being tech-driven in order to provide a trusted experience for tenants.