Commercial real estate deals are taking longer to cross the finish line amid lingering concerns about the global economy and the trajectory of several key asset classes. In fact, 56% of women recently polled by CREW Network in its second quarterly industry survey series said transactions were more difficult to close in the first quarter of 2023.
But it's not all doom and gloom, says Wendy Mann, CREW Network CEO. While macro challenges are weighing down some sectors, signs of resilience are peaking through in certain sectors.
Challenging Macro Environment Weighs on Deals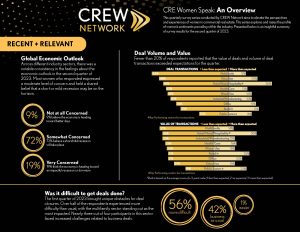 In line with the 56% of women reporting difficulty when closing deals, a further 41% said they closed fewer deals in the first quarter than they expected, while 33% reported that deal value clocked in lower than anticipated. Women in the multifamily sector reported the steepest decline in deal flow, with 74% saying it was more difficult to get deals across the finish line and 37% reporting those deals came in at lesser values than expected.
"Our members and the entire industry are seeing that slow decline," says Mann. But "on the flip side, nearly half of respondents we polled said deals were as expected, and 42% said they closed as many as they thought they would. For example, it's not that multifamily is in trouble, but that it's normalizing from its previous pace."
The failure of Silicon Valley Bank followed by JPMorgan Chase's takeover of First Republic Bank have continued to spook investors, Mann says. Some 90% of women surveyed said concerns over the banking system would continue to have some impact or a great impact on commercial real estate.
"Based on what we're seeing, the banking crisis in the U.S. is very much a contributing factor to that growing pessimism, as well as rising interest rates and a slowdown in financing," Mann says.
Resilience, and a Case for Optimism?
The survey revealed some areas of optimism as well. Just 14% of women in the education sector reported concern over economic and industry outlooks. And on the deal side, 30% of women in the hotel and hospitality sector reported better-than-expected deal value. Even women in the much-maligned office sector, Mann says, shared a "middle of the road" sentiment: just 22% said they were very concerned about the asset class, while 51% reported occupancy staying the same.
"Office is a long game right now," Mann says. "There will be some suffering in the next six to nine months as we see more properties go into receivership and people throw up their hands about office product they own. But in the long run office will come back to a normalized usage, it just may not be 100% occupied all the time."
In the future, Mann says the CREW View: CRE Women Speak series will continue to provide insights from women in the commercial real estate industry – an effort she says will be of increasing importance as companies strive to inform not only DEI and equity initiatives but overall corporate strategy.
"We are taking the lead on ensuring women's voices are heard in the boardroom, in the office, and at the table – and that's a win for women and the industry," Mann says.
For more thought leadership from CREW Network, click here.