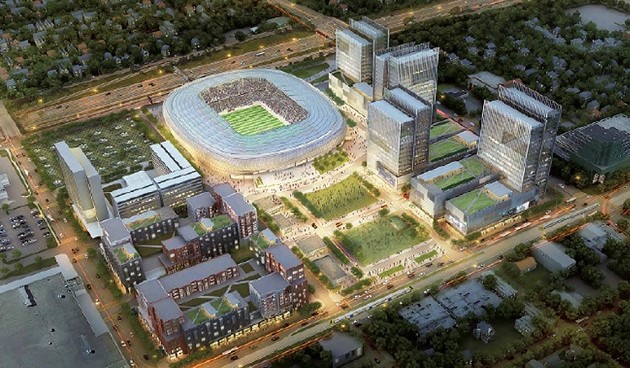 ST. PAUL, MN—New stadiums are springing up across the US, and many property owners believe these projects will fuel demand for other uses in surrounding areas. RD Management LLC recently unveiled its future expansion plan for the Midway/Allianz Field mixed-use project in St. Paul, MN. Builders will complete construction of the $200 million Allianz Field soccer stadium in spring 2019, and to take advantage of the thousands of new visitors to the area, RD Management intends to add additional retail, office, residential, entertainment, and hospitality options to its adjacent property.
The master plan for the expansion will include the construction of new buildings along the western edge of the property on Snelling Ave. The current L-shaped space on the eastern side of the property, which has 20 active businesses, will remain intact following the demolition of Rainbow, Walgreens, Home Choice, and Big Top Liquor to make way for the new stadium.
"We look forward to growing our tenant-base to include sectors beyond retail, while enhancing our current retail offerings," says Richard Birdoff, principal and president of RD Management. "Centrally located between two major cities with access to great public transportation, Midway will one day provide a modern live-work-play destination for locals and visitors to the beautiful new stadium next door."
Located at 1460 University Ave. West and Snelling Ave. North, the 293,732-square-foot Midway is halfway between Minneapolis and St. Paul in a high-density area with 406,200 residents in a five-mile radius. Shoppers can access the Midway/Allianz Field mixed-use project via the new Light Rail Transit line connecting downtown Minneapolis with downtown St. Paul or by rapid bus transit along Snelling Ave., which connects parts of the northern and southern suburbs. The property also sits near the busiest, largest freeway system in the state with a two-way average daily traffic of 160,000 cars per day. Midway Marketplace is adjacent and houses complementary retailers Walmart, Cub Foods, and LA Fitness.
"This is a truly transit-oriented development that will be highlighted by the most attractive, newest soccer stadium in the US," says Minnesota United FC owner Bill McGuire. "The stadium will increase business for existing tenants, and once expanded, Midway and the stadium together will reinvigorate the neighborhood and advance the community."
RD Management has more than 150 properties in its national portfolio.