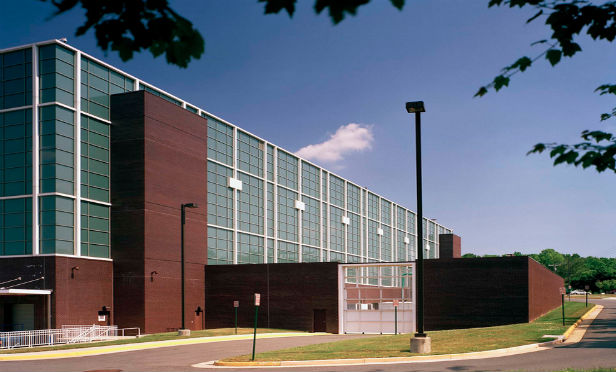 WASHINGTON, DC–Data center REITs Digital Realty, based in San Francisco, and DuPont Fabros in Washington, DC, have announced they are merging in an all-stock transaction worth $7.6 billion.
Under the terms of the agreement, DuPont Fabros shareholders will receive 0.545 Digital Realty shares for each DuPont Fabros share they own. The deal includes $1.6 billion of assumed debt and Digital Realty has secured a bridge loan facility from BofA Merrill Lynch and Citigroup to finance the transaction if necessary. This debt will be permanently refinanced via a combination of investment grade corporate bonds and other transactions.
Boards of directors from both Digital Realty and DuPont Fabros have approved the transaction and it is expected to close in the second half of 2017.
The combined company will have a total value of $34.3 billion, according to its investor presentation materials.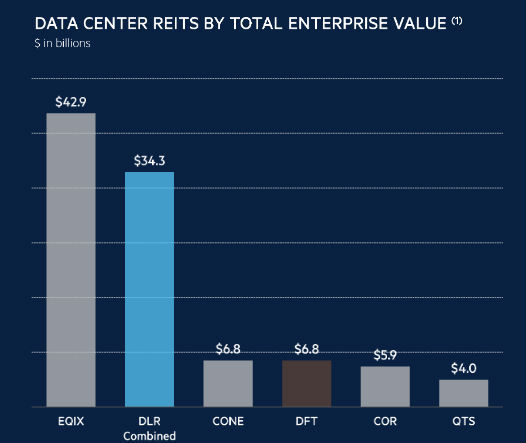 A High-Growth Landscape
The data center REIT market is on fire right now.
For the first four months of 2017 the FTSE/NAREIT All REITs Index posted a total return of 3.5% — however a select few categories swamped the general market including data-center REITs, which posted a total return of 18% for that time period.
The Standard & Poor's 500 index, meanwhile, delivered a total return of 7.2%.
Acquisitions have become the norm in the space as a route for growth — witness, to name one example, Carter Validus Mission Critical REIT II and the $328.9 million in data center acquisitions it has made in the last six months.
Competition, Consolidation
Digital Realty and DuPont Fabros are joining forces to better compete in this environment.
The merger will allow Digital Realty to expand into more metro areas, while providing some diversification for DuPont Fabros as its portfolio is concentrated in Northern Virginia, Chicago and Silicon Valley. Digital Realty, for its part, has an existing footprint of 145 properties across 33 global metropolitan areas.
There are other diversification benefits to the deal: The combined company's top three customers will account for approximately 18% of revenue compared to 57% for the top three customers of DuPont Fabros on a standalone basis.
Also, when the deal is complete, investment grade or equivalent customers will represent more than 50% of total revenue.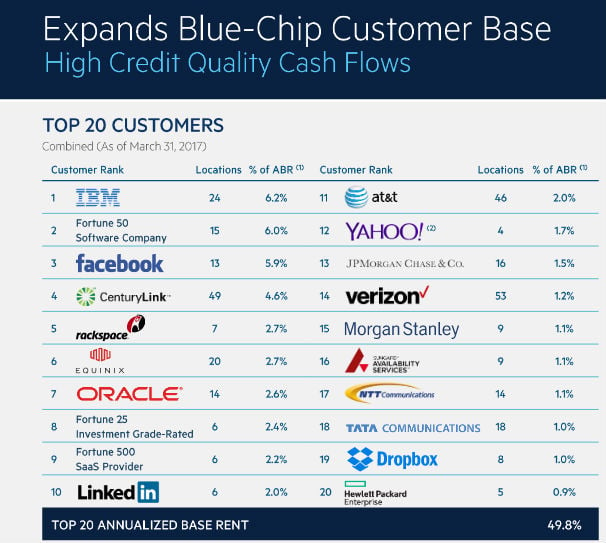 The merger has the potential to realize up to $18 million of annualized overhead savings. The companies predict that the combined entity will have the highest EBITDA margin of any US-based publicly-traded data center REIT.
Digital Realty Gets A Growth Pipeline
DuPont Fabros is also bringing to the table its development pipeline.
Right now it has six data center development projects under construction for around $750 million; they are 48% pre-leased and amount to a 26% expansion of its standalone critical load capacity.
These projects are located in Ashburn, Chicago, Santa Clara and Toronto — all metro areas where Digital Realty has an existing presence.
DuPont Fabros also owns strategic land holdings in Ashburn and Oregon, which will support the future delivery of up to 163 megawatts of incremental capacity, along with 56 acres of land recently acquired in Phoenix.
Save
Save
Save
Save
Save
Save
Save
Save
Save
Save