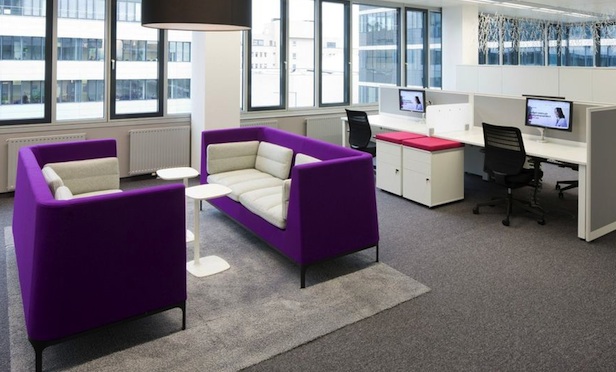 NEW YORK CITY—The growth of co-working space in New York City has been phenomenal, scoring a 767% increase in occupied square footage since 2009 and an 86% higher number of co-working locations during that time.
However, despite the heady numbers, co-working remains a small niche in the overall Manhattan office market, registering a 1.2% market share at the moment. Newmark Grubb Knight Frank has released a report entitled: "WeLease: The Growth of Shared Workspace and Its Impact on the New York City Market" that provides concrete data on the relatively new phenomenon of co-working and how it has changed the way people work and how companies grow here and across the country.
"Co-working companies have helped to solidify the new standards for workplace design among tech and creative companies," the report notes, "particularly fit-outs to maximize density and encourage collaboration. Communal desks and other shared workspace features allow many co-working spaces to function at a very high density." Another emerging trend is that some providers have provided amenities such as kitchens, break-out rooms, game rooms, smart phone apps and cloud connections to foster encounters and perhaps collaboration between businesses.
WeWork opened its first location, a 42,604-square-foot space at 349 Fifth Ave. in 2010 and has expanded its portfolio in New York City to 32 locations totaling 2.7 million square feet across Manhattan, Brooklyn and Long Island City. WeWork, which has more than 200,000 square feet of co-working space in the pipeline, including at Dock 72 in the Brooklyn Navy Yard, has also spurred growth in the size of co-working locations. So far this year, WeWork's new locations are averaging nearly 92,000 square feet, while its competitors normally open considerably smaller locations of approximately 20,000 square feet.
Downtown East has the greatest market share of New York City's co-working space at 16.5%, followed by Brooklyn at 15.7%, the Flatiron/Union Square district at 9.8%, Downtown West at 7.2% and Times Square South at 6.9%.
Another area of growth in the co-working space arena is in the number of players in the New York City market, the NGKF report states. Back in 2009, there were nine co-working space providers, since then 44 new players have entered the market bringing the total number of providers to 53. The top five providers by total occupancy are: WeWork (3,039,062 square feet); Regus (1,445,649 square feet); green desk (422,388 square feet); Cowork|rs (214,493 square feet) and Coalition (167,999 square feet).
"Many of these new providers gear their locations toward freelancers and small businesses with no focus on industry, while others aim to create a collaborative environment for a specific niche like start-ups, writers, or social entrepreneurs," the NGKF report states.
A bear market could put a dent in the demand for freelancers and small business tenancies at co-working locations. In addition, a bear market might also impact buildings that have sizable leases to co-working providers. However, NGKF says that because co-working has such a small market share of the overall office market, any notable space reductions would be unlikely to have a significant impact on the overall New York City office market.