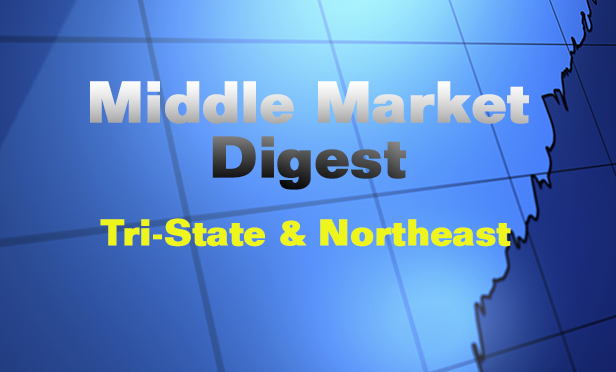 Here is a roundup of the latest leases, sales and other transactions in the Northeast middle markets.
Deal Tracker Daily
NEW YORK CITY—Fairstead Affordable, an affiliate of Fairstead Capital, announced the purchase of four separate Section 8 properties in the Sunset Park neighborhood of Brooklyn through a public-private partnership with NY Housing Partnership, a not-for-profit sponsor.
The portfolio is comprised of 42 buildings with a total of 403 units. As part of the transaction, Fairstead has entered into new regulatory agreements with the New York City Department of Housing Preservation and Development to ensure all of the 403 units will remain affordable housing for the next 30 years. Fairstead plans to implement a capital improvement program to modernize and enhance all of the properties that will include common area improvements, in-unit repairs, energy system upgrades and other capital renovations.
NEW YORK CITY—Deals on Fifth Avenue and in Times Square garnered the top retail transactions of 2016 at the Real Estate Board of New York's 19th Annual Retail Deal of the Year Cocktail Party held at Club 101 earlier this week.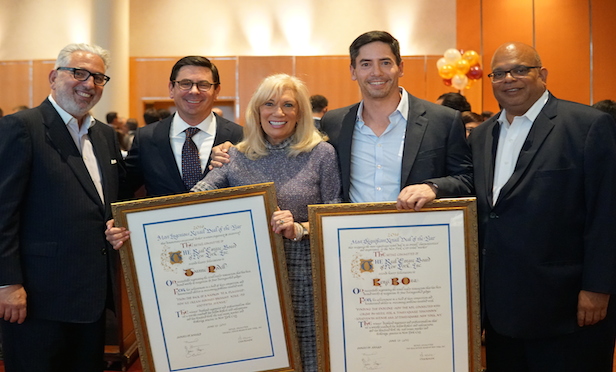 Joanne Podell, executive vice chairman at Cushman & Wakefield, was honored with "The Most Ingenious Retail Deal of the Year" that demonstrates exceptional broker acumen for her deal "From the Back of a Napkin to a Flagship: How Ice Cream Sundaes Brought Nike to 650 Fifth Avenue." This is her third time earning a REBNY Retail Deal of the Year award.
Podell brokered one of the largest transactions for a single-brand retailer in Manhattan, a nearly 70,000-square-foot deal to relocate Nike's flagship store, Niketown, from 6 East 57th St. to 650 Fifth Ave. between Victoria's Secret and Zara.
Kenji R. Ota, executive director at Cushman & Wakefield, won "The Most Significant Retail Deal of the Year," which recognizes the most significant retail deal in its overall characteristics and importance to the New York City retail market, for "Finding the End Zone – How the NFL Connected with Cirque du Soleil for a Times Square Touchdown" at 701 Seventh Ave., also known as 20 Times Square. This is Ota's first time winning a REBNY Retail Deal of the Year award.
Ota was honored for playing an integral role in connecting an unlikely pair, the National Football League and Cirque du Soleil to collaborate on a more than 40,000-square-foot retail lease spanning four floors at The Witkoff Group's 20 Times Square new development. Ota, along with former colleague Eva Santiago, helped navigate multifaceted challenges to set the stage for the NFL Experience Times Square, Cirque du Soleil's first official experiential sports venture.
NEW FREEDOM, PA—ROCK Commercial Real Estate reports that Penn-Mar Human Services has purchased a 35,000-square-foot, Class A flex building located at 888 Far Hills Drive in New Freedom, PA. The property was acquired for approximately $2.99 million from Harlowe R. Prindle. Kevin Hodge of ROCK Commercial Real Estate assisted Penn-Mar Human Services while Dave Bode, also of ROCK Commercial, assisted the seller. The upscale industrial warehouse is located within Stonebridge Business Park.
SPRING VALLEY, NY—The Goldstein Group has arranged the sale of two shopping centers in Spring Valley, according to Chuck Lanyard, president of Paramus, NJ-based the Goldstein Group.
The properties sold were: 135 Route 59, a multi-tenanted retail center; Scott Milich, sales associate of The Goldstein Group, represented the owner, RJS 59 LLC, in the transaction and 96 Route 59, a multi-tenanted shopping center. Milich represented the owner, SV Associates 96 LLC, and the purchaser, Caseres Associates, in the transaction. No financial details for both transactions were released.
NEW YORK CITY—In a transaction arranged by the Savitt Partners team of Elliot Zelinger and Greg Lafayette, the law firm Lee Anav Chung White Kim Ruger & Richter LLP, one of the largest minority-owned law firms in New York State, has leased 8,264 square feet of office space at 99 Madison Ave. Owned by the Mayflower Agency Co., Inc., the NoMad office property has an asking rent of $64 per-square-foot.
The boutique national law firm will be relocating its New York City offices from 156 Fifth Ave. to the entire eighth floor at 99 Madison Ave. The ownership has committed to building out the office space to LACWKRR's specification, with a move-in completion date of Jan. 1, 2018. Matthew Kiamie of the Mayflower Agency acted on behalf of the ownership in the negotiations.
PARSIPPANY, NJ—Transwestern reports the New Jersey chapter of the Building Owners and Managers Association has recognized 300 Kimball Drive in Parsippany with its highest honor, the Grand TOBY award. Transwestern, which provides leasing and management services for the 400,147-square-foot property, received the prestigious honor during a recent awards banquet at the New Jersey Performing Arts Center in Newark.
Bestowed by BOMA annually, The Outstanding Building of the Year awards recognize excellence in building management, operational efficiency, tenant retention, emergency planning and community impact across numerous categories. The prestigious Grand TOBY is given to the winning property that scores highest overall across all criteria. The Transwestern management team consists of VP Erika Toscani, senior property manager Monique Hughes, assistant property manager Eva Karcz and engineers Ted Masters and Harold Whetham, while James Postell, partner and market leader and managing director Matthew McDonough lead leasing services for the property.
NEW YORK CITY—UA Builders Group, a privately held national construction firm headquartered in New York City, announced it was awarded Propco Holdings' ground-up development project located in the West Bronx neighborhood of New York City at 2061-2065 Ryer Ave. The 12-story residential building totals approximately 120,000 square feet.
NEW YORK CITY—With office leasing activity continuing at a brisk pace at 747 Third Ave., the William Kaufman Organization announced that four companies have completed long-term lease expansions, extensions and new leases totaling 59,626 square feet at the 39-story class A office tower in the Grand Central district.
In the largest transaction, media technology company ITN Holdings, LLC, formerly known as ITN Networks, finalized a 15-year lease for an additional 15,100 square feet on the entire 11th floor of the building. The new space is in addition to the 34,782 square feet of office space it currently occupies on the entire fifth floor and portions of the third and fourth floors. With the new lease, the firm's total presence at the property grows to 49,882 square feet.
Also signing at the property is hedge fund sponsor Geosphere Capital Management, LLC, which completed a three-year, 4,557-square-foot lease renewal on a portion of the 26th floor; T&R Productions LLC, which finalized a new, three-year 3,132-square-foot lease on a portion of the third floor; and financial planner O&M Partners LLC, which signed a two-year, 2,055-square-foot lease renewal on a portion of the 15th floor.
PHILADELPHIA—The Harman Group celebrated the groundbreaking of The National, a six-story, 192-unit apartment building, on June 9th. The building is being constructed at the former site of the National Products Co., a restaurant supply company, which was an integral part of Old City, Philadelphia.
The multi-family residential project will include retail and amenity spaces on the first floor, residential apartments, and a two-level underground parking garage.
The Harman Group is providing structural engineering services for this project, which is being developed by The Buccini/Pollin Group, Inc., in partnership with AFL-CIO Building Investment Trust. The structural system designed by The Harman Group will use structural steel for the first floor and parking garage and cold-formed bearing walls and wood trusses for the upper five floors.
NEW YORK CITY—Newmark Holdings reports that independent consulting firm ClearBridge Compensation Group signed a 3,956-square-foot lease on the 32nd floor of 515 Madison Ave., while Dental Serenity of Manhattan took 3,152 square feet of medical office space. The 42-story office Art Deco property—also known as the Dumont Building—is located at 53rd Street and Madison Avenue.
The announcement was made by co-CEOs Eric Gural and Brian Steinwurtzel of Newmark Holdings. Martin McGrath represented Newmark Holdings in the transactions. Kyle Ciminelli of Newmark Knight Frank acted on behalf of ClearBridge.
News & Notables
NEW YORK CITY—Alexandria Real Estate Equities, Inc. celebrated the grand opening of Alexandria LaunchLab at the Alexandria Center for Life Science—New York City on June 13th and awarded its inaugural Alexandria LaunchLabs' $100,000 Entrepreneurship Prize.
The grand opening was held in connection with the NYC Life Science Innovation Showcase, an annual event organized by Alexandria, in partnership with the New York Academic Consortium. The Innovation Showcase provides select NYC-based academic entrepreneurs the opportunity to present their work to biopharma executives, investors and other community stakeholders.
Alexandria LaunchLabs is a full-service startup platform created to satisfy key unmet needs for turn-key office/laboratory space and access to strategic risk capital for seed-stage life science companies, many of which have spun out of NYC's academic medical institutions. To date, 13 initial member companies have been accepted to Alexandria LaunchLabs from a competitive pool of over 115 applicants.
NORTH BERGEN, NJ—Post Brothers recently announced the opening of the leasing office at The Dutchess in North Bergen. A collection of 320 world-class apartments accompanied by an assortment of Paris-Forino-designed amenity spaces and common areas. Set on the western bank of the Hudson River at 7601 River Road, The Duchess comprises a mix of spacious studio, one-, two- and three-bedroom apartments that offer sweeping views of Manhattan.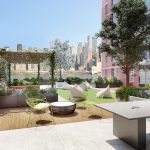 In addition to being the first New Jersey project for Post Brothers, which is best known for its luxury rental projects in Philadelphia residential market, The Duchess also marks the first New Jersey project for Forino as well.
BOSTON – Skanska USA has been awarded a $113-million contract to provide construction services to create Boston College's new, four-story, 244,000-square-foot Recreation Center. When completed in summer 2019, the facility will enhance the school's intercollegiate, intramural and club sports programs.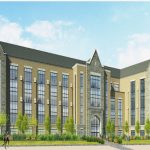 Designed by architecture firm Cannon Design, the center's exterior will match the campus' distinctive Gothic aesthetic. Its interior will consist of numerous flexible spaces to ensure versatility and functionality. Notable amenities include: a state-of-the-art fitness center, jogging track, natatorium with lap and instructional pools, four wood-floor basketball courts, three tennis courts, two multi-activity courts and multi-purpose rooms for spin, yoga and fitness classes.
Construction of the facility, which will replace the Flynn Recreation Complex, is underway at the former site of Edmond's Hall on Thomas More Road. The recreation center, made possible by a lead gift from Trustee Margot C. Connell and her family, will be named in their honor.
Money Moves:
NEW YORK CITY—Real estate investment firm Madison Realty Capital has provided a $23.3-million first mortgage acquisition loan collateralized by a prime mixed-use development site located at 182-188 Spring St. in SoHo. The borrower acquired 182-186 Spring St. through a bankruptcy auction, and closed simultaneously on the adjacent townhouse located at 188 Spring St., including its air rights. The total consideration for the acquisitions is approximately $31.57 million.
The borrower plans to build high-end residential units above ground-floor retail space on the assemblage, in a development totaling approximately 37,278 gross square feet.
NEW YORK CITY—Three multi-family townhomes located in Long Island City sold for $11.25 million, according to brokerage firm Modern Spaces. The three buildings are located at 45-03, 45-07 and 45-09 23rd St. in the Court Square section of Long Island City. Tavros Capital purchased the properties as part of a larger land assemblage called the Court Square Assemblage. The investment management and development firm plans to construct a new Class-A mixed-use building on the site, complete with residential, retail and office components.
Evan Daniel, David Roger Grossmann, Edward DiTomasso and Ashley Grebow of Modern Spaces exclusively marketed the townhomes and represented the property owners in the sale, while Pascal Levy of Besen Associates represented Tavros Capital.
NEW YORK CITY—Paramount Group, Inc. reports it has completed a $300-million refinancing of 712 Fifth Ave., a 543,000 square foot Class A office and retail building located in the Plaza District of New York.
The new 10-year interest-only loan matures in July 2027 and has a fixed rate of 3.39%. The net proceeds from the refinancing were used to repay the existing $246.5 million loan that bears interest at 4.41% and was scheduled to mature in March 2018. The company's 50% share of net proceeds, after the repayment of the existing loan, closing costs and required reserves, was approximately $20 million. Paramount engaged Eastdil Secured, LLC to arrange the financing.
"This financing is yet another example of our ability to take advantage of the attractive credit markets for our high quality assets," said Wilbur Paes, EVP, CFO and treasurer of Paramount. "Over the past two years, we have fortified our balance sheet and have not only reduced our weighted average borrowing costs by over 185 basis points, but we also have no remaining debt maturities until the end of 2021."
NEW YORK CITY—Institutional Property Advisors Capital Markets, a leading provider of debt and equity placements and advisory solutions for institutional and major private investors, has arranged $45.1 million in acquisition financing to purchase an 18-building, 207-unit multifamily portfolio in Brooklyn.
Assembled by the seller during the height of the recession in 2009 and 2010, the portfolio's properties are located throughout central and northern Brooklyn. "This transaction shows that, despite the recent pull back of several major lenders, competition remains strong among New York and New Jersey savings banks," says IPA Capital Markets' Andrew Dansker. "Experienced buyers involved in well-priced transactions are still achieving premium outcomes for their debt usage." Dansker and Lior Goldberg arranged the loan on behalf of the buyer, a real estate fund. IPA also represented the seller, a private investor, and procured the buyer.
On the Market
NEW YORK CITY—Cushman & Wakefield announced on June 12 it was exclusively hired to market a nine-unit mixed-use property at 18 West 125th St. in Harlem. The asking price is listed at $7.5 million.
The five-story, 7,490-square-foot property features eight residential units totaling approximately 5,890 square feet. Three residential units are convertible from two to three bedrooms. The ground floor features an additional unit offering approximately 1,600 square feet of retail space, which is currently leased by CAP USA. executive managing director Robert Shapiro and associate Eric Roth of Cushman & Wakefield are leading the efforts.
NEW YORK CITY—Cushman & Wakefield has also been exclusively retained to arrange for the sale of a 1.9-acre development parcel near JFK International Airport in Queens. The 81,591-square-foot property carries a $39-million asking price.
The site is pre-approved for development as two adjacent hotels—a Residence Inn and the JFK Marriott—both under the Marriott flag. The two structures would collectively comprise 271,018 square feet and 544 keys. Situated at 142-30 135th Ave. and 135-25 142nd St. parallel to the Belt Parkway in South Ozone Park, the land, which will be delivered subdivided into two contiguous lots, is zoned for a maximum of 391,638 buildable square feet for commercial, residential or mixed-use development.