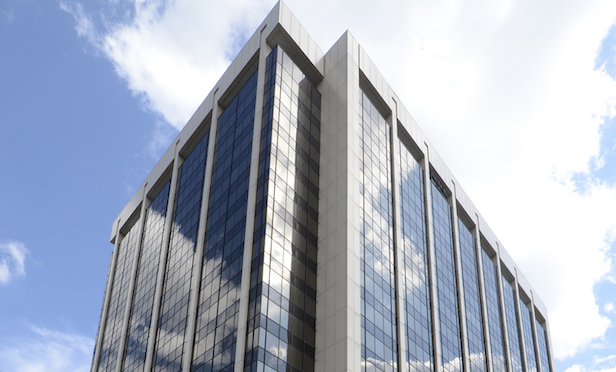 WHITE PLAINS—Beacon Capital Partners has sold the largest commercial office building in White Plains—Westchester One—to an affiliate of New York City-based Argent Ventures, which has retained brokerage firm Cushman & Wakefield to lease and manage the property, Globest.com has learned.
Westchester One, located at 44 South Broadway, totals 906,689 square feet and is currently 88% leased. The property is set to undergo a major capital improvement and leasing program under the new ownership, according to C&W.
The buyer of the property is 44 South Broadway Owner, LLC, an affiliate of Argent Ventures. A published report in Commercial Real Estate Direct states that Argent acquired the 21-story office building for $126.2 million. Globest.com could not confirm the sale price at deadline. Beacon Capital acquired the property in 2006 for $181.5 million. The building also features an 1,800-car parking garage.
A spokesman for Argent Ventures confirmed that the real estate investment and development firm acquired Westchester One earlier this month. However, he would not divulge any financial details of the transaction. Eastdil Secured brokered the sale for Beacon Capital.
The Cushman & Wakefield team working on the new leasing and management assignment at Westchester One includes Mike McCarthy, Matthew Lisk, Steve Baker and Josh Kurloff.
The largest block of available space at the property totals 66,000 square feet. In the past year, the property has secured two significant lease transactions—New York Life Insurance Co.'s 192,060-square-foot lease and Lowey Dannenberg's 14,912-square-foot deal.
"Westchester One has had great success, and now with the new ownership and capital improvements program we look forward to bringing the property to full occupancy," says Baker, executive managing director of Cushman and Wakefield. "In the past few months, we have seen a strong and improved vibrancy in the White Plains market and believe that this prominent asset will attract an even wider variety of tenants."
C&W says that the capital improvements planned at the property include: a refreshed building lobby, new elevator finishes and systems, an expanded on-site cafeteria and fast casual food option, garage improvements and upgrades to other common areas.
The Argent spokesman said that a multi-million dollar capital improvement program is planned, but the cost of the initiative has not been finalized.
Westchester One is Argent's only major property holding in Westchester County at the moment. The company, which owns Grand Central Terminal, formerly owned the Landmark at Eastview in Tarrytown. Regeneron Pharmaceuticals acquired the nearly 1.5-million-square-foot office and laboratory complex for $720 million from BioMed Realty Trust earlier this year.
The White Plains CBD, which totals 6 million square feet of office space, has seen several commercial buildings come off the city's inventory as owners have announced plans for conversion to multifamily or mixed-use. C&W estimates that there are approximately 3,000 new residential units set to be delivered over the next 24 months to 36 months in White Plains.
The Westchester One office building sits next to the former Westchester Pavilion shopping mall site, which was recently razed and will be developed as a major mixed-use project by Lennar Multifamily. The finished project will include approximately 700 rental-housing units.