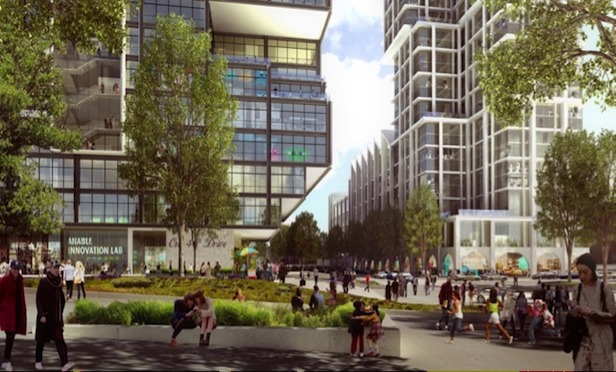 NEW YORK CITY—A development team led by TF Cornerstone will now begin the approval process to change the zoning on two adjacent waterfront parcels in Long Island City in order to build a 1.5-million-square-foot mixed-use development.
The New York City-based development firm, which has extensive holdings in Long Island City, including the massive East Coast development, will build the new project that will feature light industrial, office and residential space as well as a new 600-seat school. Partnering with TF Cornerstone on the $925-million development are: Greenpoint Manufacturing and Design Center, C4Q and BJH Advisors.
Jeremy Shell, principal and EVP at TF Cornerstone, tells Globest.com that the firm will now look to secure zone change approval from a M1-4 (manufacturing-industrial) zone to a special district that would allow all of the uses envisioned in the project. The New York City Economic Development Corp. announced the particulars of the project on Monday, but Shell notes that the agency awarded the project to his development team in late June.
"As an early pioneer in developing over 3,200 apartments along the Long Island City waterfront, TF Cornerstone is thrilled to be part of the next chapter in the evolution of this neighborhood," Shell says. "We are excited to be working with the DeBlasio administration and our development partners GMDC, C4Q and BJH, on creating a new model for urban mixed-use development."
The project calls for at least 1,000 units, approximately 250 of which will be designed as affordable, in two tower buildings that will range in size from about 500 feet to 650 feet in height. There will also be 100,000 square feet of light industrial space, including 50,000 square feet of affordable workspace co-developed by GMDC. Also incorporated in the plan is 400,000 square feet of commercial space, including 22,500 square feet of pre-built incubator spaces; 10,000 square feet for an Arts and Technology Accelerator, 10,000 square feet of classroom space for workforce development and career training, 80,000 square feet of "step-out" office space for start-ups and fast-growing tech, arts, design and creative firms, a total of 19,000 square feet of ground-floor retail in both towers and more than an acre of open space, including a canoe and kayak launch.
As currently planned, Shell says the project gives the developer the flexibility to build it in two phases if it wishes. The two sites, located near major residential developments at Hunter's Point South and Queens West, are currently being used as a Department of Education parking lot and a Department of Transportation facility, both of which will be relocated as part of the development. The properties are across the street from one another on 44th Drive.
Factoring in the approval process, Shell believes that based on the wide variety of uses proposed, the project will be well received by the local community and he is therefore hopeful that construction on the project can commence sometime in 2019 and be completed by 2022.
NYCEDC president and CEO James Patchett, when announcing the TF Cornerstone team's selection, said, "With this project we are creating a first of its kind work-live-play structure, with affordable housing, incubators, and space for cultural institutions. We're investing in the continued revitalization of the Long Island City waterfront, and delivering on our commitment to create good, middle class jobs for New Yorkers."
If the project were to be built in two phases, the first phase would be developed on the southern parcel, with the northern parcel directly on the waterfront would be built in the second phase. The southern most parcel, which totals 42,500 square feet, is used mainly for storage by the New York City DOT. The parcel, the smaller of the two properties, will include one of the residential towers, ground floor retail, 50,000 to 100,000 square feet of industrial space, the planned school building and a performing arts training facility.
In February 2016 NYCEDC issued a request for proposals for the development of the sites. This project will deliver 500,000 square feet of space for jobs of the future‑a key component of New York Works, Mayor Bill de Blasio's plan to create 100,000 quality jobs over the next 10 years, city officials note.
TF Cornerstone's East Coast master-planned community is south of the project site and directly across from Anable Basin. The seven building development (six rental and one condominium) was completed several years ago. The rental properties are fully leased and the condominium property is sold out, Shell notes. TF Cornerstone has retained ownership of five of the six rental buildings.
Next year, TF Cornerstone plans to break ground on the second phase of the Hunter's Point South development in Long Island City, a New York City Department of Housing Preservation and Development project that will, when completed, feature two tower buildings on Center Boulevard that will house approximately 1,200 rental apartment units. HPD awarded TF Cornerstone the Parcel C project along with partner Selfhelp Community Services in late 2013.
"There is very strong demand for apartment houses both on the waterfront and inland in Long Island City," Shell notes. "We think the waterfront has a very unique element because you cannot replicate the views and the lifestyle that is unparalleled there." He adds that all the new school construction, mass transit, parks and other infrastructure that have been put in place in the last 15 years will make Long Island City a very strong market for years to come.
"While there is a lot of supply coming into the community currently, we believe that over the long term this will remain a fantastic place to live," Shell says.
Outside of Long Island City, TF Cornerstone just completed construction and is leasing 33 Bond St. in Downtown Brooklyn, a 714-unit apartment building. The firm is currently building 606 W. 57th St., on the West Side of Manhattan, a former manufacturing building that is being converted into a 1,026-unit apartment building. Shell says leasing for that building would begin in 2018.