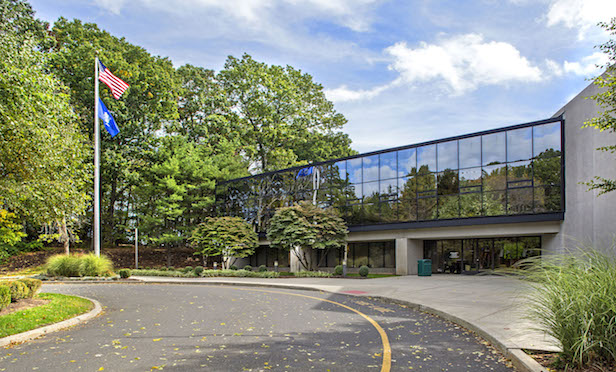 SHELTON, CT—An entity controlled by Australian REIT RNY Property Trust has sold a flex building on Bridgeport Avenue here to New York-City-based Sun Equity Partners, LLC for $26.25 million.
In the deal reported by CBRE, Sun Equity Partners has added the 452,414-square-foot flex building at 710 Bridgeport Ave. to its portfolio. Jeffrey Dunne and Steven Bardsley of CBRE's Institutional Properties represented the seller, RA 710 Bridgeport Avenue LLC, and procured the buyer.
Currently 72% leased, 710 Bridgeport Ave., which is located on a 36-acre campus, offers significant upside through further lease up, while having a strong credit rent roll, including PerkinElmer Health Sciences, Inc. (130,035 square feet) and Panolam Industries International, Inc. (79,000 square feet) that anchor the property, CBRE notes.
"710 Bridgeport Avenue is a high-quality flex asset and offers stable income and upside from nearly 128,000 square feet of vacancy," CBRE's Dunne says. "These factors bode well for the future of the property."
SEP is a real estate investment and development firm founded by Zev Schick, Mendel Tress, and AA USA HOLDINGS. The firm mainly focuses on value-add retail projects as well as select residential opportunities. Since 2013, SEP has acquired more than $1 billion worth of properties, encompassing 2 million square feet of retail space, 1 million square feet of office/industrial space and nearly 500 residential units.
RNY Property Trust is managed by RAML, an Australian licensed responsible entity that is an affiliate of RXR Realty of Uniondale, NY. Other affiliates of RXR serve as property manager, leasing agent, asset manager, and construction manager and provide other services to the properties in the RNY Property Trust portfolio.
In May of this year, Cushman & Wakefield's Metropolitan Area Capital Markets Group arranged the sale of 555 White Plains Road in Tarrytown, NY to Robert Martin Co. as part of seller RNY Property Trust's disposition of its Westchester County assets.
The 133,645-square-foot, five-story office building at the time of the sale announcement was 25% leased to two tenants. The deal marked the third sale transaction in 2017 that Cushman & Wakefield's Metropolitan Area Capital Markets Group arranged for RNY Property Trust, which hired Cushman & Wakefield to oversee the disposition of multiple Westchester County assets. The other sales were 660 White Plains Rd. and 80 and 100 Grasslands Rd. At the time of the sale, Cushman & Wakefield was marketing the final Westchester County properties among the RNY Property Trust's disposition assets, 560 and 580 White Plains Road.