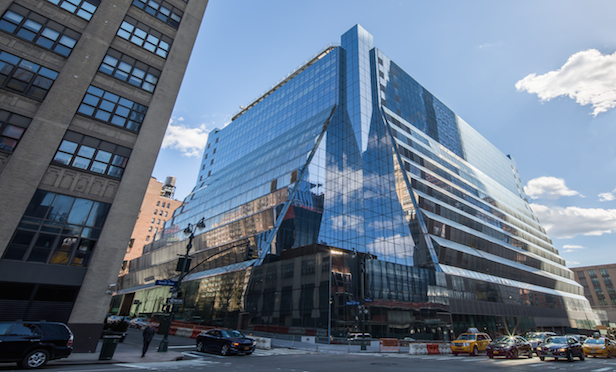 NEW YORK CITY—To say that Amazon has been making headlines in the real estate trades recently is a huge understatement. Today, the Seattle-based e-commerce giant announced it was leasing 360,000 square feet of space at Brookfield Property Partners' 5 Manhattan West office building and adding 2,000 new jobs to its New York workforce.
The new lease comes on the heels of Amazon's announcement on Sept. 7 of its national search for a second headquarters valued at $5 billion that has politicos and economic development officials scurrying to respond to the requirement. In the Empire State, Amazon announced the same day that it was building an 850,000-square-foot $100-million fulfillment center on Staten Island.
The announcement today for its 15-year lease at 5 Manhattan West will involve the creation of more than 2,000 new jobs in New York City over the next three years. The Staten Island fulfillment center is expected to employ 2,250 operations workers. Amazon officials say that the offices at 5 Manhattan West will serve as the primary New York location for Amazon Advertising. At that location, Amazon expects to hire software engineers, data analysts, economists as well as teams involved in marketing, product, design, and engineering to support Amazon Advertising, Amazon Fashion and Amazon Web Services operations.
In total, Amazon, which already employs more than 1,800 workers in New York City, will create close to 6,000 jobs across New York State by 2019, the company states. In the city, Amazon also has a Fashion Photo studio in Brooklyn, an Amazon Books store on Columbus Circle and a Prime Now hub on 34th Street.
"We're excited to expand our presence in New York—we have always found great talent here," says Paul Kotas, SVP of worldwide advertising for Amazon. "Last January we announced our plans to create 100,000 full-time, full benefit jobs in the US by mid-2018—and we are on track to reach that goal."
Gov. Andrew Cuomo says of Amazon's latest expansion, "Amazon's decision to expand in New York City is proof positive that the strong economic climate of this state, and New York's diverse workforce and talent, are helping to attract top-notch companies from around the world."
New York City Mayor Bill de Blasio, in a statement, hyped the city's talented workforce and diverse economy that features the most innovative companies in the world. "We are excited to see Amazon bringing thousands more high-paying jobs to its New York City offices and increasing its footprint on the West Side," the mayor says.
Amazon will occupy the entire sixth and seventh floors and portions of the eighth and 10th floors of the 16-story, 1.8-million-square-foot Five Manhattan West office building. The Amazon lease brings the property to 99% leased. JLL's Derek Trulson, Josh Stuart, Bill Peters and Clay Nielsen represented Amazon in the lease transaction. Brookfield was represented by Bruce Mosler, Josh Kuriloff, Rob Lowe, Ethan Silverstein and Matthias Li of Cushman & Wakefield, and in-house by Jeremiah Larkin, Duncan McCuaig and Alex Liscio.
"Amazon's expansion is the latest example of a leading company drawn to Manhattan West by the unparalleled access, state-of-the-art office space, and experiential culinary, health and wellness and fashion provided by Brookfield's newest place-making destination," says Ric Clark, senior managing partner and chairman of Brookfield Property Partners. He adds that Manhattan West is currently attracting what he terms as "unprecedented levels of interest" for large blocks of space across One and Two Manhattan West, as well as at The Lofts."
Brookfield recently developed Amazon's new European headquarters in the United Kingdom at Principal Place, a new 621,000-square-foot office building on the border of Shoreditch and the City of London. Principal Place is part of a mixed-use complex that will also feature a 50-story residential tower, 20,000 square feet of retail and a half-acre central piazza.
At Five Manhattan West, formerly known as 450 W. 33rd St., Brookfield undertook a $300-million redevelopment program designed by REX Architects to transform the property into a collaborative urban space with large floor plates and floor-to-ceiling glass. In March, Whole Foods announced it would anchor the ground floor retail space of Five Manhattan West with a 60,000-square-foot location.
A Brookfield spokesperson tells Globest.com that in the past four months alone, Brookfield has signed four leases totaling nearly 1 million square feet, including a 305,000-square-foot lease with JPMorgan Chase.
Brookfield's Manhattan West is an eight-acre, six-building mixed-use development, stretching from Ninth Avenue to Tenth Avenue and 31st Street to 33rd Street. At full build-out Manhattan West will feature nearly 6 million square feet of Class-A office space, luxury residences, a boutique hotel, as well as landscaped gardens and street-front retail.
One Manhattan West is a 67-story, 2.1-million-square-foot office tower rising on the northeast corner of Manhattan West at Ninth Avenue and 33rd Street that is anticipated for delivery at the end of 2019. Two Manhattan West will be the second new office tower constructed on the southeast corner of the site on Ninth Avenue and 31st Street. "The Lofts" located mid-block on 33rd Street is a boutique, 13-story building that features high ceilings, terraces and exposed I-beam columns.
In March, Brookfield opened The Eugene, a 62-story, 844-unit luxury residential tower located at 435 W. 31st within the Manhattan West site.