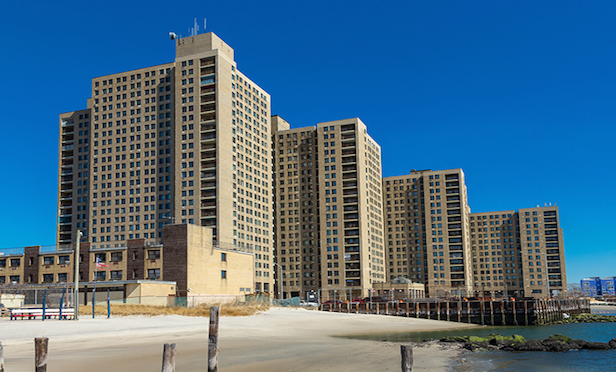 The Sandcastle Apartments complex in Far Rockaway features 916 units.
NEW YORK CITY—Treetop Development has secured $97.5 million in acquisition financing for its recent purchase of a 916-unit apartment complex in Far Rockaway, Queens.
The mortgage financing deal, arranged by Meridian Capital Group, is in connection with its reported $138-million purchase of the Sandcastle Apartments complex at 71 Seagirt Ave. Teaneck, NJ-based Treetop Development acquired the income-restricted complex from E&M Associates for $135 million late last month. Signature Bank provided the acquisition financing, according to a report in the Real Deal.
Meridian Capital reports the five-year loan features a rate of 3.625% and was negotiated by Meridian managing director Scott Assouline and analyst Isaac Lifshitz, who are both based at the firm's New York City headquarters.
The Sandcastle Apartments consist of four connected 25-story mixed-use buildings that contain a total of 916 apartments, eight commercial spaces, and a parking garage. The residential units range from studio to two-bedroom apartments.
Meridian Capital reports that Treetop Development plans to renovate approximately 175 to 200 units per year that will involve upgrades to kitchens, bathrooms and living areas. Over the course of the first two years of operations, improvements will also be made to the buildings' common areas, roofs, windows, façade, and courtyard, the firm states.
"Treetop Development is a proven value-add investor and will enhance this property significantly in the coming years," Meridian's Assouline says.
This past June, E&M Associates sold 42 rental buildings in Sunset Park, Brooklyn to Fairstead Capital for a reported price of approximately $100 million. In late 2016, Fairstead Capital and E&M Associates sold a 47-building portfolio in Manhattan for nearly $378 million.