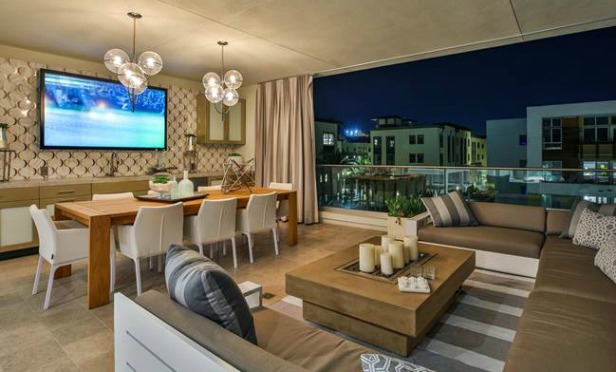 LOS ANGELES—Playa Vista's residential market is nearly built out. This weekend. Brookfield Residential and Hilton & Hyland opened Jewel Playa Vista, one of the last new construction residential projects in the market. Walking distance from the popular Campus Playa Vista, the community has 14 detached for-sale homes.
"These are really the right conditions to design and build new, high-end residences," Alison Girard, Playa Vista director of marketing at Brookfield Residential, tells GlobeSt.com. "There is already a jobs/housing imbalance on the Westside of approximately three-to- one. The Jewel residences—priced from the high $3 millions—join homes at all price ranges in Playa Vista. And Hilton & Hyland is the ideal broker partner for high-design homes."
The market is bursting with demand for housing mostly driven by the well-known employment hubs in Silicon Beach—from Google and Yahoo to IMAX and YouTube Space L.A. "The impending IPO of Snap, based in Venice in Santa Monica, joins the already surging creative office market within Playa Vista and beyond. At build out, which we are close too, The Campus at Playa Vista will house approximately 3 million square feet of prime, Class A creative space," says Girard. "This creates an increasing demand for housing among the tech and creative set, not just software engineers and media creatives, but executives and other entrepreneurs." As a result, this property opened to strong demand from homebuyers.
Robert Hidey Architects designed the 14 residences, each of which stand three-stories tall and range in size from 4,200 to 4,500 square feet. The luxury properties were designed with spacious living areas, elevators, and indoor-and-outdoor entertaining areas. "The open-concept modern design includes high-level detailed finishes within the most spacious living areas in Playa Vista," adds Girard. "The design also appeals to tech and creative entrepreneurs with touches like the aforementioned elevators, luxury private offices, smart-home systems, and indoor and outdoor entertaining areas. These include dramatic 3rd floor entertainer's loft and covered deck with outdoor kitchen." Prices start in the high $3 million range.